We often take for granted the amount of plastic we all consume. From food containers to straws, plastic bags and drinks – we are devouring plastic receptacles at an alarming rate, which means we are also throwing them away at such a pace. The world produces over 300 millions of tons of plastic each year, with 150 million tons currently littering our oceans. With 95% of plastics being single-use, we dump a garbage truck of plastic into the ocean every minute. As a brand that has always prided itself on sustainability, KEVIN.MURPHY knew that they needed to do something to cut down on this dilemma, which is how they decided to launch Ocean Waste Plastic (OWP) bottles.

"The decision to switch to OWP was kind of a no-brainer for us. With the beauty industry being a huge contributor to the 8 million-plus tons of waste dumped into the world's oceans each year, I did not want to be part of the problem, but part of the solution." – Kevin Murphy
As the first beauty brand to adopt 100% OWP packaging, KEVIN.MURPHY hopes to start a movement that will change the steps brands take to give back to the environment. Starting in 2019, the brand will launch their first OWP release with our rectangle bottles, with plans to switch the entire line to OWP by 2020.
Frequent Questions:
Why OWP and not PLA?
PLA is a polymer made from high levels
of polylactic acid molecules. PLA is marketed as compostable, but in reality, it isn't. Many consumers believe that PLA can be disposed of like composted material, but the truth is, when disposed of, these bottles will stay in nature as long as any other plastic. This leads to even more plastic in nature than if customers would recycle them. For PLA to biodegrade, you have to break up the polymer by adding water to it and add heat and moisture hydrolysing to occur. So if you throw that PLA cup or fork in the trash, where it will not be exposed to the heat and moisture required triggering biodegradation, it will sit there for decades or centuries, much like an ordinary plastic cup or fork.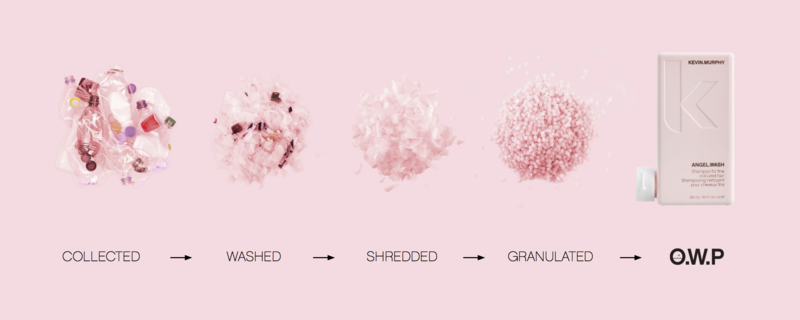 What is the actual process of turning plastics in the ocean into usable ocean waste packaging?
First, OWP is sorted and separated
by plastic-type and colour by a high-speed high precision optical sorting machine. Next, it is rinsed and cleaned thoroughly for granulation. Each batch
is then authenticated by ocean watch and verified. The plastic is then mixed with a 1% antioxidant to counteract any degradation before being deodorised and turned into pellets. Every batch of OWP packaging is then documented to verify the origin and material composition.
Are the new bottles recyclable and if so, how do we recycle them?
Much like the current KEVIN.MURPHY HDPE packaging, it is accepted at most recycling centres in the world, as it is one of the easiest plastic polymers to recycle.
Will there be any changes in formulation?
No. The packaging has been tested and is compatible with the brand's current formulas.
What You Can Do
Apart from being a part of the movement to cut down on plastic waste by buying OWP bottles, changing everyday habits in the salon as well as at home are small changes that make a big difference when we do it together.
We recommend the following practices to enhance sustainability in everyday life.
Encourage Your Clients to Recycle
Apart from educating clients on the best way to use KEVIN.MURPHY products on their hair, instruct them on the best ways to clean up the environment by recycling. A great way to incentivise them is by offering them discounts or extra treatments if they bring back their old bottles to be recycled.
Switch Our Your Bulbs & Turn Off Unnecessary Lights
By switching to LED bulbs in the salon, you can save up to $14,000 in electricity costs in the lifespan of the bulb.
Clean with Green Products
Another way to be more sustainable in the salon is to realise not just what you're throwing away, but what is being washed into our oceans. Using biodegradable cleaning products promote a healthier environment in the salon and outside as well.
Reduce Water
KEVIN.MURPHY is a proud supporter of Ecoheads – a simple showerhead solution that cuts down on water usage by 65% while delivering the same amount of necessary pressure to rinse color and products in the salon.
Join Green Circle Salons Program
From colour tubes to foils – salons have a great deal of waste that can all be recycled. Green Circle Salons are committed to improving the community by offering sustainable solutions and starting initiatives that cut down on the waste.
Don't be part of the problem, commit to being part of the solution with #OWP!
---
For fashion-forward colour and style inspiration be sure to visit us on Instagram, Facebook, Twitter, and Bangstyle and to see all the specials, be sure to visit the KEVIN.MURPHY store!