The 2016 Wella Trend Vision Awards were inspirational for everyone involved; dazzling the audience and educating the contestants! Everyone involved this year created such works of art, very different from each other and with such great skill we can't wait to see what these artists come up with next. We were able to chat with Cena Jordan, Gold Winner of the Color Vision - US. She told us about her inspirations, her experience, and what's next…
---
How does it feel to be a winner of the 2016 NATVA?
Well its pretty shocking being a GOLD color vision winner, knowing it was my first time ever entering! It still doesn't feel real but I do feel incredibly honored to have won the award. I've always looked up to all the color vision winners in the past, I feel like I have big shoes to fill.
What is the first thing you thought when you won?
"There's no way, I must be dreaming!" – but really, I was completely shocked. You are your own worst critic, I was beating myself up backstage because everyone's looked so good and I felt like I could have done so much better. I couldn't believe it. I was prepared to win, looking back at the videos now, I think my first words were "oh my gosh!" Hahaha!
What was the most nerve-racking moment of the experience? Most exciting moment?
I was extremely nervous throughout the whole thing. I didn't know what to expect because it was my first time entering, and my first competition. I felt like the first day was going to be the hardest. Even when it was over, I kept thinking okay the hard part is over; I did the color in the time limit and I was really happy with it, but I forgot about how on show day the judges come around and judge you. I didn't really know what to expect for that part of it either. Then the moment came, they announced that the judges would be there in 60 seconds, along with all the media photographers. The judges entered and one by one, judged everyone while all the bright lights and photographers were surrounding you. I turned to my model immediately when this started and told her that I was so nervous; I felt like there was a high chance I was going to pass out.
To be honest, the most exciting moment was the entire thing. I was so excited to be a part of something I had never imagined being a part of. It's feels amazing to have placed, but it was amazing just to be part of the competition, be on that stage, and working next to some incredible talent.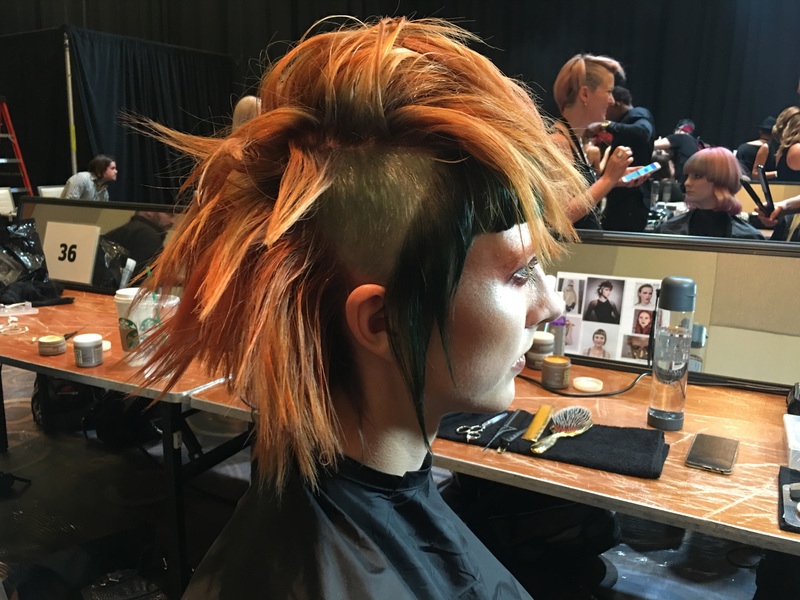 How did you figure out what you were going to wear?
Hahahah!!! I can't even believe this is a question… my husband would die laughing the fact I have to answer this. I can't even begin to explain my trouble finding the perfect outfit. I think I was so nervous and just way over thinking everything, I couldn't find anything that I was happy with. I started sending outfit photos to some of my co-workers for help. I started getting so frustrated because I felt vain caring about what I would wear, especially because I didn't expect to win. I ended up really happy with what I chose to wear, it's a good thing with how many photos I'm seeing of myself all over the place.
Who was the first person you called after the show?
My grandmother. She has a bad leg and was worried about being a bother at the show; she didn't want anyone to worry about her especially me, so she decided not to come. I couldn't wait to tell her the big news. I couldn't 100% tell through the phone call but it sounded like she had just as many happy tears as myself.
How did you celebrate?
I was lucky enough to have many co-workers, family and friends surrounding me because Trend Vision is in my hometown, it was a huge celebration just with all of them being there. I want to say the real celebration after was SLEEP!!!
What does Trend Vision mean to you?
Gosh, every year I've gone I was personally so inspired by all the looks and colors. I always felt like what we saw became the color trends of the year. I tell all my clients what I thought was "in" based off of what was at Trend Vision. I can't tell you enough, all the people competing were rock stars in my eyes. Never in a million years did I think I'd ever get the chance to submit my work, and become a finalist, let alone be a GOLD winner. Trend vision means things to me that I cant even explain. Everything about, it's like hairdresser heaven!!!
What was the inspiration behind your collection? When I decided to enter, I met with my friend Stephanie, at her salon, she said we could talk about it and maybe she could help inspire me. She pulled out this book on your birthdate signs, and two hours later we were still sitting there. We read everything about my birthdate, everything was so interesting, and something sparked the idea - copper fire. I believe it was because I told her my favorite color was green. I knew right then that I needed to have a model that had green hair. My biggest inspiration was everything to do with copper fire and the feelings and colors you get and see when you're around a fire. Google copper fire, and you will totally get my look.
How did you style the wardrobe and makeup for your model?
I actually didn't pick anything. I strongly believe that if you are an artist in your craft that you should be given freedom to create and I wanted to give my team just that. Sarah Redzikowski, my makeup artist, is extremely talented. I told her the trend I was going for and what I planned for the hair, let her do her thing and the makeup turned out incredible!!! Ladysmyth are my fashion designers, I got so lucky with them! Sarah introduced me to them, and I took the same route with them. After speaking with them, I could tell how passionate they were even though they didn't even know me, but were still excited for me. I explained my vision and that's it! Next thing you know I get these designs with a leather body suit and metallic leather pieces to look like dripping metal. I was in love with it!!!
What was the single most important factor of preparation leading up to Trend Vision?
Just that, PREPARING! I prepared for plan B and C. I also really felt like it was important to know what really inspired me in the first place. It has been so easy to talk about my look because I 100% know every detail of my inspiration.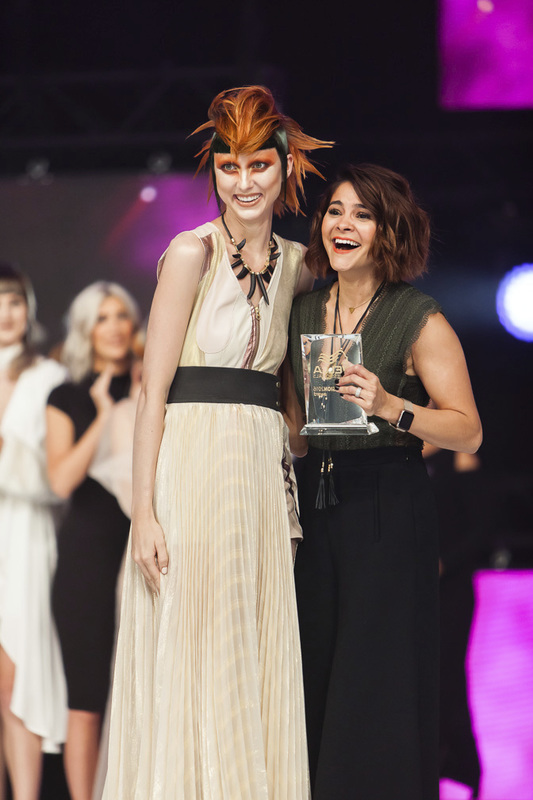 What's next?!
Well I know I'm going to Barcelona to represent the US!! I am just waiting to hear all the details! I'm just so excited to have gone though this process, it was so incredible, I want to be able to mentor future competitors. I have always loved Wella, but I can't begin to describe in words, how much more I love it and respect the company!
---
Be sure to check out all of the latest inspirations on Bangstyle and stay up to date with the best trends of the season!