When it comes to color, toning is an ideal tool for any shade. From being a stylist's lifesaver to giving the client exactly what they're looking for, toners allow for artistry and freedom behind the chair. Whether you're correcting tone or achieving fashion-forward shades, toners are often the key to getting what you need quickly. Knowing that time in the salon is precious, Matrix has made the process that much quicker. With their latest releases — Color Sync Sheer Acidic Toners and Color Sync 5-Minute Fast Toners—they complete the stylist's "Toning Toolbox" giving them the power to tone, pre-tone, refresh, neutralize and gloss even the most compromised strands.
Color Sync Sheer Acidic Toners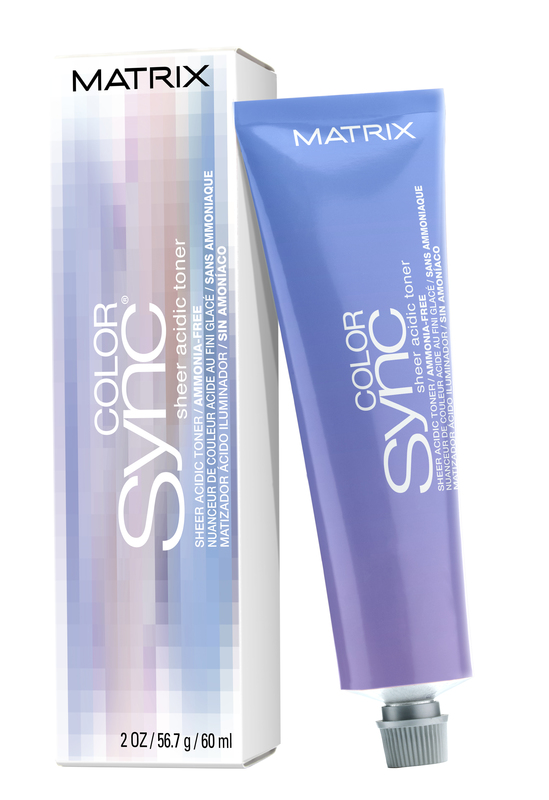 Color Sync Sheer Acidic Toners are low-pH, extra caring, high gloss formulas that provide sheer tonal deposit without shifting the natural base. Because they will not expand the cuticle, they are excellent choices for use when hair is damaged or compromised.
The acidity of toner is important because it is the change in pH level that stops the processing of previously lightened hair. Whether adding a highly pigmented tone or simply a subtle shade the toning process is actually more important that you may think!
To Use: You'll want to apply to freshly washed and towel dried hair. Simply mix equal parts of 10-volume MATRIX Universal Cream Developer and your desired toner.
The 4 New Shades:
Sheer Violet
Sheer Ash
Sheer Steel
Sheer Nude
Each shade can be used on natural and pre-lightened hair, providing best results on Level 8 and lighter.
Color Sync 5-Minute Fast Toners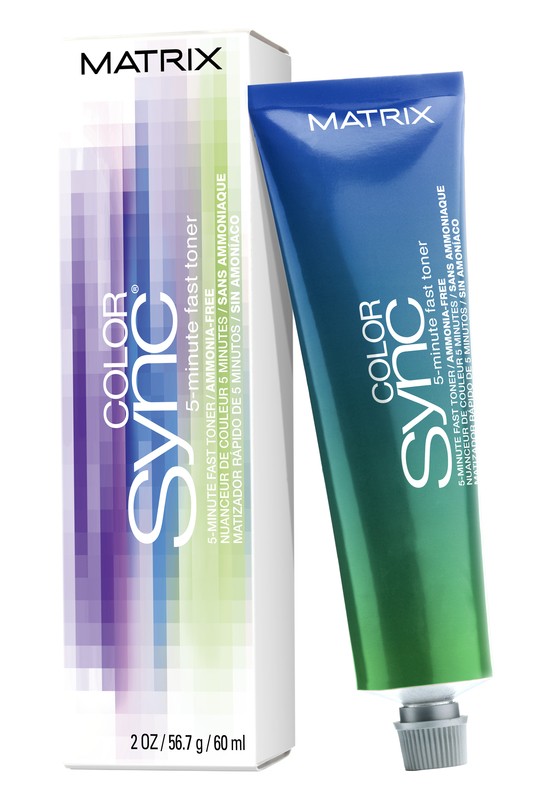 We've all been there, it's a busy Saturday afternoon and your client is on a time crunch. You've just washed out their highlights and you don't quite have the time to tone and finish styling by the time your next client comes in. Stylists run into this challenge all too often, but the last thing you want to do is send your client out the door without properly toning.
Making your life easier, Matrix has also introduced Color Sync 5-Minute Fast Toners are demi-permanent formulas that can be used to pre-tone and for quick color corrections and toning. The unique, gel-cream formula supports a fast and easy application. Combined with equal parts 10-volume MATRIX Universal Cream Developer, 5-Minute Fast Toners process at the shampoo bowl in just two-to-five minutes, depending on hair's porosity. Which means you'll be able to keep your book on schedule!
The 3 New Shades:
5-Minute Fast Toners are not meant for more complex tones but can help combat unwanted shades! They come in three shades, designed to create clean, clear color results:
Anti-Yellow purple tones neutralize yellow tones on pre-lightened hair levels 9 and lighter.
Anti-Red green tones neutralize warm tones on level 1 through 5.
Anti-Brass blue tones neutralize unwanted brassy tones on levels 6 to
The 5-Minute Fast Toners are inter-mixable and can be applied to natural or color-treated hair. When used to pre-tone hair, any permanent, demi-permanent or semi-permanent color in the Matrix portfolio can be applied as the next step.
Color Sync Sheer Acidic Toners and Five-Minute Fast Toners join a full lineup of toning formulas, including Color Sync Alkaline Toners and Total Results So Silver and Brass Offhome care formulas—to provide color professionals with a complete toolbox of color toning, pre-toning, neutralizing, glossing, shine enhancing, blending, color correction and grey blending options. Now colorists have more options than ever before to produce a vast range of stunning, reflective and balanced results while maintaining the integrity of the hair fiber for every hair color client.
---
For more updates, product releases and more from Matrix be sure to sign up for our newsletter HERE!