Elizabeth Weiler, The Product Pro. shares her amazing insides on the side of haircare most individuals forget about, Anti-Aging... That's right, your hair ages too, learn what you need to know about anti-aging and hair care!
As a skin care professional, I'll admit that the first (and sometimes only) anti-aging recommendations I default to are the usual suspects: Retinoids, sunscreen, growth factors, antioxidants, and a smorgasbord of treatments to prevent and treat wrinkles.
But with so much focus (from me, from like, everyone) on anti-aging of the skin, what about the hair?? Perhaps it's that hair anti-aging hasn't been a focus from a technology standpoint until recently. But technology IS catching up in this category, as I recently learned in a lecture featuring speaker Brian Hendricks, VP of Global Education for DS Laboratories. By the way, "DS" stands for Divine Skin. This organization is certainly speaking my language.
"The future expectation of hair care will not be to simply clean, condition, and style the hair. Rather, products will be designed to protect, stimulate, and manipulate actual hair growth to achieve the best hair of your life. DS Laboratories has already set this standard with stunning results." says Hendricks.
Here's what I learned:
As we age, the hair follicles shrink, harden, and weaken -Oh GREAT. We have the best hair of our lives at our follicular peak around the age of 19. Stop and think about it: have you seen a elderly woman with flowing, long locks lately? Well, I haven't. And while weekly roller sets might also be a convenience when you're 90, it's true that the potential for mermaid hair at that age is little to none.

This chick is DEFINITELY not 90. And she's DEFINITELY using Revita.
So, is there potential for keeping the hair at its peak, restoring, or even maintaining where it is presently? There is, with recent developments in technology. And, with the help of stimulants, anti-inflammatories, and nutrient delivery, says Hendricks. The unique line of products from DS Laboratories, including Revita Shampoo and Revita COR Conditioner give the follicles a fighting chance.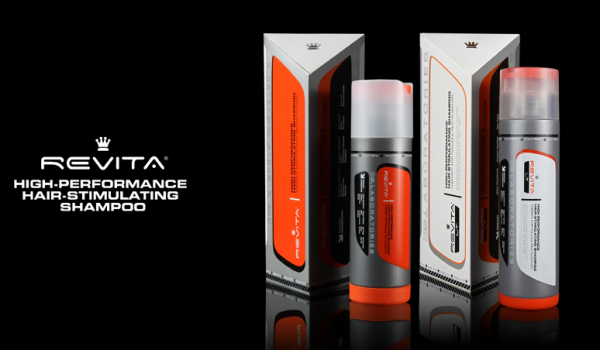 Here are some of the benefits:
•Stimulants: No, we're not talking Rogaine here. Multiple stimulants including caffeine in DS Laboratories' Revita line can stimulate the follicles into action for length and volume!
•Anti-inflammatories: Anti-inflammatories rescue the follicles from arguably the Number 1 cause of aging: Inflammation.
•Antioxidants: Antioxidants like Spin Traps, one of the most potent (and expensive!) antioxidant molecules available on the market neutralize free radical damage, a serious offender in the aging process for hair AND skin.
•Nutrient Delivery: One word: Biospheres. Just like skincare, once we've identified beneficial ingredients, the challenge lies in how to get them where they need to go. Biospheres magnetically attach the active ingredients to the skin on the scalp so they keep working. Rest assured these powerful products are not just rinsing down the drain – they're even working while swimming or working out!
•Beauty AND Brains: Aside from all the great science, these products make your hair look and feel glorious starting from the first time you use them. I speak from experience.
Says Jessica Taylor, Regional Brand Manager for DS Laboratories, "We are all on the pursuit of perfection, and a fusion of hair and skin care is what will get us there. (With products) filled with antioxidants, amino acids & anti-aging components, science can be sexy too."
And who doesn't love that??
Until Next time, Stay Fabulous My Friends!