Los Angeles Stylist, Angel V Prado, inspired us with his new collection…from the color to the texture. There was something so fresh and different about Angel's images. We asked Angel to share a bit about himself and the stuff we all want to know. Like, what is his guilty pleasure and what's on his shoot playlist. Here's what he said….
What was the inspiration behind the collection? How did the creative process unfold?
My creative process varies from shoot to shoot, the name of this particular story was the first thing to come to me "Beauty Rebel". I imagined the goblin king had a daughter, The Goblin Princess, who was sick of living in the labyrinth runs away and ends up in a Galliano couture show. I wanted the shapes to be tight yet romantic which is why the texture of the kanekalon hair works so well. Lastly the lighting and mood of the picture was very important, I will always pull references of lighting that I like searching Pintrest or magazine editorials, Pintrest is amazing to create private mood board that your able to share with the team.I knew I wanted it to be a mix of sci-fi, surrealism,and haunting, so backlighting the image was how I created a soft haze effect. My color choices are usually determined by the light, the pastels mixed with stark neutrals really popped in the etherial type lighting created in the images. Always have the end result in mind.
How did your choice in model influence the end look?
I knew I wanted Margo for this story, since the first time I shot her in July 2014. She was very much a muse to the whole story. Her movements and understanding of what I wanted were very impressive, she is such a chameleon. As far as the hair, usually when the model sits in front of me I stick to what I originally have planned and then adjust to the models features. Some times things will look exactly like you imagine them, and other times you adjust an entire look according to how it looks on the model.
What is your "Recipe" for an amazing shoot?
Preparation is always key, have a plan! I like to study the models features in their portfolio and see what looks good on the, the best way to see what they really looks like is on their social media. Team choice is vital! always work with people you trust and can be open and honest without stepping on toes. Lastly, and mostly, just have Fun. If everyone on set is having a good time, it will show through the image.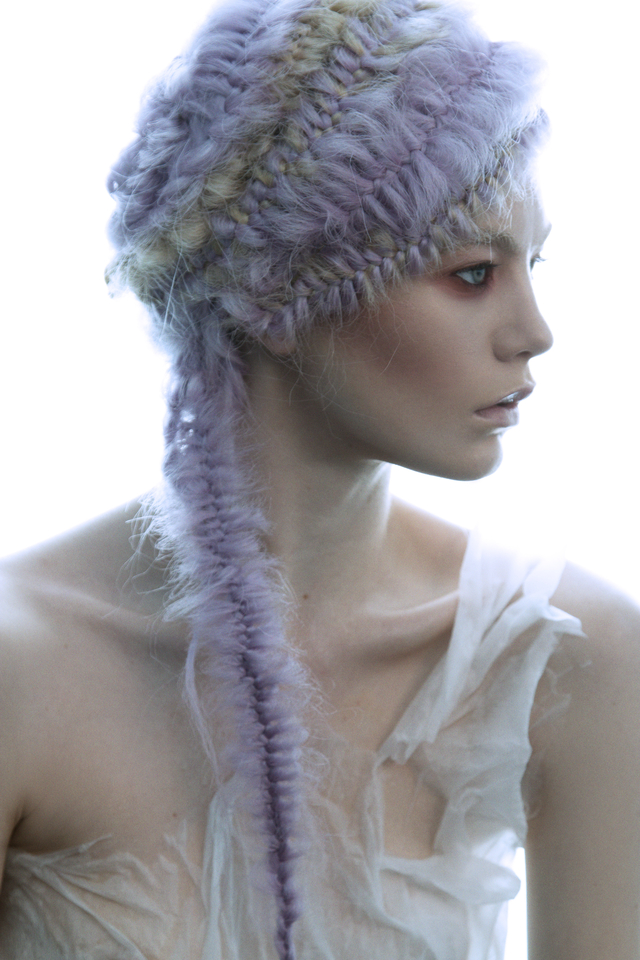 What is your favorite aspect about being a Hair Artist?
No Limits. The industry is so big and there are so many places our careers can take us; whether you want to work behind the chair, work on set, or even as a sales consultant. We can do what we love anywhere we go and that is Amazing!
What's on your photo shoot playlist?
I love this question because a good shoot its all about energy you create with others, and music is very instrumental in creating a vibe. I normally ask the model if she has any request because I want her to get comfortable really fast!
Usually I'll play Pandora , My favorite stations right now are Lolawolf, LE1F, Kilo Kish, Marina and the Diamonds, if all else fails Spice Girls is a good go to.
What is the one tool and/or product you can't live without?
Can't live without my Wet brush for detangling hair (especially when models don't brush there hair) Sam Villa Thermal Styling Brush for polishing blow-dries, and My Mason Pearson child brush which I love for lacing and smoothing. As far as product Oribe Aprés Beach is my current obsession its the perfect combo of texture and shine, love R+Co Death Valley Dry shampoo! My go to Hair spray is Pureology strengthening control hairspray because it never gets dull and is very workable.
Who influenced you the most in your career?
I like to think everyone I've had the opportunity to work with has influenced me in some way. Early in my career I was fortunate to work at a salon where we truly and whole heartedly valued education, so attending classes has alway been something I love to do. Most recently in the past couple years I have had some great opportunities to travel around the country with Ruth Roche working behind the scenes at Hair Shows ,and every little moment I get to watch Ruth or ask her questions has been incredibly inspiring. Ruth once told me, "Its ok to make your work simple, just don't make it ordinary" and that is now something I always think about when putting a concept for a shoot together.
Who would be your ultimate dream team and why? From photographer to model?
I've always loved David Lachapelle work, really enjoy the way he's works with color and how he creates images that will live forever in pop culture. Model choice would be Lindsey Wixon, I love a unique beauty and a gap! I would want the late Kevyn Aucoin to do makeup, how incredible would that be!! and for fashion working with Grace Coddington would be a dream! Dream Team for Sure!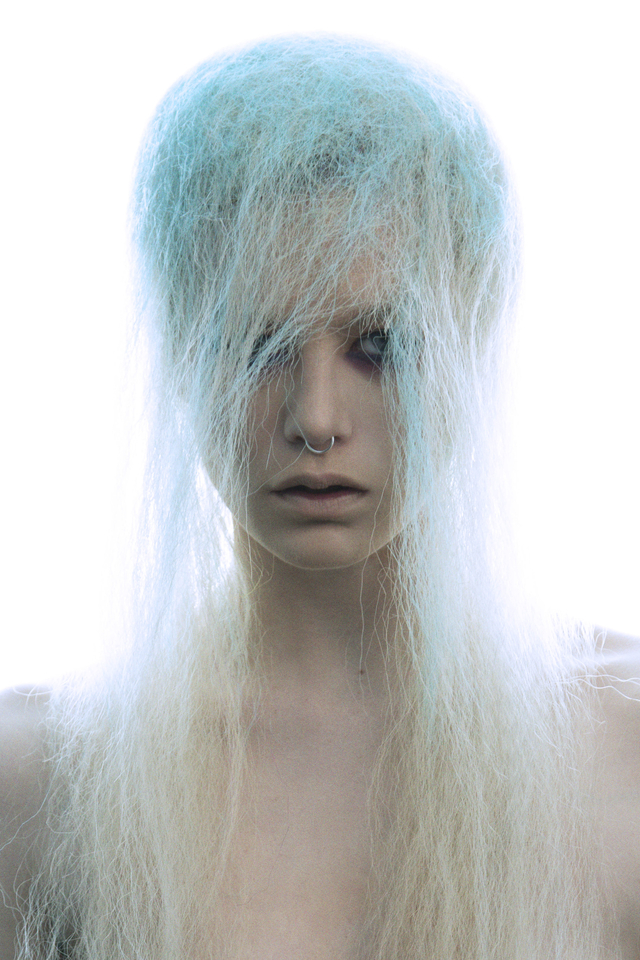 If you hadn't found Hairdressing, what do you imagine you'd be doing instead?
I would like to think that I would maybe doing something in the Music or Fashion industry. When I was in grade school I would tell everyone I wanted to be an Optometrist lol like where does a second grader even get that idea?
If you could style anyone's hair…who would it be and what would you do with their hair?
I would love to get my hands on Willow Smiths hair, and what wouldn't I do with her she would look good in anything maybe start with lots of texture!
What time of day do you feel most creative?
Late Night and Early Morning.I usually edit photos at night so if I get into a groove I can do that until 2am sometimes. Also, I usually wake up 6am and thats when I troll the web, social media and send out emails.
You're home alone with no one to judge you, what do you eat? What do you watch? What song do you belt out?
Eat Raw Cookie Dough, I would watch episodes of Charmed, while singing Defying Gravity!!hahahaha!
Be sure to Salk Angel V Prado to keep up with all his new hair art on Bangstyle!