Bangstyle's newest family member, Carrie Bellus, shared a collection that really caught our attention. Fresh, modern shapes paired with a soft elegance. We asked Carrie if she would share a bit with all of us about the first collection she uploaded to Bangstyle….she agreed!
Carrie, what was the inspiration for the collection?
This collection is called DEFINITUDE, precision with an attitude.
The shapes are really interesting, how did you round fringe and how do you think the choice effected the final look?
I've always been in love with strong shapes through precision cutting, which continues to push my technical skill. For this collection, I wanted there to be a little playfulness within it too.
Why was it so important for the final images to be in black and white?
We are so lucky when we get to work with gorgeous models who can wear nearly any shape. This allowed me to use bold rounded fringes to draw focus to their beauty. There is something beautifully raw about black & white photography. It narrows your focus, and helps brings attention to the shapes. My photographer, Kevin Alexander has done such stunning b&w photography and loves them as much as I do. I mentioned to the photographer my desire to shoot this way and his face lit up. That was all I had to say. I passed him the torch to find the perfect lighting to Accentuate the collection.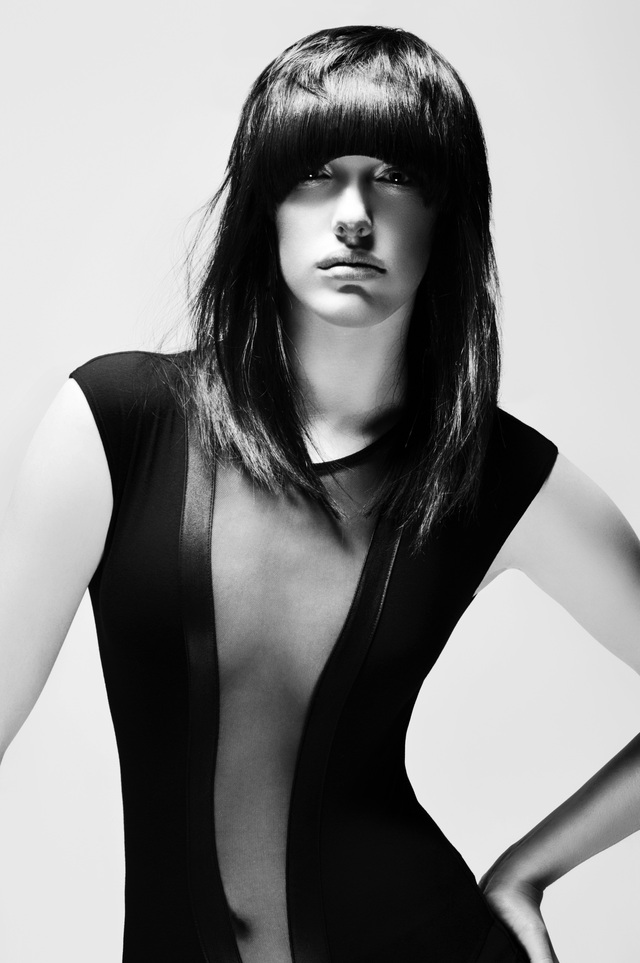 Tell us about your team, what was shoot day like?
The shoot day! I am part of the Inspire Greatness Artistic team- the team that has the opportunity to mentor cosmetology students through their creative shoots and applications for NAHA student hairstylist of the year. The owner of these schools, Dale LeMonds, also supports the creative team with producing their own collections for NAHA submission.T he makeup was done by my creative colleague Brad Van Dyke and completed the mood. It's truly a team effort, which is the best part about it.
The shadows on the face evoke a lot about the space and vibe. Did you plan it out as a team, or individual elements? What was the process like?
The shadows on the face evoke a dream like sensation and create a contrast to the hair. The shadows bring more focus. Kevin lit the top of the model to create high definition in the hair, which Brad Van Dyke, creatively accentuated with deeper contouring and highlighting on the face. Since the rounded fringe bring more focus to the model's eyes, we wanted to use the perception of deep shadows, to add more depth. Brad utilized a palette of grays and blacks to take the eyes to an almost sunken state.
For further DEFINITUDE, he bleached out the eyebrows to add more contrast with dark and light. I was blessed with mentorship from Aveda Global Artistic Team member, Allen Ruiz. All these looks were done on wigs! I had never worked with a wig before. In a very short amount of time, Allen taught me so much about this skill. Incredible! Not only did I get to have so much fun creating beauty, it was an incredible learning experience.
It is so important to have the right support team. I was lucky to work with Brad Van Dyke, Allen Ruiz (idol alert!), William Roscoe (Aveda stylist), Kevin Alexander, and Aveda haircolor magician Luis Gonzalez. Luis was also shooting his color collection at the same time.
Six models photographed in one day, impressive. Laughs, inspiration, chaos, beauty and, admittedly, a few tears. A huge thank you again to Allen for calming my nerves. Having the right team makes all the difference, there is support, energy and encouragement surrounding you at all times.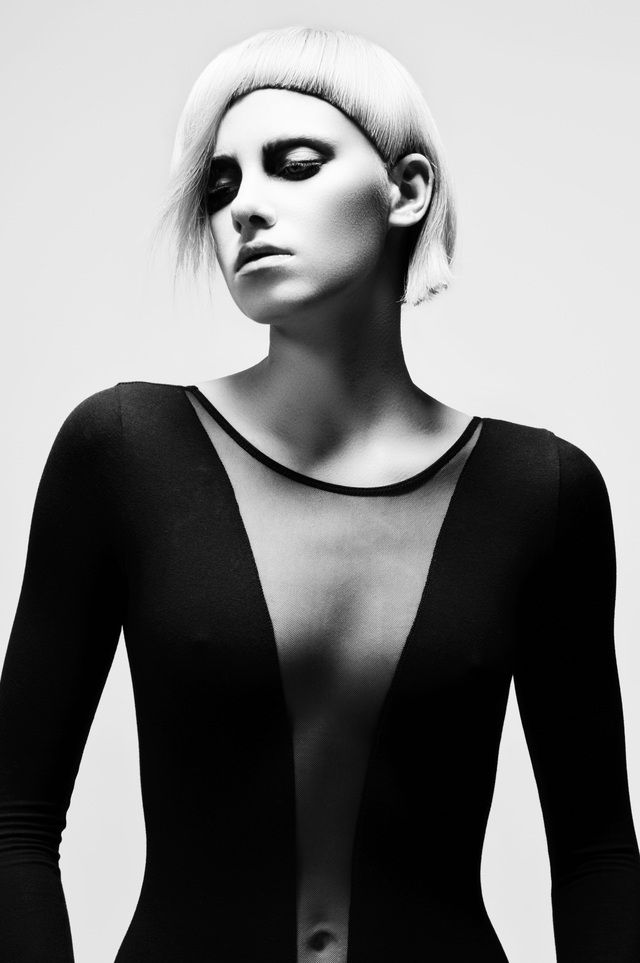 Were most elements planed? Or came together on site?
The process leading up to the shoot is just as important as the shoot day. Luis, Brad, Kevin & I were constantly connecting. Sharing inspired images, and talking shape, lighting, models, clothing, and makeup. The pre-work was probably just as much fun AND labor intensive as the shoot day, directly relating to the successful outcome of your shoot.
The success of this shoot has continued to inspire me. I have only created a handful of my own collections in my career and about a dozen team collaborations. Working with my creative team- Heggy Gonzalez, Brad Van Dyke and Anne Skubis is like showing up to work with your idols everyday. I just love creating beautiful hair. they push me to take it one step further. To create art that can be shared. I look forward to creating more collections that I love.
What is your focus for 2016?
I am not only a hairstylist, but also an Educator. I have spent 10 years working as an Aveda Cut & Style Purefessional and nearly 6 years working with cosmetology students at the Inspire Greatness Aveda Institutes. If I'm not behind the chair at my salon, Vida Salon, I'm teaching.
Through this passion some may call 'work' I've had the opportunity to be a daymaker. It is an honor to help students reach their fullest potential and a privilege to make guests feel beautiful. I want to continue these opportunities at an even higher level with more reach. I am working on launching my website www.carriebellus.com. A place to encourage individuals to see beauty everywhere and in everyone.
What hair trends do you love? What trends do you wish would go away?
Speaking of the future ... I am so not over braids yet! More! Bigger! Better! I love them. One thing I'm over though... Unhealthy hair. There are so many incredible products out there (...Aveda...) and so many talented hairstylists that can give you incredible realistic looks WITHOUT jeopardizing the integrity of your hair. Nothing makes me more sad than ruined hair.