It's always exciting to be on TV!!! Even BETTER, getting great info on how to improve the health and style of your hair. We had the pleasure of being guests on "The Balancing Act", Lifetime's premiere morning show sharing tips and recommendations of the right products for your hair type.
Celebrity hairstylist and our International Creative Director, Gianndrea, Hairstylist to Chrissy Teigen, Reese Witherspoon, Kristen Stewart, Christina Aguilera and more….along with our Vice-President of Global Education for Macadamia Professional, Karrie Fonte, shared celebrity style tips that you can all use at home.
A few things to know, oils are not "one size fits all". There are so many benefits and healing properties in oils giving added shine to important nutrients. All of our products contain our Pro Oil Complex, a blend of therapeutic Macadamia and Argan Oils. Just like in skin care oily skin still needs a moisturizer, just a lightweight one, fine skinny hair needs an oil too, but not necessarily the same one as thick course hair. With that in mind, we crafted an oil for every hair type and weight. With 3 different collections, we promise….we have the perfect oil for you!
Check out our segment taking you through 3 looks on models with varied hair types.
-Medium Texture model with soft cascading waves.
-Baby Fine to Fine hair model shows off volume and shine.
-Thick Curly hair with bouncy, shiny, healthy curls.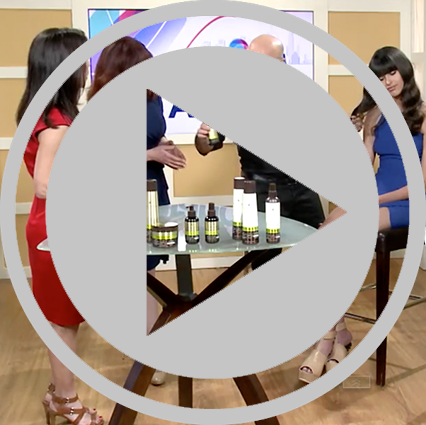 Don't miss Gianndrea's recap of the shows and what he's recommending his celebs use on their famous locks!