Every woman loves chocolate, especially around this time of year. Valentine's Day awakens an appetite for decadent chocolate recipes, but the craving doesn't have to stop there. Now your hair can experience the rich, smooth flavors of chocolate at your local salon.
Our Box of Chocolates allows you to create your own chocolate recipe with hand-picked brunette shades from the COLOR.ME line. Whether you're desiring something sweet, something spicy, or something in between, this selection of "chocolates" and the recipes provided will surely satisfy your palate this Valentine's Day.
VELVET GANACHE
To create a creamy, rich chocolate, mix: 
1 PART 5.8 LIGHT.BROWN.VIOLET + 2 PARTS 4.7 
SALTED CARAMEL
To create a salty-sweet, honeyed chocolate, mix:
1 PART 6.7 DARK.BLONDE.CHOCOLATE + 2 PARTS 9.31
PEANUT BRITTLE
For a caramel-infused, golden chocolate, mix:
1 PART 8.3 LIGHT.BLONDE.GOLD +
1 PART 7.7 MEDIUM.BLONDE.CHOCOLATE
BUTTERY CARAMEL
For a buttery, dusted caramel, mix:
2 PARTS 7.31 MEDIUM.BLONDE.GOLD.ASH + 1 PART
CHOCOLATE TRUFFLE
To create a semi-sweet, bold chocolate, mix:
2 PARTS 6.1 DARK.BLONDE.ASH + 1 PART 5.7 LIGHT
CHILI CHOCOLATE
For a bold and spicy chocolate, mix:
1 PART
5.7 LIGHT.BROWN.CHOCOLATE + 1 PART 5.6
LIGHT.BROWN.RED + 1 PART 6.1 DARK.BLONDE.ASH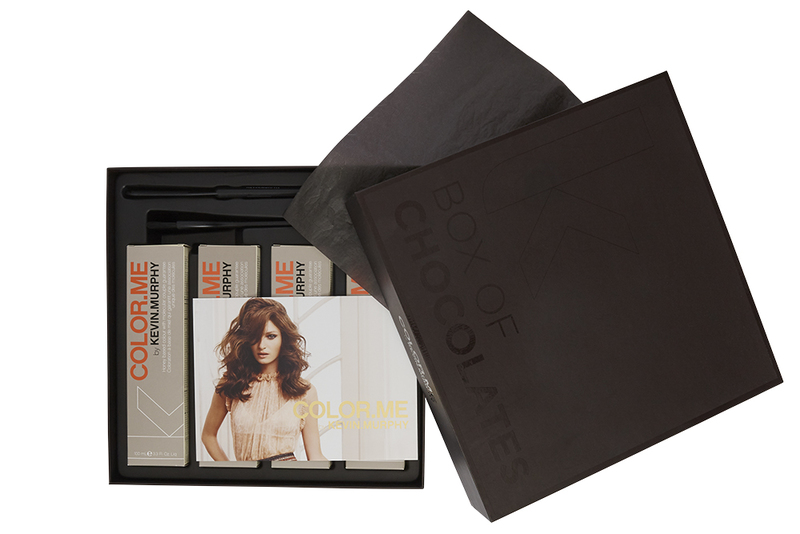 Treat yourself to something sweet this month by visiting a COLOR.ME salon near you. And colourists, be sure to ask your COLOR.ME sales consultant how you can get your hands on this decadent box of chocolates.
For more color inspiration, tips and tricks, visit us on Instagram, Facebook, Twitter and Bangstyle!