Written By: Kellie Carlson
The summer season seems like it's own little world. Longer days and livelier nights allow for you to go out and embrace the warmer weather. Time to bust out those bikinis! With the many sun-soaked Saturdays and three-day weekends, reality begins to turn into a Wonderland. Sound familiar? Just like Alice, you're ready for a world of whimsical adventures. Beyond its enchanting plot line, Disney's most recent release Alice Through the Looking Glass is full of style inspiration that you will go absolutely mad for. The film features vibrant colors and playful looks, which are sure to be the top trends that will take over the summer season. Take a trip down the rabbit hole as you check out all things Alice:
Hands of Time: Curious as to what you should do with your nails for the summer? Well, like Alice, you aren't afraid to be bold and try something new. Channel your inner-Wonderland this season with the latest and greatest shades from OPI; Alice Through the Looking Glass inspires their newest collection. From light powder blue to fuchsia pink, the collection if full of fun colors that will pair perfectly with your summer plans. Don't be afraid to use different shades of the same colors or to use seemingly contrasting patterns! Using a bright lilac and accenting it with a deep plum will give you a rich contrast. You can delve further into this world of whimsy by adding rhinestones, glitter, or even glass! These unexpected combinations are sure to attract all of the right attention to your summer manicure. After all, the rules are different in Wonderland.
Nail Art: SoHotRightNail Via. Nailstyle Nail Art: @beeqnails Via. Nailstyle
The Hatter's the Matter: Don't keep your hair concealed under floppy hats this summer season. Along with vivid nails, bright hair is also in style. The brighter and blonder, the better— I'm sure Alice would agree. Lightening up your hair color with highlights or babylights will create a spirited, dynamic look that is perfect for beach day adventures. Balayage is another hot topic this season. Balayage will give your hair dimension and will add a natural brightness to your strands. Don't lose your head over at-home coloring kits (a.k.a. Box-Dye), however. Make sure you book an appointment with your hairstylist so that you will receive professional balayage that is tailored specifically to your hair. If you don't want to color your real hair, then you can always use extensions! This option will still give you the bright color that you desire without touching your long locks. Extensions are also easy to remove when you return home from your summer away from reality.
Looking Glass Lips: Keeping in line with the bright trend, makeup styles for summer include pops of color and a new type of contouring. While traditional contouring previously was all the rage, a new trend called non-touring has taken over the beauty world. This style uses a combination of a primer, tinted moisturizer, and a highlighter to brighten up the face. By accentuating key places such as the bridge of the nose and cheekbones, non-touring creates a refreshed and lively look much like Alice's dewy complexion. Better yet, many primers are sweat proof, which makes non-touring the perfect style for withstanding summer heat and chasing after that elusive rabbit. The non-touring look can also be paired with a pop of color on your lips to complete the whimsical look. MAC Cosmetics released a new collection called Transformed, which feature daring colors fit for bold summer nights. The product line has both rich, gel-like lipsticks as well as matte lip colors with a suede finish. Transformed offers a variety of shades including: vibrant pink, warm rose, and bright plum. With these to-die-for colors, the roses won't be the only things you will want to paint red.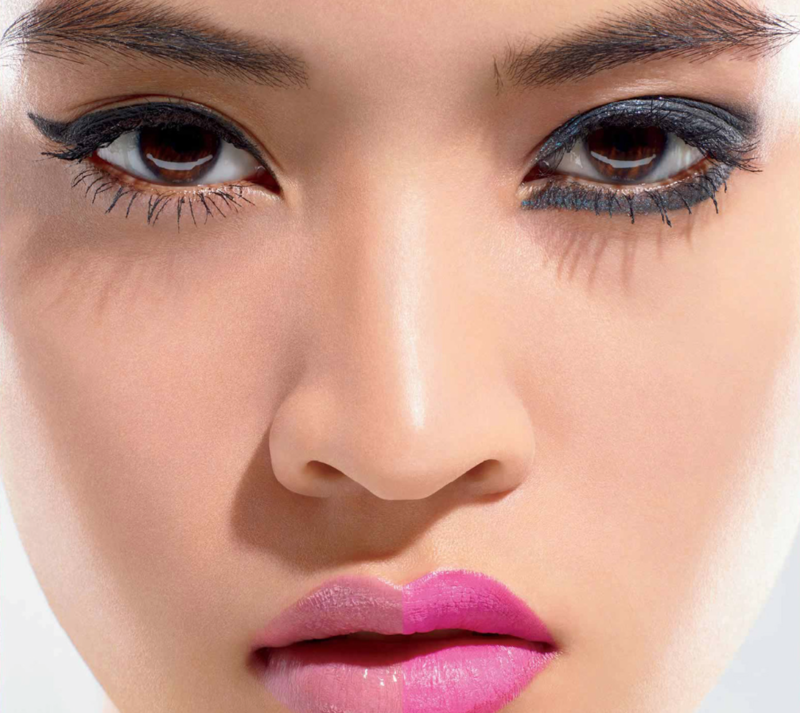 Transformed Collection By MAC Cosmetics
From killer highlights, to vibrant nails and bright lips, people are going mad for color this summer season. Bring out your playful side as you embark on adventures to the beach or on weekend getaways. Remember, summer doesn't last for long, so make sure to take advantage of the fun before the hands of time run out. After that, it's back through the looking glass and back to reality.
---
Go mad for these summer styles before the hands of time run out, CLICK HERE to enter the Nailstyle, Alice Through The Looking Glass Giveaway!