Change your style, add interest, match your outfit, hide your roots, disguise second-day hair — there are countless ways to get creative with scarf placement in a hairstyle. Many adopt the use of scarves during the summer season, however, fall is the perfect time to keep this trend going as well. If you've perused Instagram you'll know that scarves are having a major moment on and off the runways this season."Scarves are an easy way to add a pop of color or hide a bad hair day, and since they can look very Boho or chic, pretty much anyone can carry one off," says Lindsey Olson, Sam Villa Ambassador @lindsey.marie.olson. Looking to add a little flair to your style? Read on for Lindsey's top tips to prep your hair and get the look!
Prep Hair:
Style with a Sam Villa Artist Series 2-in-1

Marcel Iron and Wand

, rotating curl patterns to create the ultimate effortless look. Using root tong and spiral tong techniques together combine multiple curl types and create unique movement in the hair.
Flip hair upside down, spray

Redken Triple Dry 15

and shake hair to loosen it up.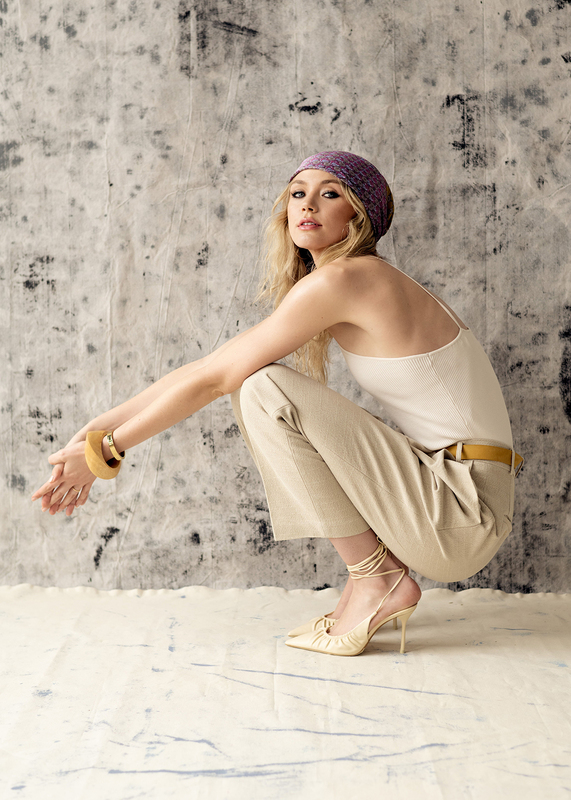 Tie Scarf:
Use a square scarf, the most versatile and easy to work with, for this bandana style. To cover the average head, a 28" X 28" size works best. Simply fold in half diagonally, then tie the two opposite ends together over hair and let the third corner loose. Adjust hair accordingly. Other versions include tying the corners under hair and/or tucking the third corner.
For other looks, like creating turbans, twisted headbands or scarf braids where excess fabric hangs loose, use an oblong scarf.
Shop The Look:
Learning how to prep hair to include scarves is also a great skill to have for work in editorial or backstage work as many designers and wardrobe stylists will want to feature this trend as well.
Stylists looking for FREE advanced education can explore the weekly offerings from Sam Villa and team here.
Credits:
Hair - Lindsey Olson
Photo - Anna Komarov
Model - Kelsi Kuhn
Makeup - Emily Wolf
Wardrobe Styling - Nicole Heraty