Angela Cattaneo encompasses the meaning of a true artist. As a stylist she has educated herself and drawn inspiration from her wonderful mentors to craft the career she has today. She is constantly striving to motivate others through @beyondtheponytail by offering a visual arena for inspiration through her own creations and by praising the work of her fellow stylists. We had the chance to meet Angela and admire one of her styles in person, an elaborate masterpiece with embellished finishes that left us wanting to know more about her!
Can you tell us a little more about you and your styling background?
First and most dear to my heart is my family that keeps me grounded. I have been with my husband for 15 years and we have had some of the most memorable times together. We have two wonderful children: a 9 year old and a 4 year old and I am constantly learning to balance my relentless passion for this industry and motherhood on a daily basis.
Throughout my 17-year career, hairstyling has led me in many directions. Most notably, I spent over 4 years with the Redken design team working with some of the most talented stylists within the industry. I have been able to use the knowledge and skills from this experience to not only become a better stylist, but to also become a better educator. I've always been passionate about sharing ideas and concepts about hairstyling within a classroom setting. I most recently have started focusing on styling hair for special occasions, photoshoots and working backstage to make an artist's vision come to life. My career is constantly evolving and I'm excited for what's to come. I feel pretty lucky to be able to do what I love and make a wonderful living out of it.
With the impact of Social Media I decided to create an inspirational page @beyondtheponytail that collects and showcases the amazing work of artists that inspire me daily. As well as being able to show support for fellow artists, Beyond the Ponytail also motivates and inspires to push the boundaries of creativity within yourself. I strive to deliver a message of believing in yourself. If you can dream it or if you have a vision of where you want to be in your career, with daily hard work and consistency, you will achieve it! Make goals, big or small and write them down. Work everyday to make them a reality! I'm proof that this method works as I sit here with this interview from Bangstyle!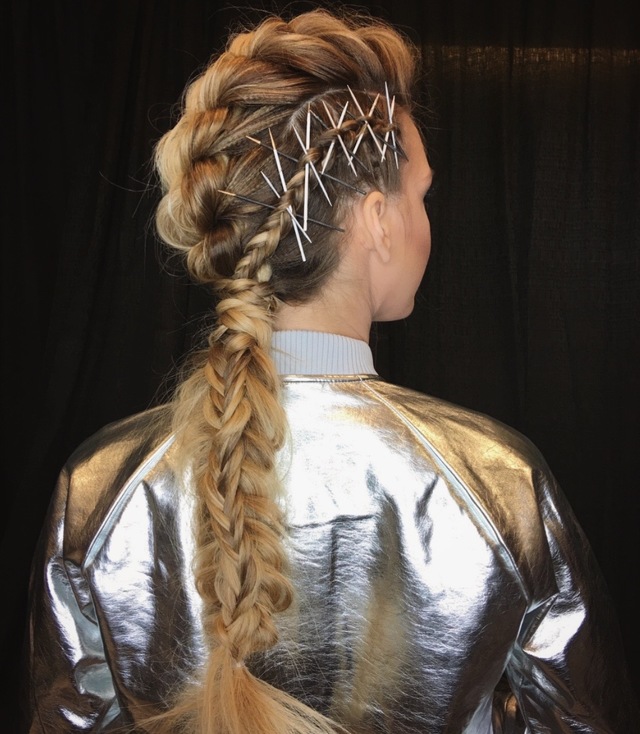 What drew you to hair styling?
Funny story, but my ex-husband. Really the only reason he came into my life. He changed my career direction dramatically. Once I started, I was hooked.
What is your favorite technique to use?
Adding texture to a haircut probably excites me the most and dry cutting for that instant gratification. In relation to braiding, probably the "pinch and pull" technique to "fatten" up the braids for volume and texture.
What has been the biggest defining moment in your career?
Honestly, it might be right now. My vision becomes clearer every day.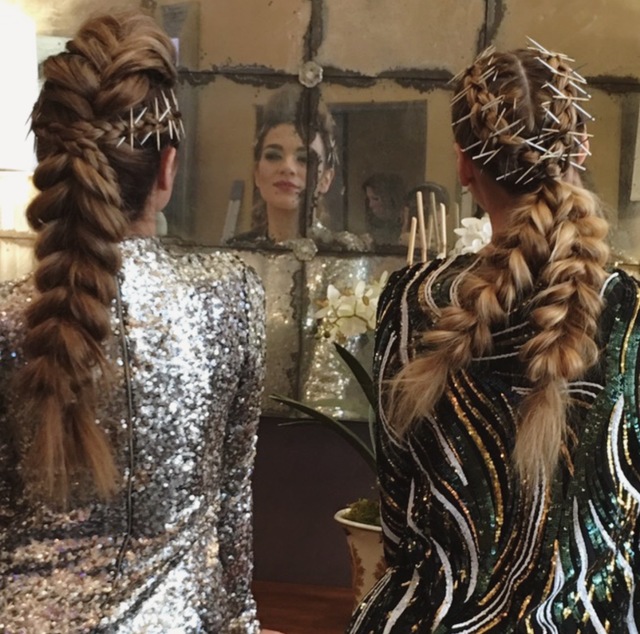 Is there a specific area you often find yourself looking to for inspiration?
I'm always drawn to hair design. I love watching others cut and then replicating that technique. Curly hair design fascinates me, and also anything that has to do with styling or braiding hair.
What is the one product/tool that you can't live without?
Dry texture spray and my Ergo styling brushes.
What are your favorite braids to create?
The Dutch Braid, Fishtail and Rope Braid. They are very versatile and can create softness, texture and volume.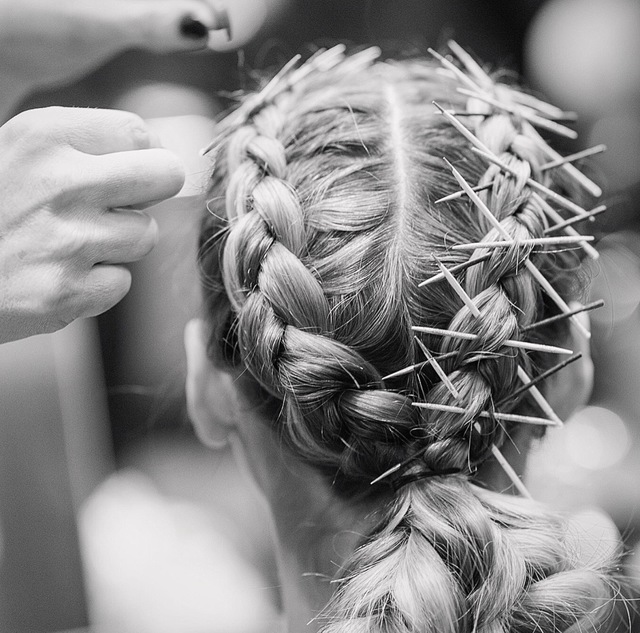 How do you use braids to enhance a style?
I use braids to add a bit of edgy/toughness to any look. I also use them to add a feeling of romance and softness. They are must for a Boho style and always a great way to show beautiful color dimension.
How have braids influenced trends?
Braids are everywhere and on everybody. From the Red Carpet and Fashion Week to a Braid Bar at Coachella, there is definitely a "must have" on all levels throughout our industry. I see it everyday while featuring artists on @beyondtheponytail.
If you had a superpower, what would it be?
Time Travel for sure. How fun would it be to live in different time periods, especially from a stylist's point of view?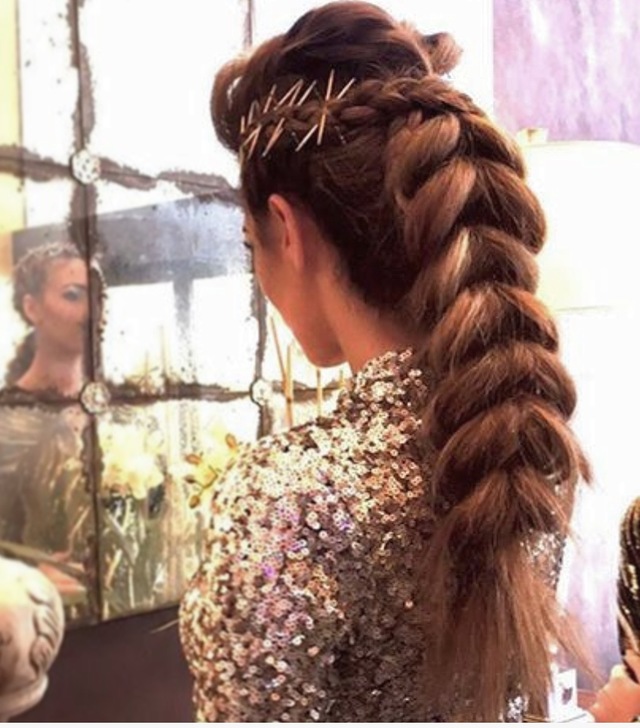 What's your favorite guilty pleasure?
I feel like I'm constantly watching what I eat, so BBQ pizza and a Stella Artois beer fits that description...or my favorite drink…a Tito's Vodka Cosmo.
Who were your mentors along the way and how have they shaped your career?
When I worked with Redken, I was exposed to many mentors. Sam Villa taught me the art of sharing knowledge and powerful facilitation skills, which I use daily. Teresa Mockler encouraged my love for visual cutting. Most recently, I admire Heather Chapman and the beauty behind how to create that perfect romantic look. The knowledge that she shares is a game changer on how I look and approach braids and updos. My confidence when approaching a bride or any styling situation is there because of the fundamentals that I have learned. Another person that holds a special place is George Alderete, he trusts me with his visions and gives me amazing opportunities to creatively bring those ideas to life.
What hair/color trends can we look forward to this Spring/Summer?
The Shag is definitely going to be a popular look this coming season. We are also seeing a lot of hair with a deep part and flipped to the other side finished with soft waves. Very sexy hair with natural texture or a soft bend is going to continue to stick around. Slick & Shiny looks were everywhere this Fashion Week as well. Another fun trend will be hair accessories! Definitely a great added visual interest to the overall finished look.
---
For even more styling and braid inspiration be sure to stalk Angela Cattaneo on Bangstyle and check out @beyondtheponytail on Instagram.