Jordi Schonwetter commands attention with her colors. With a wonderful eye, bold technique, and the inherently creative, she can generate styles at the drop of a hat. Learn more about Jordi's journey and how she created this collection.
---
1. What was the inspiration behind this shoot?
I didn't actually know I was doing this shoot until a few days before it! My mentor, Michelle Pargee, had asked if I would assist her on this shoot and of course I said yes. She mentioned that she had a few extra models coming in and if I wanted, I should come up with some looks to shoot. I've never been one to plan out my ideas for a shoot in advance so this opportunity was perfect for me to just let my creativity take over.
2. Your tones go together so well; how did you pick them?
Two days before the shoot I coloured the men's look and green look. I wanted to incorporate some trend setting colours but in an extremely wearable way. The lavender beard was actually a last minute addition on the day of the shoot! The blonde look had already been coloured by Michelle, and I had loved how the accent colours were so eye catching but soft. Each of the looks is so different from the other, but when put together in a collection they come together to create a bold, beautiful and exciting result.
3. What process did you use to get the desired outcome?
Our photographer, Kale Friesen, was taking some test shots to see how everything looked on camera. He had mentioned that the shadowing behind the model gave a really raw and interesting effect, so we went with it! I had never played with lighting or body position in such a different way before and it really pushed me to try something completely different from what I usually would do. The result is this raw, edgy, and stunning visual experience. I love it.

4. How was styling integral to showing off your color?
For my green look, I wanted to create a very expanded shape to show off the gorgeous jewel tones in her hair. I wanted to have light shining through her hair to pick up on the color so it didn't just look flat and dark. Another mentor of mine, Sylvain Bellerose, created the style for her. For the lavender look, I wanted to show off the softness of his color through the lengths while keeping the look edgy. His coloured beard was a last minute addition that brings the entire look together. For the blonde look, I wanted to try something with braids and texture since the models hair was so long and thick. I chose to create a distressed fishtail crown to show off the colour placement.
5. I love your lavender look; do you feel that we will be seeing men rock pastel hues? Or color in general?
Absolutely. With pastel and vivid hues becoming more and more popular, I definitely see more men rocking these looks. Why shouldn't men have fun with their colour?! I also hope to see more colourful beards!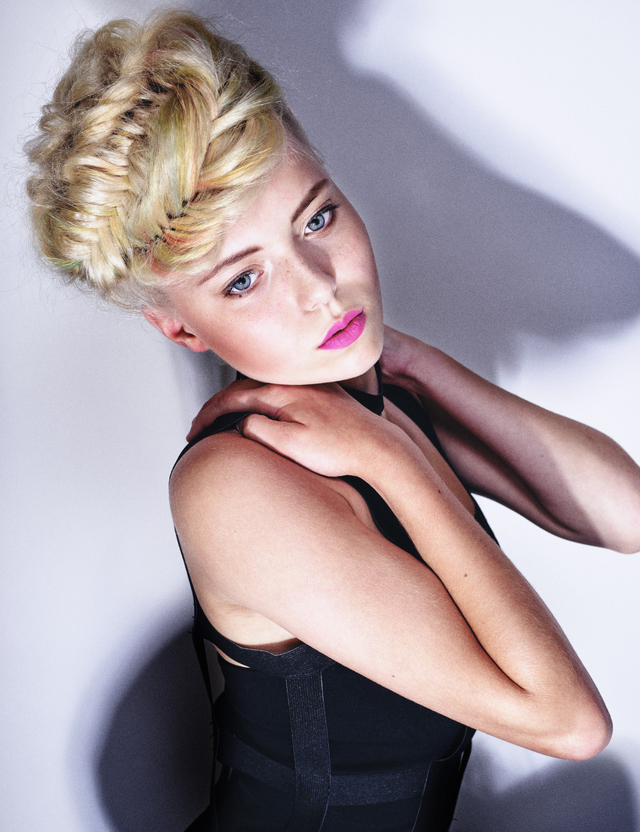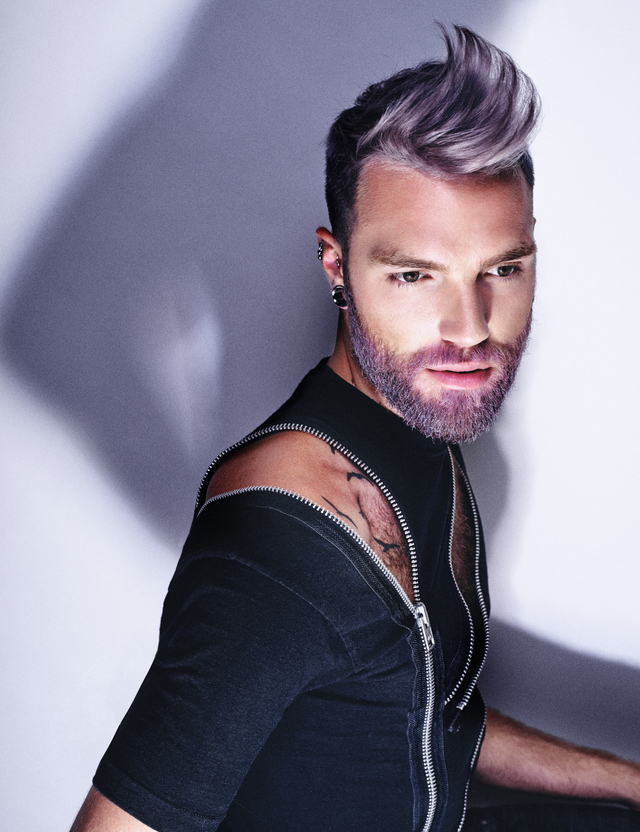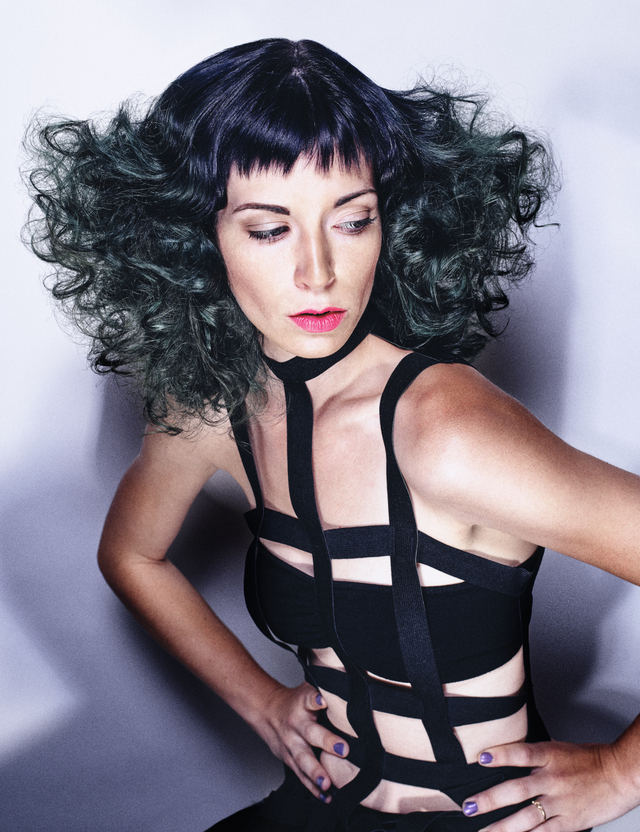 6. Is there one product/tool that you couldn't live without for this shoot?
Goldwell's StyleSign Big Finish hair spray. It's the perfect weightless setting spray with great hold; I use it on every shoot!
7. Who has influenced you most in your career?
It's impossible to choose just one person! I work in a salon with a large amount of stylists, and over the years they have helped me grow so much and taught me so many things. A huge shout out to my Milica team! Every single one of them has and continues to influence me everyday.

8. What is the next big trend in color going to be?
I predict we will be seeing a lot more pastel overlays on natural or highlighted hair. Not everyone is daring enough for a full head of vivid or pastel, and adding a pastel glaze to a set of highlights is such a perfect way to experiment with colour while keeping it subtle. It's a great way to introduce clients to new colour choices!
9. If you had a superpower, what would it be?
Time travel! I would love to experience the world in a completely different time or go back and relive great moments of my life. Or to eat whatever I want and not gain weight. Is that a super power? It should be.

10. Biggest virtue? Vice?
I think my biggest virtue is being honest, especially with my clients. Whether I'm consulting them through a color transformation or admitting a mistake on my end, I try to be as truthful as possible. My biggest vice...can I say binging on carbs? Probably, my defensiveness; I take it very personal when I receive criticism and even though it's something I'm constantly working on, I still struggle with it daily.
---
Be sure to stalk Jordi Schonwetter on Bangstyle and stay tuned for her latest uploads and inspirations!