Matthew Tyldesley takes us through his latest men's collection, Chiseled Vigor. Men's grooming has grown in style and popularity over the past few seasons and we don't see this waning any time soon. Take a peek at his collection to learn more about Matthew and his team and what we'll see this year in men's trends.
---
Editorials in Louisville, Kentucky are always strong, and when it comes to conceptual shoots, collaboration, collections and NAHA competition, choosing the right team are crucial. I always I love working with Makeup artist, Isidro Valencia and stylist/designer Genna Yussman as they bring their talent and skills to the table. We enlisted editorial and portrait photographer, Gary Barragan and selected and booked the models prior to the shoot. Day one was booked for models only as they came into the salon for color and cut. A total of seven hours were used to complete all the looks that ranged from a single to double process, treatments, design and finishing. We shot the collection the following day. The models we chose had amazing facial features and were open to pretty much anything my imagination created.
- Matthew Tyldesley
---
How do you feel men's trends have changed in recent seasons?
Men's trends have varied, as longer hair has become more mainstream, as well as the resurgence in facial hair (beards, mustache's, and prominent sideburns,) but anything goes; as fades and undercuts are still highly requested services.
What do you think the next biggest men's grooming trend will be?
As far as grooming, I think the clean shaven look will make a return.

What was the inspiration for this collection?
This collection was inspired by specific shapes and lines, in addition to that I was also inspired by some of the fashion spreads this season, such as Versace. They are a more extreme version of some of the cuts clients ask me to create behind the chair.
There are hints of color in your collection; do you think we will see men wearing these types of colors next?
Men are already wearing theses colors in some form. I think this collection can be used to inspire others to create edgy or commercial looks based on the colors used on each model.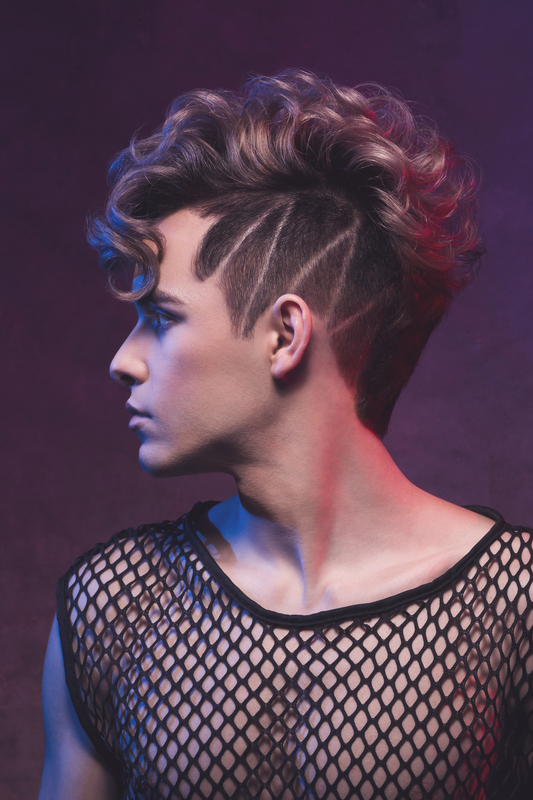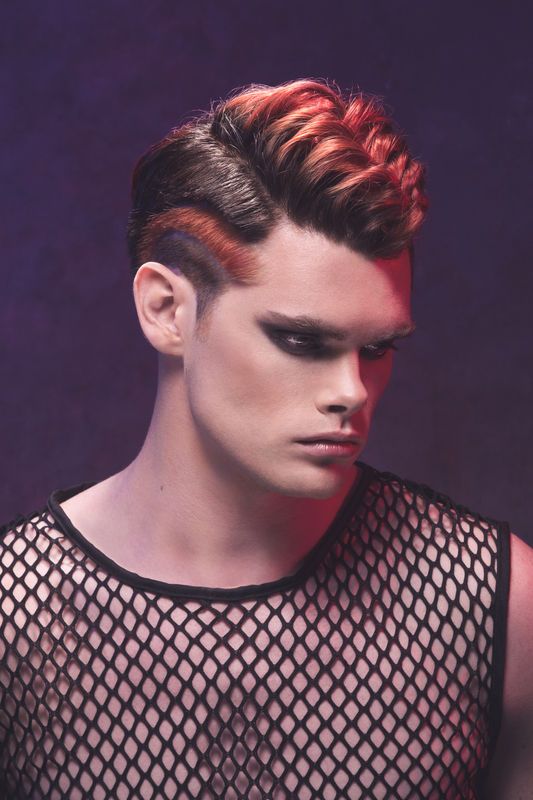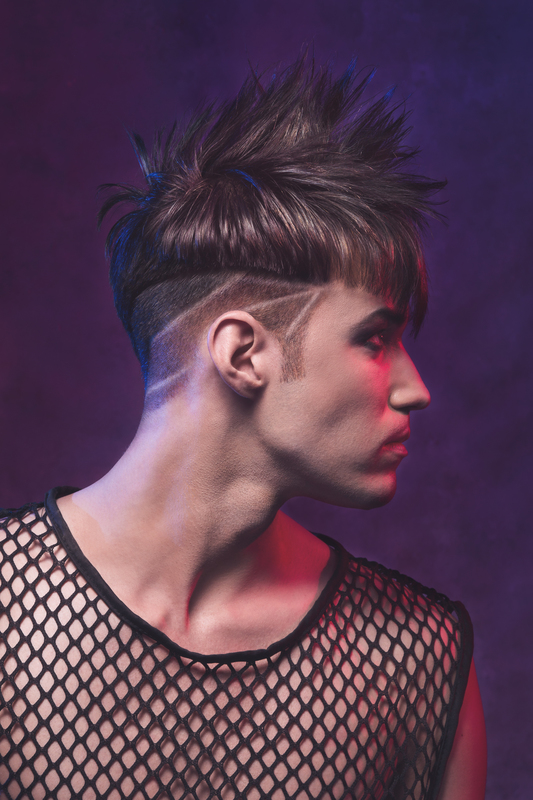 What was the one tool or product that you couldn't live without for this shoot?
Hardware Gel 15 and Iron Shape 11 for volume, hold, and heat protection
You use undercutting and etching in all of your models, is this something you are seeing more clients ask for in the salon?
Yes, a lot of my male clients are asking for undercuts but not just men, woman can have these styles too. Adaptability and versatility is the best thing about this cut and style. The cut has versatility in styling, while the etching lasts for only a very short time.
If you had a superpower, what would it be?
Teleportation
If you could talk to yourself at the start of your career, what advice would you give your younger self?
You are in the right profession and to always be you.
---
From The Team:

"This shoot was amazing! I really enjoyed bringing an edgy punk rock style to a new age. Each and every model brought their own individual look and style, which enhanced the overall feel. The hair, lighting and makeup tied everything together to create an amazing look. The team was excellent to work with and it made for an easy day." -Genna Yussman, Styling
"When Matt first approached me with his vision board for 2016 NAHA, I was beyond thrilled. It would be the first time shooting a NAHA entry. The inspiration was rich with dramatic lighting and edgy styling. I knew he wanted color added to the drama so I began drafting a lighting set up in my mind. Come shoot day, everything fell into place perfectly. I started with a gridded beauty dish and reflector for a traditional set up. Then I flanked the set up with Speedlites that had red on one side and blue on the other. By simply controlling the power or completely turning off the Speedlite, I was able to get a beautiful variance of mood with, red, blue and purple tones. This produced a plethora of options when we were culling down the 3 final images we would send off to completion. It was great to work with everyone, as each member was efficient with his or her talents and energetic with their personalities. I am already looking forward to working NAHA 2017, cheers!" - Gary Barragan, Photographer
"I think having an opportunity to work with this team is a dream come true. Everything came together like clockwork, and brought together the collective vision of the "Matt squad." - Chris Diaz, Model
"This shoot was one of my first large projects as a model and I couldn't have asked for a better team. From beginning to end I was shown how a professional shoot— is scheduled, organized and executed. Having hair and makeup done was a fun process thanks to Matt and Isidro. When it came time to get in front of the camera I learned and leaned on the other models (Chris and Jade) for different looks to try. Gary knew how to get me in just the right spot and Genna kept me on point with encouragement and her amazing outfits. Can't wait to work with everyone again!" - Ellis Mitchell, Model
CREDITS:
Hair | Matthew Tyldesley www.matthewtyldesley.com @Hairbymatt
Makeup | Isidro Valencia www.isidrovalencia.com @valencia0612
Styling | Genna Yussman Greene www.gennayussmanvintagebydesign @gennayussman
Photography | Gary Barragan www.garybarragan.com @photobygaryb
Models | Chris Diaz | Ellis Mitchell | Jade Perry
@chrisryandiaz @ellismitch008 @jadester5678