Photographer Gary Barragan teamed up with an amazing group of artists to bring this Greek Mythological concept to life. In part one of these three part collection we meet Andromeda, daughter of the Aethiopian king Cepheus and his wife Cassiopeia, saved from a disasterous fate by Perseus. Hear where Gary's inspirations were drawn from and how the team brought the story together through hair, makeup, and styling.
---
"When it comes to inspiration, I have a tendency to reign it in from various elements, one of them being music. I've been a longtime fan of the Deftones, admiring their heavy yet so harmonically beautiful dark sound. Since the beginning of 2015, I've desired to incorporate that love into a photoshoot inspired by their sounds and style, I just wasn't quite sure how to at first. However, after letting the idea marinate, it dawned on me to blend another layer of inspiration, the majestic beauty of Greek mythology. Coincidently, a few of the Deftones songs are named after Greek mythology… Minerva, Xerces, and Eros; the unreleased and final album with the late bassist, Chi Cheng. I finally envisioned a collection that was a Rockera Goddess infusion. Once this vision was in place, I knew the teams I would form needed to dynamic. So I decided on involving a few of the top hairstylists, makeup artists and modeling talents the Louisville Art Scene had to offer. Yet I didn't just throw teams together, I formed them based on who has never worked with each other before. This created a fresh and unique chemistry for each, yet still achieving a cohesive theme across the entire collection. The only requirement I asked was that each hairstylist create an asymmetrical style and each makeup artist create a complimentary look to the hairstyle.
Once the stones were set in place, I knew what I needed to do on my end, which was figure my lighting style and background elements. Naturally with this being a beauty collection, I went with a traditional clamshell lighting set up using a Profoto D1 Air 500 with a socked beauty dish then gridded at 10º as the key light and Westcott Eyelighter reflector as fill underneath the models face. I also used a Profoto D1 250 Air as a kicker hair light to either camera left or right depending on the direction the model faced. This would throw just enough kick to highlight the details of the hair. As for my background, I knew it had to be raw, edgy and rich in texture as this would contrast with the beauty set up. I ended up using a sliding iron door, a hand painted Oliphant backdrop and a basement concrete wall. As dates were set and the photoshoots were executed, I became overwhelmed with an immense feeling of accomplishment. Camaraderie of artistic visions are truly what breathed life into this collection and I personally couldn't be more proud of each and every artist involved. From the Hairstylists, Makeup Artists and Designer figuring their looks to the modeling talents executing the elegant yet fierce poses, each of them went above and beyond what was asked. Now on behalf of 12 contributing artists, I present The Eros Collection."
-Gary Barragan
---
Andromeda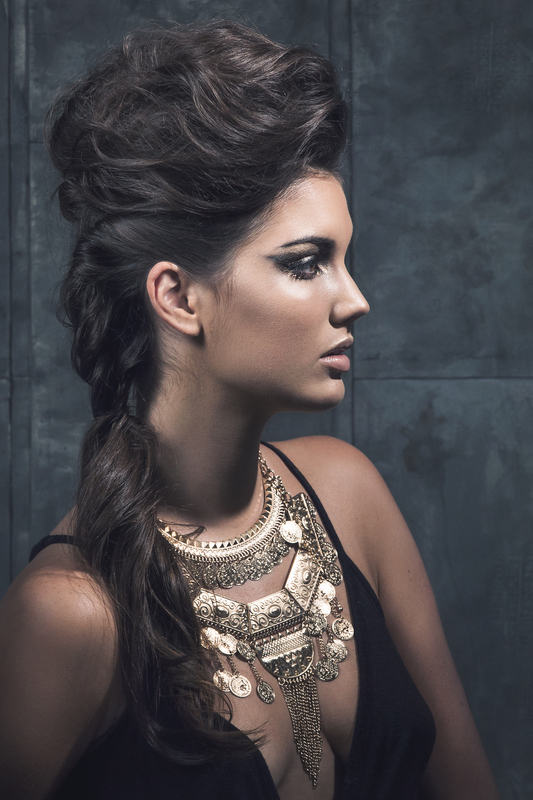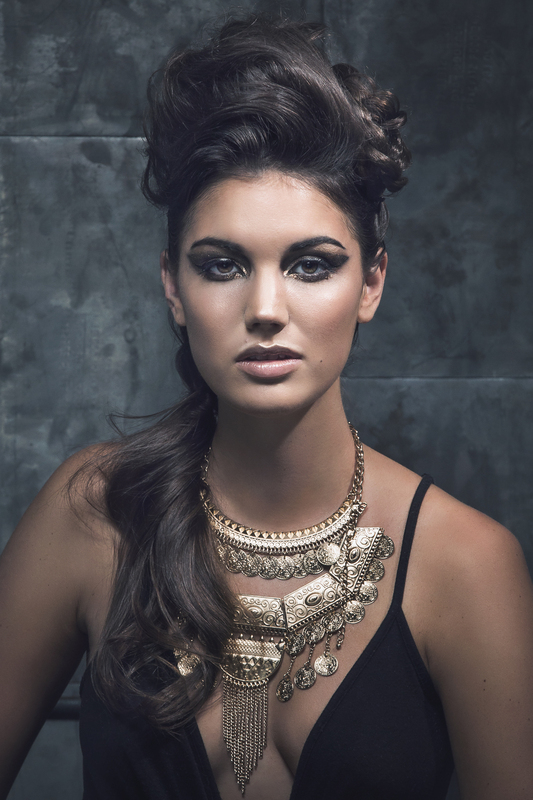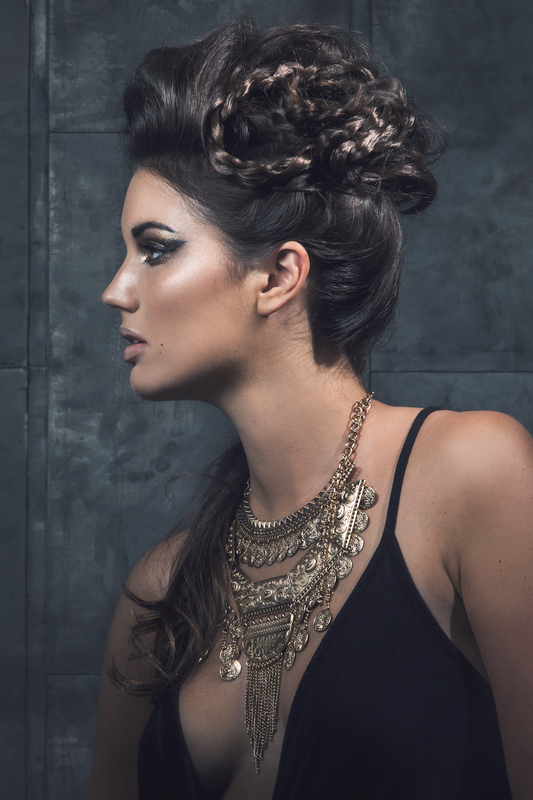 Kalen, Haistylist – "I'm drawn to the idea of incorporating both hard and soft elements in the looks I create. For this look in particular, it was important to create a voluminous and very structured foundation, on which the hair on top could appear weightless and ethereal. To help create this foundation I used Eufora's Full Effect, a Dry Texturizing Spray. To help sculpt and create volume and texture through the top I used Eufora's Details, a Dry Spray Wax. I then used Paul Mitchell's Stay Strong hair spray to set the look, and Eufora's Illuminate Shine Mist as the beautiful finishing touch".
Livia, Model – "When the Eros Project was presented to me, I was more than ready to jump in. I love any kind of dark, rebellious, rock-star work. I had heard great things about the team involved with the Eros Project, and they exceeded those already great expectations. All of these wonderfully talented people came together and combined their powers to create the wickedly awesome Eros Project".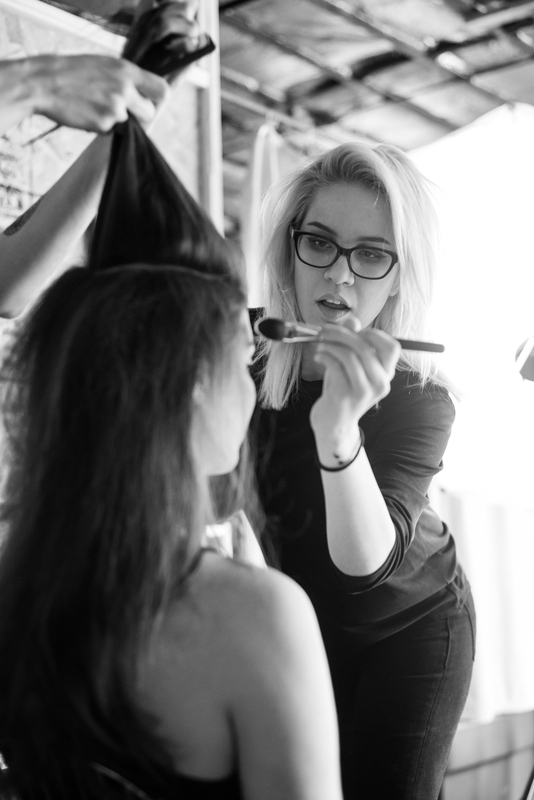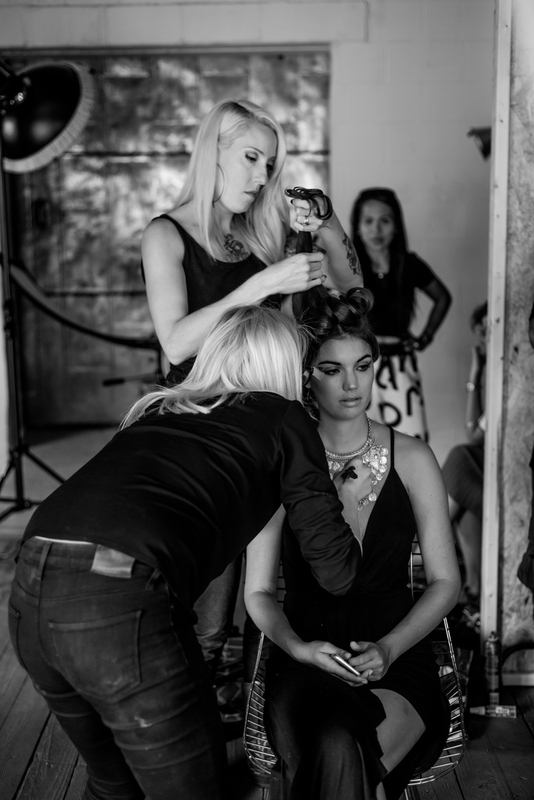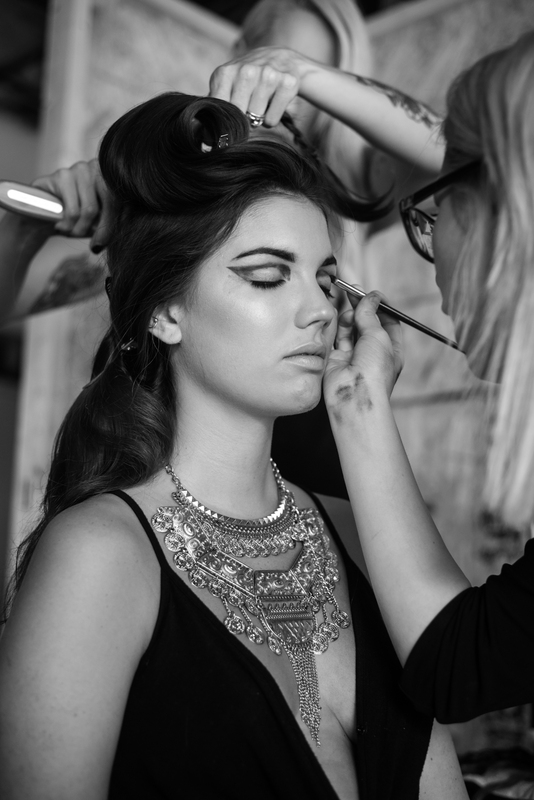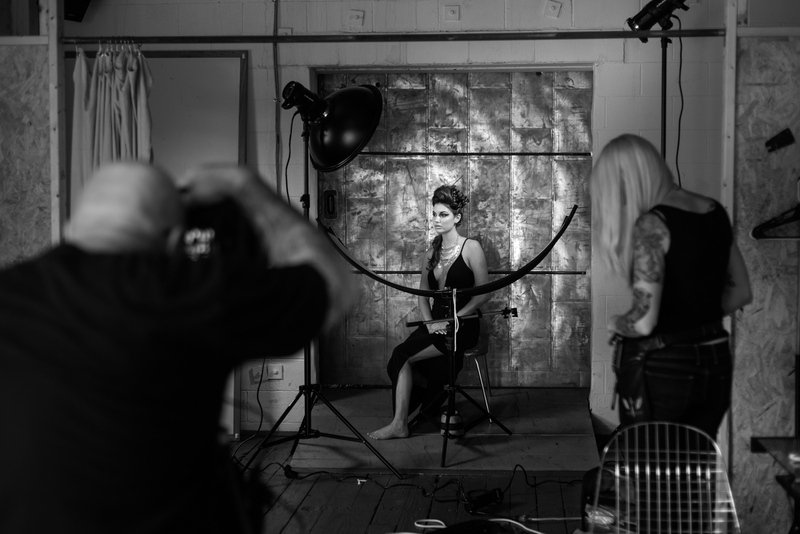 Stay Tuned for Part 2 and 3!
---
Credits:
Hair Stylist: Kalen Helfrich
Makeup: Anastasia Gerdes
Model: Livia Hope
Styling and Wardrobe: Kristina Sellers
Behind the Scenes: Joey Goldsmith