We are thrilled to partner with the Professional Beauty Association (PBA) to promote all of the talented artists who are finalists for the 2016 NAHAs (North American Hairstyling Awards), the most prestigious hair and beauty award in the country. Bangstyle had the honor of interviewing amazing hair artist, and one of this year's finalists in the "Hairstylist Artist Of The Year" category, Cynthia Valdez.
Inspired by the years spent as a child watching her mother work in the salon, Cynthia Valdez sets out to modernize the classic mod '60s look! With clean lines and strong contrasts, this collection is absolutely stunning. Hear more about Cynthia, her inspirations and how she created this beautiful shoot!
---
What was the inspiration behind your collection?

My inspiration for this collection was the classic haircuts and styles I saw from growing up watching in my mom's salon. My mother started as a salon assistant in the 60's so I wanted to honor her career and the endless backcombing she did back in the day. I called this collection Modern Mod because the vibe I wanted to portray was that of the 60's mod looks, the Sassoon classics. I have a lot of friends who currently live the "modern mod" life, they have DJ nights where we go out dancing to soul music and some good oldies, they inspired my collection as well. My friends are also my clients, so I have been doing a lot more classic cuts this past year and invented with them ways to revamp them in this modern mod style, which has now become my forte. I wanted this collection to be a reflection of who I am as an artist and as a person, what makes me vibe, and what my roots are. I am thrilled the judges were able to appreciate the raw talent and vibes that this collection has.
Did you know you wanted to shoot in black and white?

Absolutely! When I created my mood board for this collection I immediately thought I wanted black and white classic looks. I wanted the hair and the theme to stand out without elaborate retouching and photo effects. I envisioned it to be clean and to the point. I became detail obsessed, I wanted the perfect capes, and if it didn't exist, I would make it; so I made my own costumes, because I also know how to sew. I knew shooting in black and white would tell the perfect story, the costumes would look great and achieve all those dreams I had in my head.
How did you style your images to create such strong contrasts?

The styling process for me always comes in waves, I typically create two looks per model and we play with movement and facial expressions. I never really know what I'm going to love, I don't plan too much in advance, as I like to create or adjust looks as I go along. We had this shoot in my apartment living room; therefore a lot of the movement in the hair is me creating air with a paper bag next to the model which changed the look completely from a "bob" to an "editorial bob". It's all about being open to do different things and being able to jump into action to create the desired look.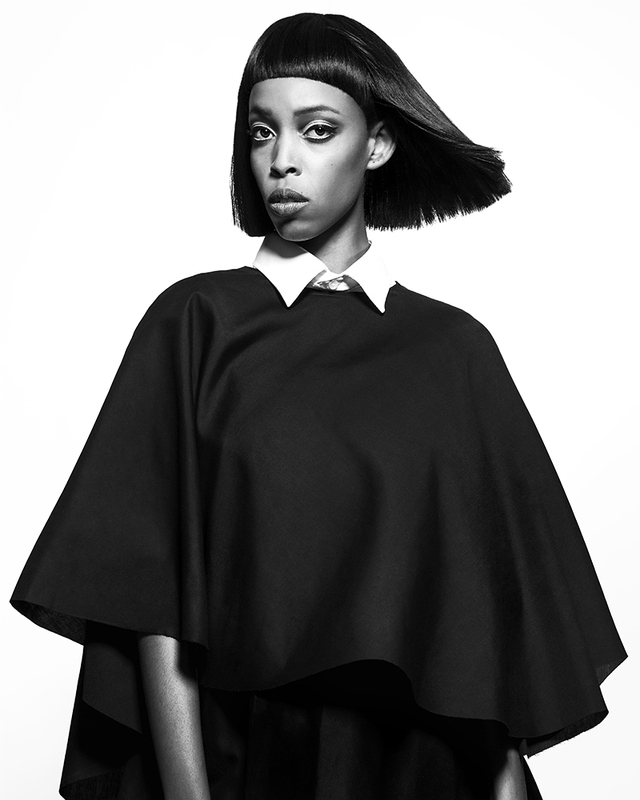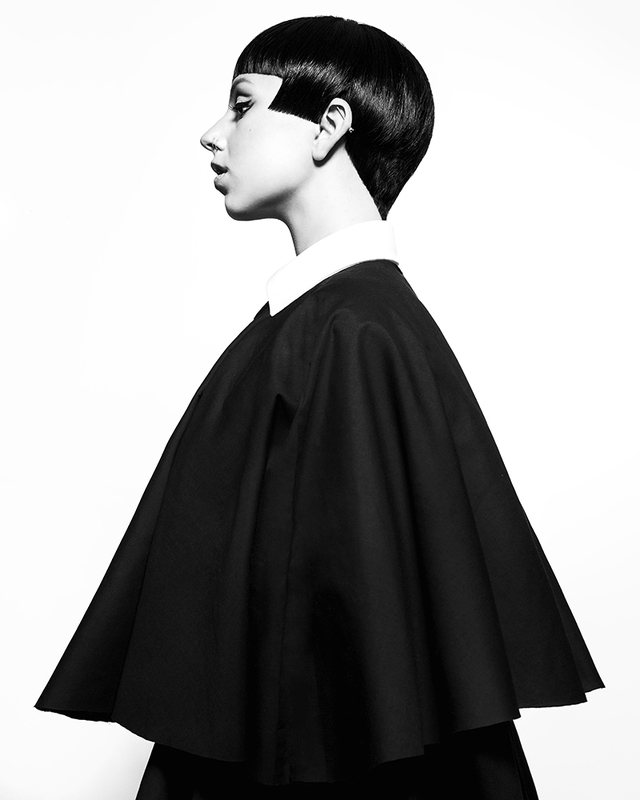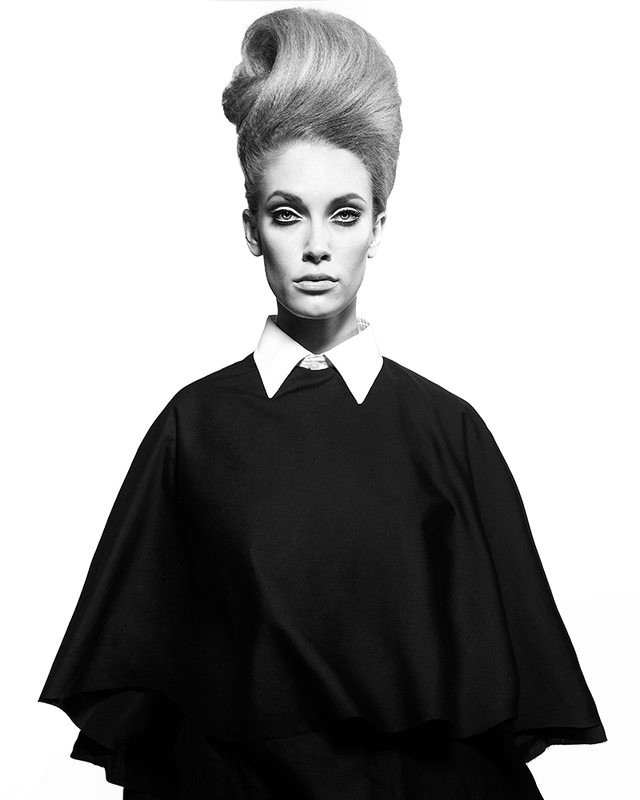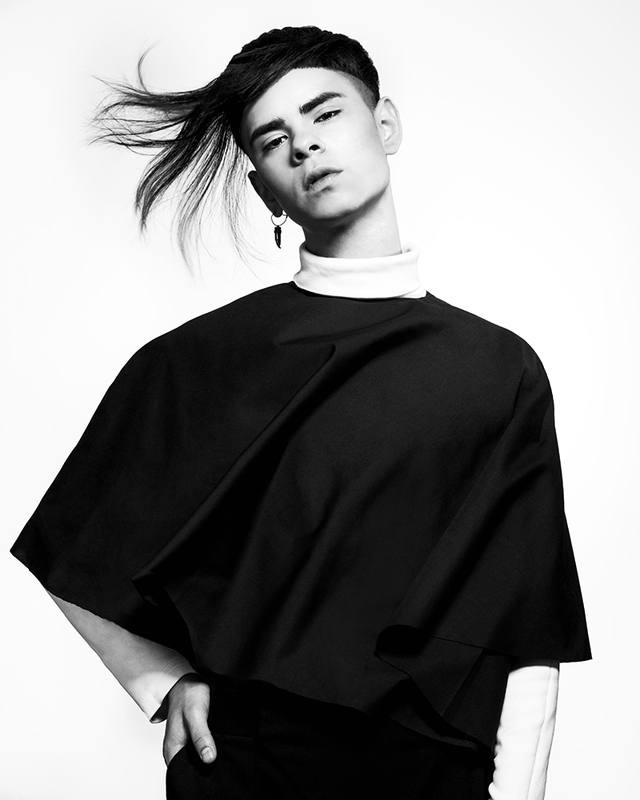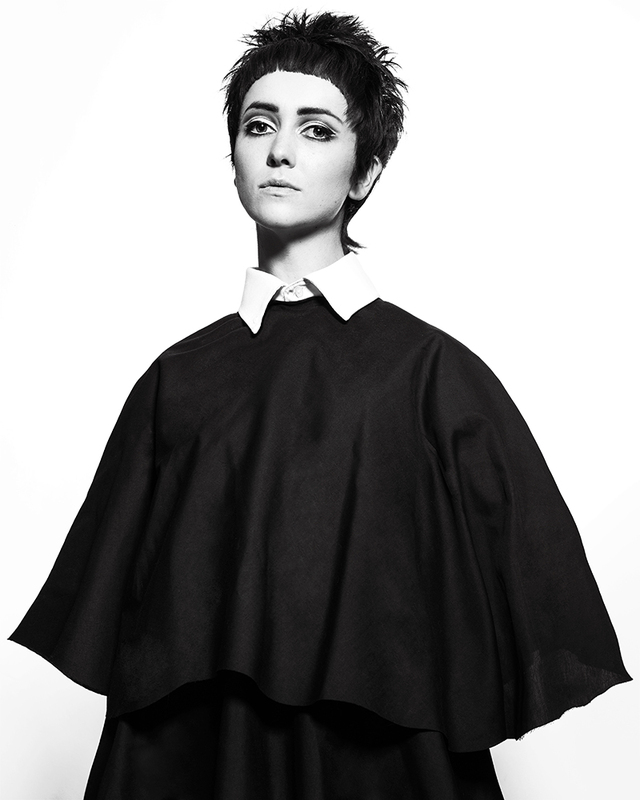 What steps do you take to ensure a successful shoot?

My favorite question! Everyone thinks it's easy but I have tried many different methods creating shoots from having a creative director to casting models and being a neat freak. None of that has worked for me in the past.
I like to involve people that are excited about the project, that is my main focus when doing a shoot. Preparing wardrobe and having a schedule is also very important but honestly a successful shoot for me is when everyone is excited, there is plenty of food for everyone, we turn up the music to our favorite bands, and we just hang out and create in a supportive creative environment!
What do you think is the most exciting technique in the world of hair at the moment?
I love the alternative techniques from stylists that are thinking outside the box. I love the focus in classic haircuts with a twist. I love seeing more and more micro bobs, micro bangs and the trend that girls are daring a little more; slowly stepping away from the long layered haircut. I also love that WOMEN are stepping forward in our industry (which is ironically, mainly dominated by men) and taking lead as educators, and brand ambassadors. Girl power!
What was/is a defining moment of your career?

This is tough, I think a defining moment in my career was when I realized I was never going to be comfortable settling, I was never going to be okay with someone writing a role for me. Being content was not going to grow my skill and was killing my creativity. I also had to be honest with myself that my dreams were almost impossible, but the only way I could reach them was if I started writing my own story. Taking the power and the control over my career, it truly has set me free.
What's the one tool or product you can live without?

My thing is styling and blowouts, so I could not live ever without my round brushes! Literally I'm obsessed with them.
What other forms of art inspire you?

Music + Fashion is what makes my world go round. I am not the obnoxious brand nerd, I just enjoy fashion in the way that we can create a statement and say a lot about ourselves by what we wear. Music In the other hand can take me places emotionally in a way that no other art form can.
What's your average Saturday night like?

On a typical Saturday I like to do a thing we call "anything can happen Saturday," which means I pick restaurants at random to try new food or cocktails. I am also obsessed with an indie movie theater in town so if I am not feeling adventurous I end up grabbing a drink there and watching a documentary or film. Wild huh?
If you won the lottery, what's the first thing you would splurge on?
I would probably spend my first big bucks in buying all the Sassoon cutting courses in London. Wait, never mind that would be my first INVESTMENT.
Who is the one person you don't want to forget to thank on stage?
I don't like to think about that too much, but if I were to win…I'd definitely would thank my mother; she is the reason for everything I do, she is my inspiration and the best mentor and friend a girl could ask for. As well as my boyfriend for dealing with this crazy creative riot on a daily basis and using most of his vacation time to help me travel to seminars and classes so grow my career, he rocks! Also, I must remember to thank the people that got me in this path and planted this seed in me that this wild dream of becoming a finalist could be real …that is my Paul Mitchell the school Austin mentors. They took me to my first NAHA experience and since then I haven't stopped working towards being on that stage.
---
Be sure to stalk Cynthia Valdez on Bangstyle to see all of her latest inspirations!