One of the earliest celebrity stylists on Bangstyle...and one we have a BIG soft spot for is the talented Charlie Price. Whether it's editorial, NAHA collections or just passion collections….we are always anxious to get the inside scoop on his latest work. We are excited to share his latest work, FILM NOIR, with you and know you'll love his take on vintage glamour as much as we do!
Are you a vintage film buff? What inspired you to create the collection?
https://www.bangstyle.com/trend_reports
Yep, I love movies like Alfred Hitchcock's, "The Birds", "Grand Hotel" and my mom's favorite movie is "Casablanca". So I grew up watching this stuff. As any self respecting Gay, I also obviously love "The Women", LOL.
Tell us how you feel old Hollywood glam influences hair today?
Old Hollywood style is timeless. It's always in style and in an age of vulgarity; lack of manners, grace and discretion this era looks even more appealing. Classic Glamour always works, plus who does not love the idea of pretending to be a great star in a great film?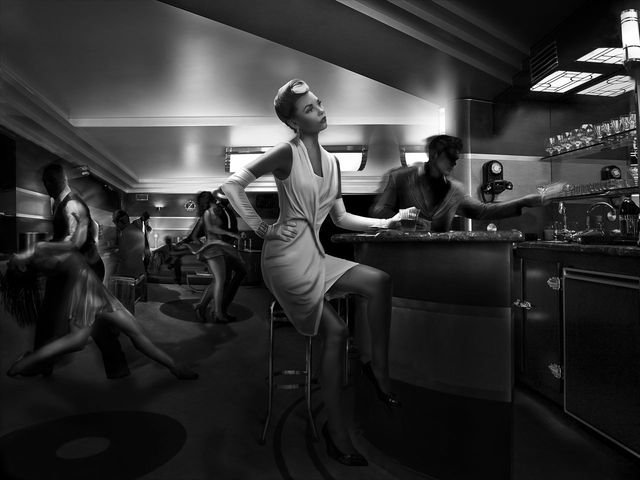 Why was black and white so important to the final look of the collection?
The photographer Duke Shoman loves to create rich, elaborate and dramatic photos that tell a very concise story. I love Hollywood, Goth, Glamour plus Black and White is a signature of mine style wise. These aspects of both of us melded together in the shoot. The lack of color also of fits the era of Film Noir to a Tee.
What was the biggest challenge of duplicating a long lost era?
The period details. Duke has a serious process when he shoots. He will blend up to 20 or 30 photos into one image with photo shop. We shot the model in a green screen manner and then he shot retro locations separately in Denver and LA and Frankenstein. The edited all these gorgeous elements together. I love just letting him go for it. He operates with no compromise and no fear, which I obviously respond to!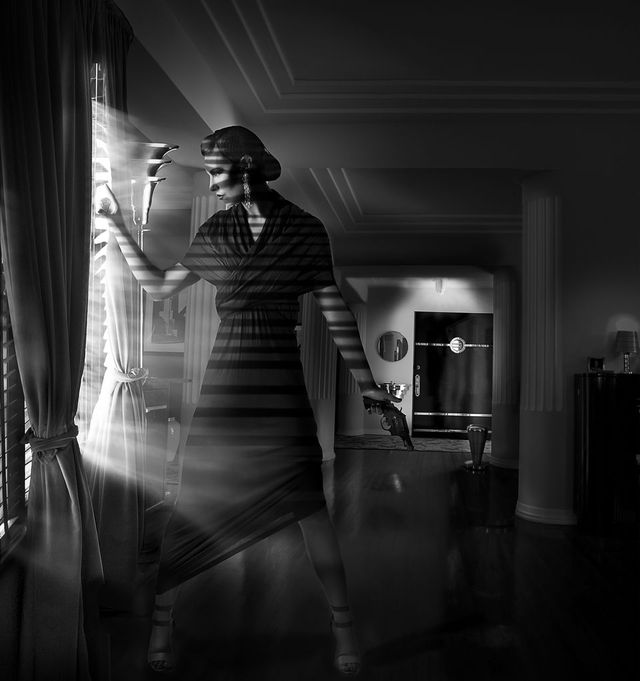 What hair trend would you like to see take the stage again?
I would love to have more people wear a 1920s Bob. It's a strong look that works on most people and it's so fucking chic!
How did you select the team for this shoot and what ended up being the most important element?
6. I work with the same people over and over. The makeup artist, Becky Laschanzky, loves this period too. We watched "The Women" together recently and it was so bitch soigné and fun. We are both also obsessed with the 1980s. The reason this is relevant is that a lot of 1980s movies had a version of 1940s Hollywood woven into to them visually, which definitely informed the look of this shoot as well. Having the team be really tuned in to each other and this very specific vibe was essential! Plus we all are nerds about the same stuff so it was just fun to be around like minded dorks.
What is your focus for the rest of 2016?
Let's see, NY Fashion Week. A bespoke shoot for Beauty Gives Back Eden Sasson's charity, which is an off shoot of the larger charity The Thirst Project. My collection AQUA will raise funds to contribute to the effort of trying to end unclean water in Africa. I'm going to Japan in a week to shoot with my amigo Jake Thompson. And I will be a judge on The TV competition show Global Beauty Masters. And lots of other things I can't discuss because I don't want to jinx them!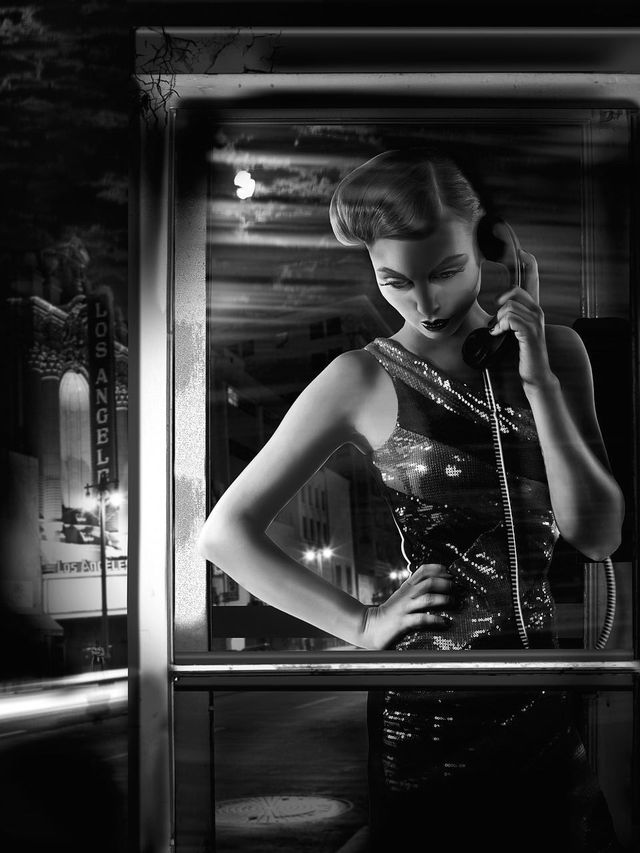 What new collections/event are you working on now?
I'm working on ideas for all of my 2016 releases; hair shows, education and competitions. These three things: -1)transformation 2)old is the new young and 3)plus size models are percolating in my head right now. Not to mention a bunch of events I can't talk about yet!
What's your current obsession?
I'm obsessed with the TV show Mr Robot and Hannibal( I can't Believe they cancelled it!!!! Although I am shocked that it lasted 3 seasons on a major American network). The music of Feist, Rhye and Beach House. Big ass Round sunglasses by Tom Ford. That channel John Lennon and Yoko Ono if they were combined together into one cool ass being. The photography of Mert and Marcus, Solve Sundsbo,Perer Lindbergh, Steven Meisel, Steven Klein (the makeup artist), Issamaya French (a fierce young hairdresser that I stalk on Instagram, @hairbyadrian, who continues to ignore me). I'm obsessed with androgyny, Messy hair, long hair, short hair, strong but fucked up Haircuts and Bulgari Cologne. As always, my heavenly boyfriend Salvador, who is a ray of sunshine that brightens every day. :)
Check out the full collection on Charlie Price's Bangstyle profile. An be sure to Stalk him to keep up with all his new Hair Art!