Jennifer Miaczynski has proven that combining different types of braids and texture can completely transform an image. In this featured collection she shows off styles that defy gravity, enhance color, and push the envelope on what hair can do. Get to know more about this amazing artist and her role as a MATRIX educator and Chrystopher Benson Collective team member below.
Can you tell us a little more about you and your styling background?
I live in a small country town. Growing up I went to a small vocational beauty school while in high school. I lived for hair competitions, which is where much of my styling journey started. The competitions taught me not to be fearful of losing but instead to learn from the loss and do better next time. I feel education is the core of our industry, being a MATRIX educator and part of the CBC team (Chrystofer Benson Collective) has given me the opportunity to share with so many stylists while picking up new techniques myself.
What drew you to hair styling?
Hair styling was something I have loved even as a little girl, it sounds so cliché, but I always knew I wanted to be a Hairdresser!
What is your favorite technique to use?
I use braids a LOT! Not only for the stunning visual of a braid, but also hidden. Braids are great as anchors for pins, to hide hair when there is too much, or to create a deconstructed look like lose waves. There is so much versatility with them.
What has been your biggest defining moment in your career?
I really try to celebrate every win, big or small. Sometimes even the smallest little things are closest to my heart. And as your career evolves your defining moments also evolve. Working my first hair show with MATRIX was one defining moment when I realized, yep I'm in the right place, and these are my people.
Is there a specific area you often find yourself looking to for inspiration?
There are so many! Nature, art, the hardware store, my peers, the list goes on and on.
What is the one product/tool that you can't live without?
My CBC Texture iron. It is great if I need added crimped texture to expand a shape or braid, or just to add extra hidden volume in a style, its my go-to tool.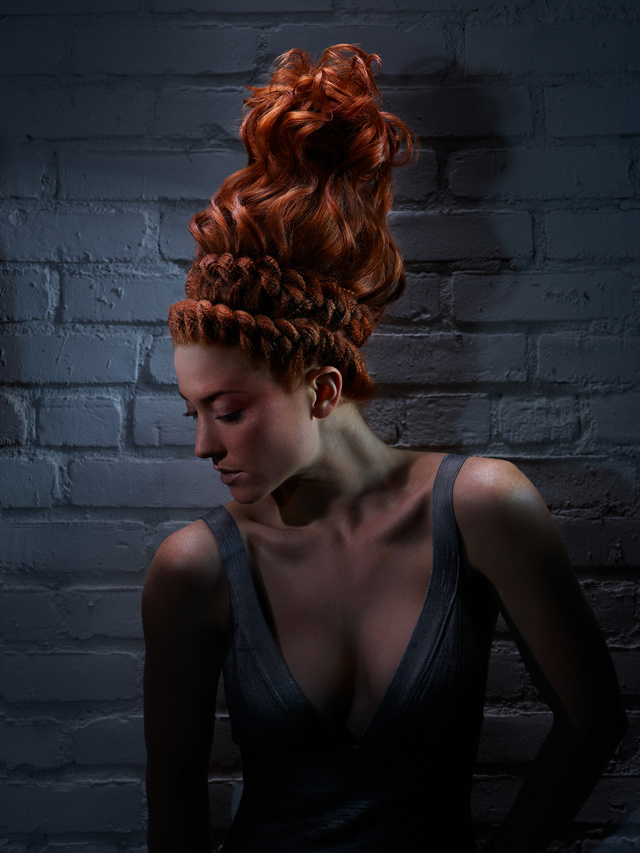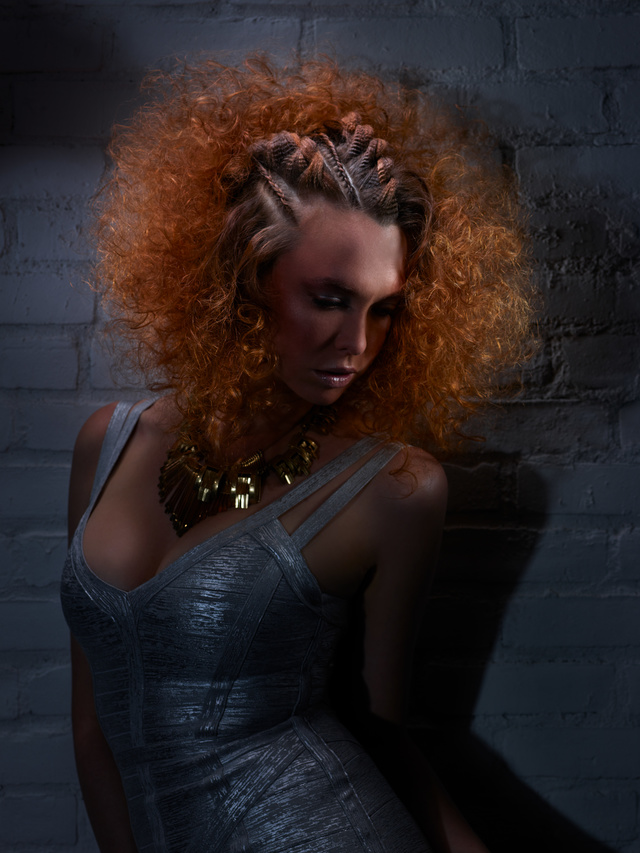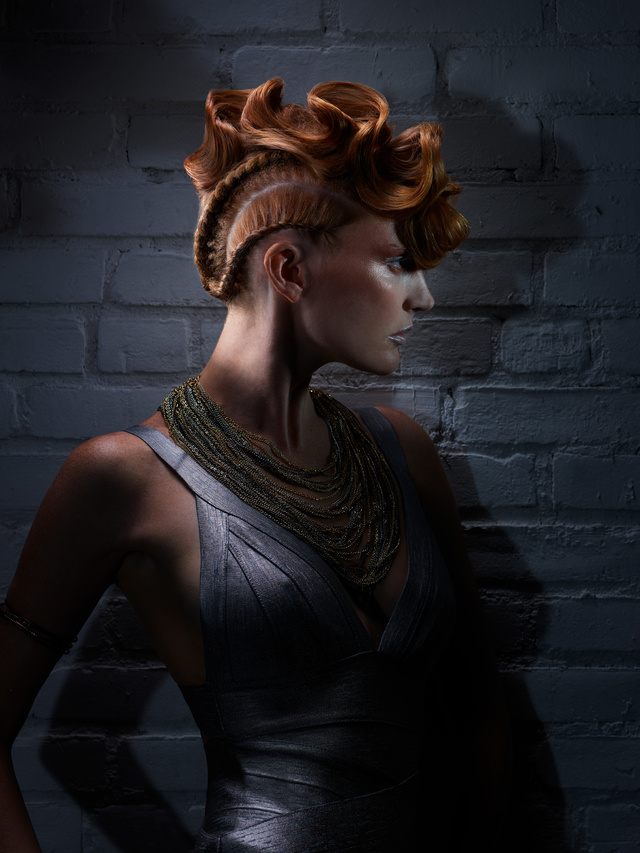 How do you dream up your collections?
I start a mood board and work on mannequins; those pretty ladies aren't just for beauty school! I like to do a rough draft the first time, take a step back, and rework them. Then I figure out what worked and what didn't. It's always amazing to see the evolution throughout the process. And the process is everything!
How do you use styling to enhance your images?
Styling is key to finish images, a great blow-dry or well done set can not only make good color look amazing, but really ties together the final image.
How did you work with your makeup/styling team to craft a final image?
I work a lot with mood boards; they give everyone on the team a really clear idea of what you are looking for.
What is this collection saying about Trends?
Braids are everywhere and not going away anytime soon, I love to take braided elements and add them into final looks to create texture and movement.
If you had a superpower, what would it be?
Probably like most, if I could be in more than one place at one time, I could really get stuff done!
Who were your mentors along the way and how have they shaped your career?
Two people immediately come to mind. Manuel Rodriguez, The way this man styles hair is like nothing I've ever seen. His patience and dedication in teaching has really molded the way I style and finish hair to this day.
Chrystofer Benson, A great friend and an amazing mentor and visionary, I am truly inspired by his creativity and ability to push the envelope. Not only has he helped me hone my cutting and coloring skills, he has taught me to take my concepts to the next level.
What hair/color trends can we look forward to this Spring?
I'm hoping these super textured looks, natural or done with heat tools stick around this spring. I am also really looking forward to warm colors, soft golds and coppers and a bolder look in fashion shades.
---
To see more inspiration from Jennifer, be sure to stalk her on Bangstyle!