Editorial in Louisville, Kentucky is always strong and when it comes to conceptual shoots, collaboration, collections and NAHA competition, choosing the right team is crucial. I love Avant-Garde style, as it allows for endless creativity. This collection was inspired by artist, M. C. Escher; His classic black and white designs are very inspirational and was the backdrop for me to create this collection. We wanted to pay tribute with a modern, artsy editorial that was true to his legacy but also reflective of our own styles. I spent weeks constructing the hairpieces prior to the shoot, experimenting with different materials of hair. Hair was painted, shellacked, weaved and manipulated to create these looks of art. As always I love working with Makeup artist, Isidro Valencia and stylist/designer Genna Yussman as they bring their talent and skills to the table. Steve Squall is an amazing fashion and editorial photographer who I have had the pleasure of working with, and I knew he would be perfect for this collection. We had meetings to book the right models and set the date and this is what we came up with!
---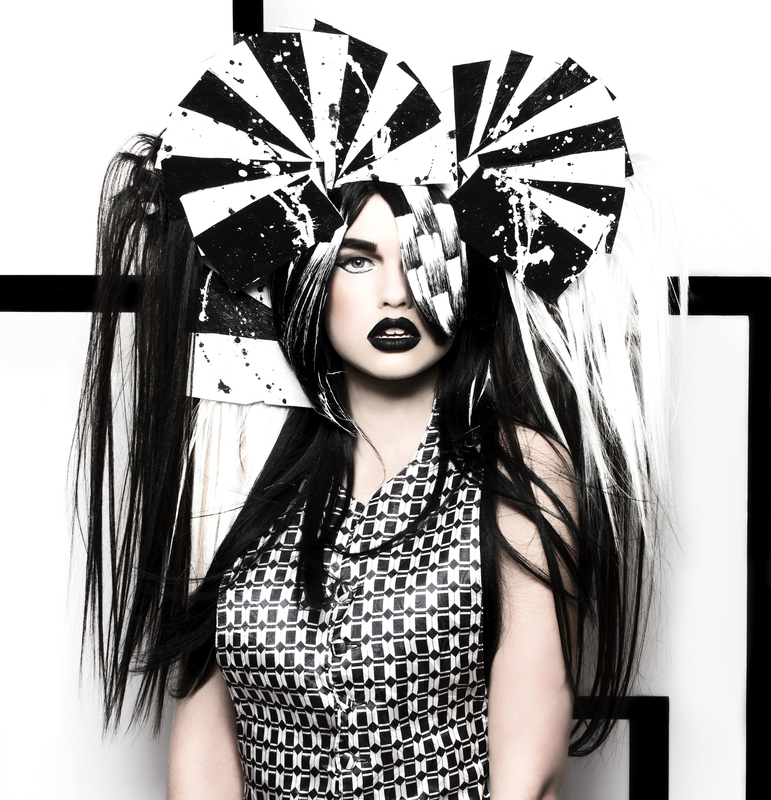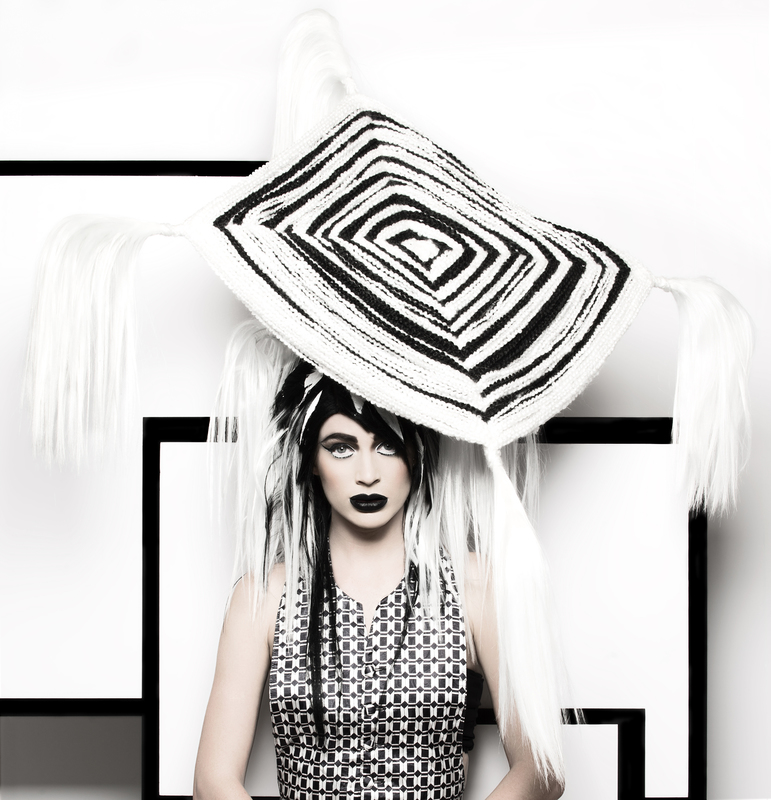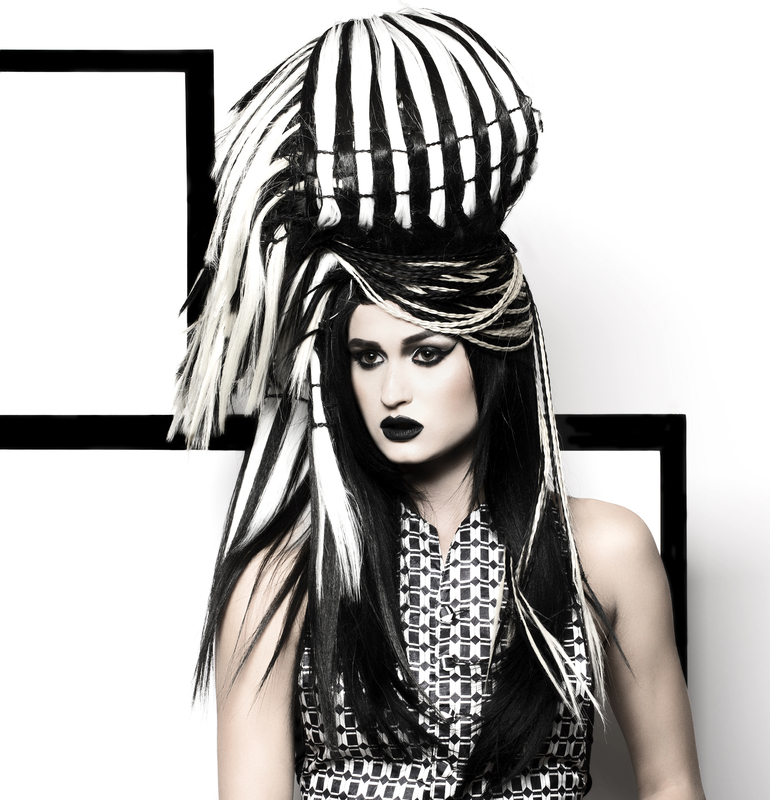 1. Do you feel that weaving is going to be the next trend?
I feel weaving never left and will continue to create an impact in hair and fashion.
2. Can you give us a bit of insight into what the typical creative process behind creating one of your gorgeous collections is like?
The process consists of thinking of a concept, then looking for imagery that has elements I'm envisioning, I will then create a vision board. From there I will plan meetings with the makeup artist, stylist and photographer to convey the vision of the shoot. This way everyone is on the same page and can bring their level of skill to the shoot. Next, we set the date and book models. Meanwhile, in my spare time I'm constructing hairpieces from various materials. Some of the pieces get used and some wont, depending on the flow of the shoot. It is a wonderful process to see the collection come to life from start to finish.
3. Is there a specific area you often find yourself looking to for inspiration?
I find inspiration from all sources but I do look at fashion magazines, music videos, photography and draw from my imagination.
4. Is there one product/tool that you couldn't live without for this shoot?
I could not live without bobby pins and Redken Hardware Gel 16.
5. Why did you decide to make a collection using only black and white?
I decided sticking with this color scheme would make better for cohesion but mostly to stay true to the artistry of Escher.
6. Who has influenced you most in your career?
I think I have been most influenced by the cutting of Vidal Sassoon and Kris Sorbie, who has always been very encouraging.
7. If you could talk to yourself at the start of your career, what advice would you give your younger self?
"You are in the right profession" and "always be you."
8. What is some advice you can offer to other stylists looking to create Avant-Garde Work?
Anything goes...Don't discredit something your unsure of. Practice and don't be afraid to use your imagination.
---
FROM THE TEAM:
"This shoot was an absolute thrill to be a part of. I created a backdrop stage set up for this shoot because we wanted a three-dimensional look and overall style that added blocking. The clothing for this shoot was styled from Sam Meyers tuxedo shop and the vests added an element of regal mixed with a touch of Avant-Garde sexy. Each model in this shoot created a unique look, which enhanced the look of the hair. The shoot was inspired by Escher mixed with a new age twist, so the elements of shapes and textures are very apparent. The team of people on this shoot we're amazing to work with and I truly love shooting with Steve because he is not afraid to experiment with shots." -Genna Yussman
"I'm Steve Squall, the photographer on this project. I was flattered when Matthew asked me to photograph this project for him and it is always wonderful to work with such a talented crew of creatives who can execute a concept with such flair. My goal in shooting this series was to create a bright, even light but to maintain a punchy contrast that would emphasize the interplay of the black and white elements in the designs and background. We discussed possibly going entirely black and white with the images but, in the end, I think the very muted skin tones added an extra layer and depth to the final product." - Steve Squall
"I am Abigail Garrett, I am one of the models for 2016 NAHA Avant-Garde. I was ecstatic to be apart of this collaboration for many reasons; it is always a pleasure working with Matthew to see what his beautiful mind will envision and then what he will create. Isidro is a blast to have on set; his wild imagination always shows through the makeup he creates. It was my first time working with Genna, I really enjoyed the styles she brought to the collaboration, making the theme come alive. Last but not least, Steve's edgy, sexy, unique style brought all of the talents together. I cannot wait to share the final images, I'm positive they will not disappoint." - Abby Garrett
"I'm Laura Kirkpatrick from America's Next Top Models, I've know Matthew and working with him for 2 years so I was more than excited to model for this concept. I was very inspired by the M.C. Escher illusion inspiration it was a great way to show hair as a real art. That why I love working with Matthew because he take on every project as a masterpiece." - Laura Kirkpatrick
"I am Ekaterina (Katya) Estes, I was a part of this collaboration as one of the models for the shoot. It gives me great pleasure to work with such amazing talents here in Louisville. As we put in so much time and effort into creating beautiful work together it shows me the dedication and excitement we share upon these photographs. I look forward to sharing the outcome, as I have no doubt in my mind that I'll be blown away by the artistic involvement. I also look forward to the interpretation of the photos to delicate details in the collaboration, from viewers and people who share such extraordinary work in the fashion industry." - Katya Estes
---
Be sure to stalk the ever inspiring Matthew Tyldesley on Bangstyle for even more inspiration and take a peek at his team on social!
CREDITS:
Hair | Matthew Tyldesley www.matthewtyldesley.com @Hairbymatt
Make up | Isidro Valencia www.isidrovalencia.com @valencia0612
Styling | Set Design | Genna Yussman Greene www.gennayussmanvintagebydesign @gennayussman
Photography | Steve Squall www.stevesquall.com @stevesquall
Models | Abby Garrett | Laura Kirkpatrick | Katya Estes