Written by, Colortrak Artistic and Technical Director, Gregory Alan.
---
Valentine's Day is probably the best time to work with rose color palettes. For this look, we wanted to create a Rose inspired hair color that wasn't just one solid color. Instead, we opted for a color that had length and movement, resulting in a beautiful Magenta Rose vivid hair color perfect for Valentine's Day!
Prior to coloring her hair, we extended some of the pre-lightened hair closer towards the root area to intensify the color. However, to keep the intensity subtle, we used a baby-light color application towards the top and the back. We then continued with the vivid color application.
---
Formulas Used
Pre-Lighten Formula – Difiaba Powder Lightener with 40 Volume and Olaplex
Magenta Formula– 3 parts Pravana Wild Orchid, 1 part Pravana Black
Rose Formula– 2 parts Pravana Neon Pink, 1 part Pravana Orange, 1 dot Wild Orchid 6 Parts Olaplex No. 2
Step 1 - Begin your sectioning, working with Colortrak Croc Clips, by taking a triangle section in the front with the tip of the triangle towards the back. Then take another triangle section in the same manner in the back.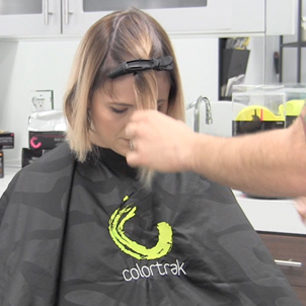 Step 2 - Begin your color application in the back by mirroring the back triangle with your sub sections. Each subsection will overlap the last. When applying the color use Colortrak's Pop Up Foil and the Wide Feather Bristle Brush in order to get close to the tip of the foil without an over-saturation of color.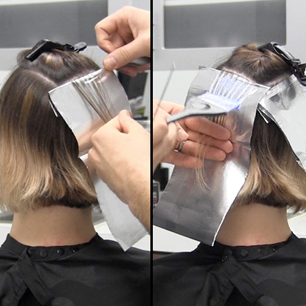 Step 3 - Continue working in this manner until you've reached the top of the back section.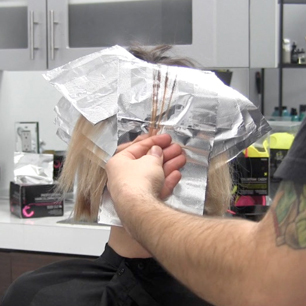 Step 4 - Begin your color application in the front by working in a diagonal forward subsection.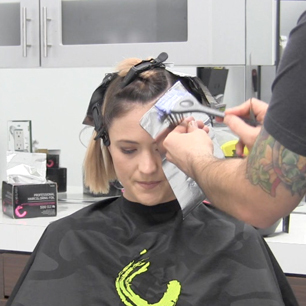 Step 5 - Continue working in this manner until you've reached the top of the front section. Remember throughout this entire pre-lightening application; to work in small weaved sections to create a soft baby light color effect.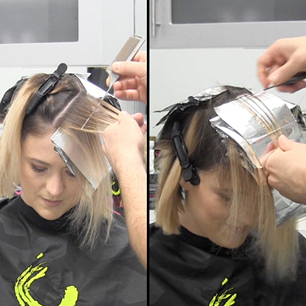 Step 6 - Once the color has processed, dry the hair completely. Then, divide the hair into 4 quadrants, and apply Colortrak's + Repelle to the entire hairline to eliminate the chance of staining.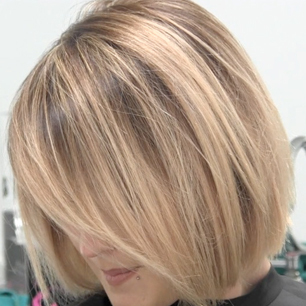 Step 7 - Wearing gloves begin your vivid color application by working from the bottom to the top of each section. Apply vivid color formulation #1 to the root area using the Wide Feather Bristle Brush, and then apply formulation #2 from the mid shaft and ends, fusing the color down using the Balayage Board and Brush. The board is a fantastic tool when working with 2 colors because it keeps the color from getting on your gloves and reduces the risk of colors bleeding.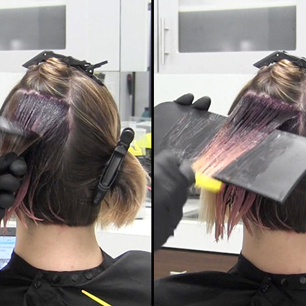 Step 8 - Continue working in this application manner throughout the entire head.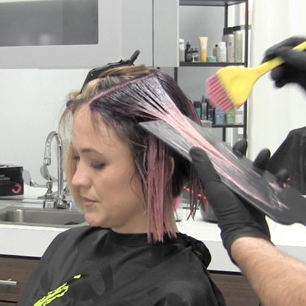 Step 9 - Allow the color to process.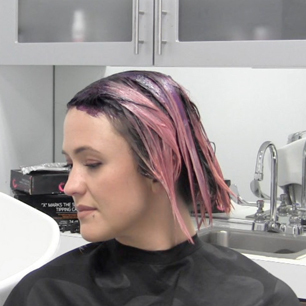 The deep magenta accents create depth to the color, while the Rose colored ends show the beauty of this color.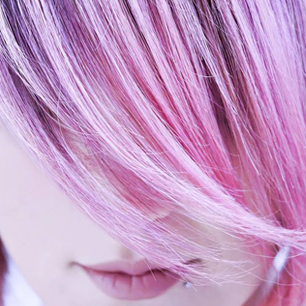 ---
For this and more articles stalk Colortrak on Bangstyle!