Sascha Breuer dishes on the latest color trend, the oil slick! Hear what he has to say about this season, its color, and breaking all the rules!
---
The transition to fall usually means shifting to darker, warmer hair colors. And this is usually achieved by dyeing the hair to a single, overall wash of color. It's practically a tradition by now: the summer is for experimenting with a riot of colors- sometimes all at once- while the winter is when we sort of start settling down into the richer, more sophisticated hues. And it makes sense, on some level: the trends reflect life, the seasons and our choices.
But it can get monotonous. And just because the skies are turning grey, and the ground white, doesn't mean you've got to give up on cheerful colors! Luckily, 2015's hottest hair color trend is all about marrying the bright to the dark to a magical, shimmering end.
So, what are we talking about? The oil slick hair trend, of course.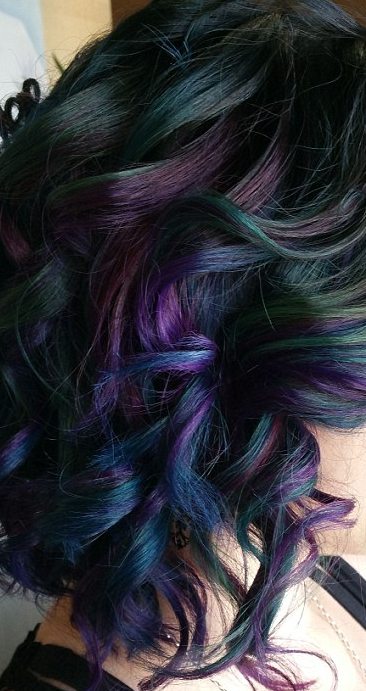 If you haven't heard of the oil slick hair trend and your imagination is conjuring up images of greasy, smudged up color, wait just a moment. We're not talking second-day hair or icky roots: we're talking the most delicious marriage of kaleidoscopic colors with deep, moody undertones.
In a nutshell, the oil slick hair trend is equal parts the grey granny hair trend and the rainbow colors trend that have both been so big this year. We're essentially taking inspiration from the multicolored manes and adapting them for darker bases and edgier effects. Think of it as the sexier, more grown-up version of the pops of pastel we've been loving all year. Shush up your inner unicorn and bring out your inner sphinx.
The oil slick hair trend is a fresh new take on the mermaid hair trend- but with a more pronounced sheen and set in dark hair. Ever looked at the gloriously colored plumage on a peacock and the iridescent neck feathers of a pigeon? Or the shimmering liquefied rainbow that's created when oil puddles form after a rain shower? Those are the sort of fabulous hues and effects we're going after here.
The oil slick hair trend is all the rage because it tends to a very major audience that has been lusting for something exactly like this all year: the dark-haired beauties. While there is no denying the appeal of candy-colored hair, let's face it: its wearabilty is limited to the fair-haired lot. And if you're not flaxen (or can't be because it just won't suit you) then you have probably watched sadly from the sidelines as all the pastel and bubblegum hues have quietly mocked you in your Instagram feed. But the happy days are here, because the oil slick hair trend is all about celebrating the sable. The colors - brilliant blues and gleaming greens and everything in between - wear so beautifully in darker hair.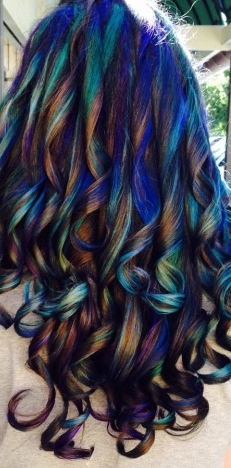 Pastel hues just don't sit as naturally in dark hair as they do in light, which is why most brunettes have stayed away from the trend all year. And it's not just about the end result, because who cares if you're happy with your look? There is a technical side to hair color trends too, and it's kept the candy color trend out of reach: when you have a dark base to start with, going light can be a real problem; we're talking so much bleaching and waiting around. Lots of clients I talk to are worried about damaging their hair by going from really dark to really light, which is why most brunettes choose to skip the lighter/ brighter color trends. Not anymore though!
How does the oil slick trend work? Well, essentially you're layering jewel tones like emerald and indigo on each other to create a multi-tonal effect. The swirly mix of greens, blues and purples is really what drives the look. The trick to getting this trend right is to start out with a dark base. So, if you've got naturally dark hair, half your look is already in place. If you're starting out with a light base, your stylist is going to have to give you a dark wash first. When it comes to the main colors themselves, you don't want them to lay flat and chunky on top of each other, blocking the dark base out. The dark base is what adds the secret luminescence to the look. You want the colors to hold true individually but also peek from within: think of them as translucent filters that you hold up together, against the light. You want them to be almost sheered out and layered on top of each other and the color built up as you go along: this way the dark base will add shadows while the greens and blues will add light and we get that gorgeous gasoline-meets-water effect.
Apart from the fact that this one is right up the dark hair alley, there is also the added bonus that darker dyes last longer. If you've tried any of the pastel/ rainbow trend variants you've probably already learned that those tend to fade away pretty fast. But the stronger, deeper dyes will last a lot longer in your hair which means that you save on two levels: one, you can enjoy the stunning effects for much longer and two, you don't have to spend as much time or money on touchups. With the oil slick hair trend you get more bang for your buck. What's more is, since these are basically darker hues filtered onto a dark base, even the fade-out is a subtler experience; the change is very gradual and you certainly don't have to worry about booking an appointment right away to keep the roots/base from peeking through. So, much less upkeep- another one for the win!
The duck feather trend, as it is also called, adds just the right amount of mystery to the mermaid. The inkiness is what makes so perfect for the winter: it's stormier, it's sexier and it's sophisticated. Just the right note you want for this time of the year.
Talk about closing the year on a high note. Get ready to go rainbow in raven.
---
Be sure to stalk Sascha on Bangstyle for more amazing hair art! & check out his site and Instagram for all of his work!