Are you ready for Autumn Winter 2016's newest hair color trend? It's every bit as yummy as the title suggests: butterscotch hair color is all set to be the season's breakthrough trend.
One of the most telling fashion developments this year has been the return to natural color palettes; even as rainbow hues and outrageous colors continue to come and go, 2016 has seen a marked interest in sophisticated, subtle hair color trends and more 'normal-friendly' styles. If you enjoy experimenting with fashion but don't really want to go overboard, now is your time.
In a nutshell, the butterscotch hair trend is the perfect marriage between blonde and brunette hair colors, which makes it the ultimate transition shade for the coming weeks. If brunette tones tend to be 'too brown' for you and blonde tones don't quite seem to work in the colder months, or run too pale for you, the butterscotch hair color trend is as close to a true balance as you can get. Butterscotch hair color incorporates soft brown bases with blonde aspects and works especially well with warm and medium complexions, it is a very wearable and universal trend so you'll have no trouble finding a variant that compliments you.
Butterscotch hair color essentially uses brown bases streaked with ribbons of blonde tones, so the entire effect is very dimensional, very warm and so lively. Now, what makes the butterscotch hair color trend so versatile is that you can basically choose between an endless array of brunette and blonde tones to work with. From cool chestnuts peppered with warm caramel babylights to toffee bases tipped with creamy peanut ends, there's a world of possibilities between these two classic ends of the spectrum.
7 Different Ways To Wear The Butterscotch Hair Color Trend
When you've got a mixing palette of beautiful browns and blondes and absolutely no limits on what you can do, you know you've locked onto one of the hottest hair color trends of the season- heck, maybe even one of the hottest hair color trends of the next couple of seasons!
Mix and match tones, play with depths and intensities and make the most of 2016's biggest hair offering: personalization. This year has been all about taking revolutionary hair color trends and old classics and adapting and adjusting them to create a color that's really you. But just in case you're having a hard time conceptualizing a look –or narrowing it down to just one– here are 7 of the prettiest ways in which to wear the butterscotch trend, as seen on several celebrities.
#1 Butterscotch Baby Lights – Gigi Hadid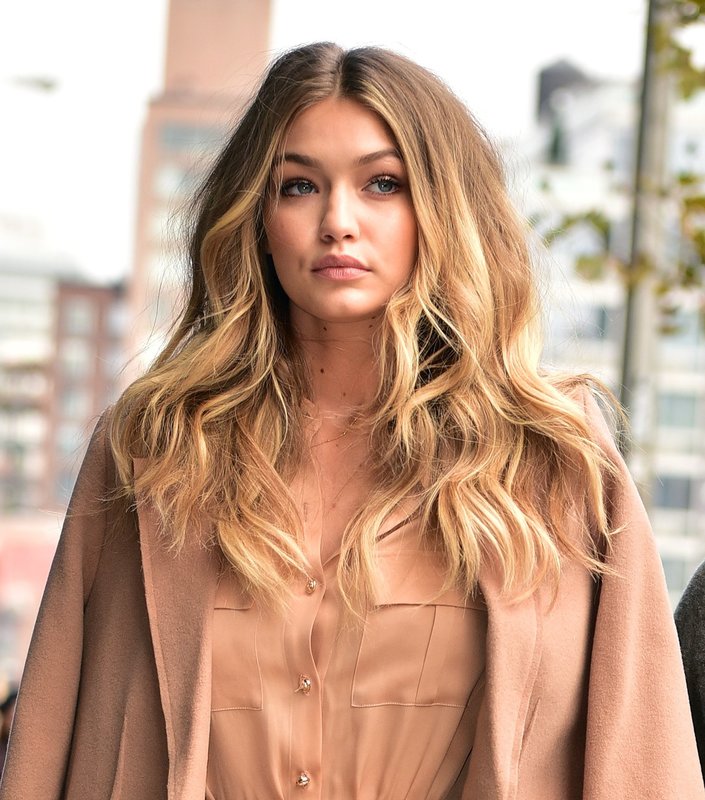 Want a pale, spun-gold crown with a little more punch than usual? Try the butterscotch baby lights trend: add buttery blonde babylights to a cooler brown base, something along soft chestnut tones. Now you too can sport that certain je ne sais quoi that makes Gigi one of this generation's "It-girls".
Keep the roots dark and use creamy blonde babylights to add brightness around the face and through the midlengths and ends. If you've groused as to why being sun kissed is reserved only for the summer, this trend is the perfect antidote to your cold weather woes. The word you're looking for is 'angelic'... You're welcome.
#2 Butterscotch Brown – Doutzen Kroes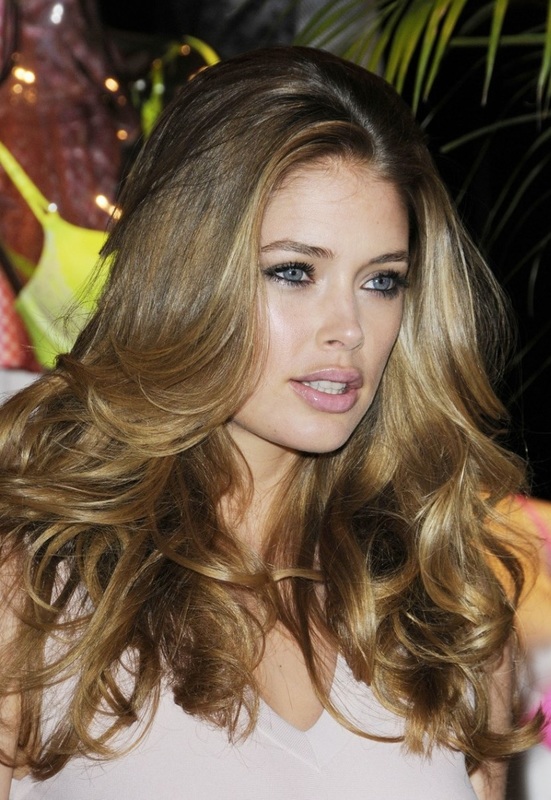 Fancy something a little darker than Gigi's golden tresses? But don't want to go the typical teak route either? Try a nice, neutral butterscotch brown. It's one of the 'original' variants of the butterscotch hair color trend, where either of the two 'base' tones is played up; in this case, the focus is on the brown tones.
Butterscotch brown is a great natural brunette hair color that's been glossed and glistened to perfection. It's not as pronounced as a ombré but you'll never mistake it for a mousy brown either. We saw something of its ilk at the Jason Wu Pre-Fall 2016 show, and now you too can make like a supermodel and get Doutzen Kroes' hair color in no time.
#3 Butterscotch Brûlée – Blake Lively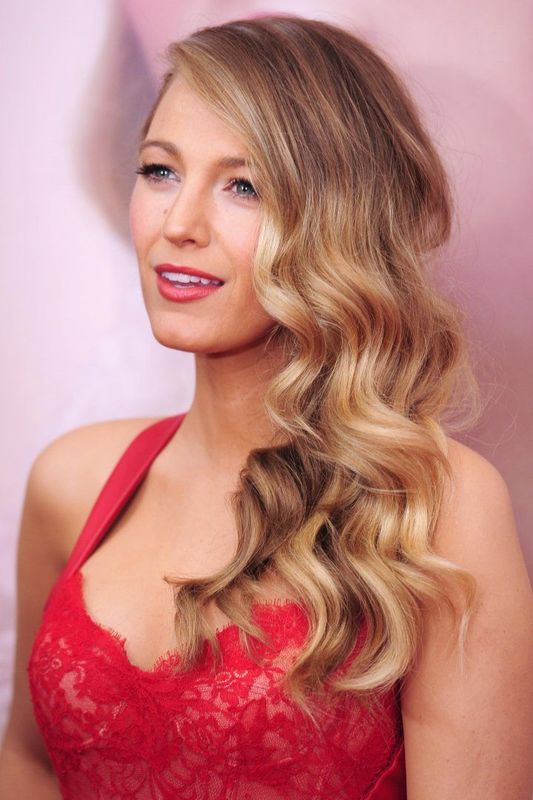 The butterscotch brûlée color trend is chunkier and more pronounced than what we've seen so far, but it's undeniably sophisticated. The trick to making strong contrasts work in hair color is in seamless blending.
Blake's hair optimizes both the balayage and ombré hair color techniques, creating a shimmering masterpiece of honeyed golds and toasty brunettes. This is a particularly good take on the trend for those of you with medium skin tones who struggle with light/ blonde hair colors: this is a great way to make blonde tones look totally organic on you.
#4 Butterscotch Highlights – Sienna Miller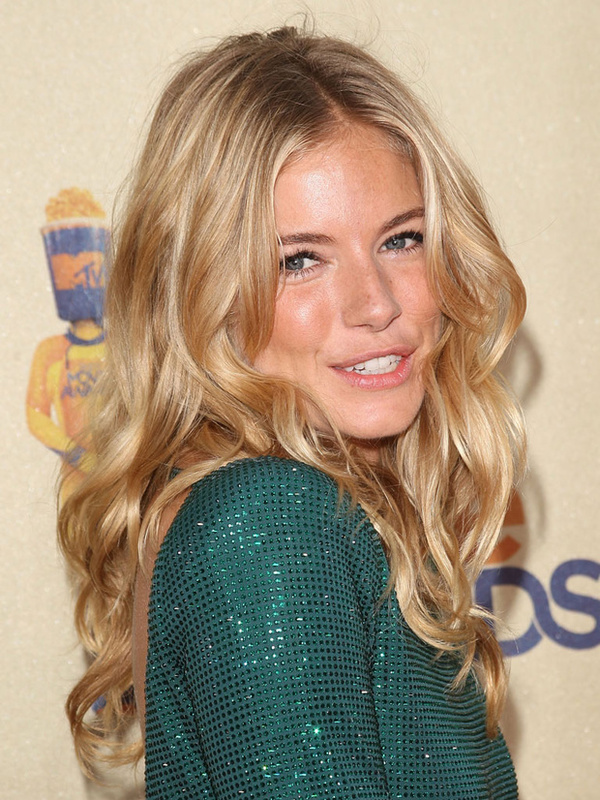 Sienna Miller's always had this inimitable pixie princess vibe going and here's your in to it. Keep the base more blonde than brown, and add tons of shine and sparkle to your look with sandy gold and butterscotch highlights. Keep the roots dark, concentrating a soft chestnut or deep praline color for about 1.5-2 inches in at the base. It's a super bright, warmed up take on the butterscotch/ bronde hair color trends and is just the thing to get you through dreary winter. Think lots of tonal honey, buttery and amber tones with soft milk chocolate strands weaving in and out. This is a great look for neutral and warm skin tones.
#5 Butterscotch Maple – Kate Moss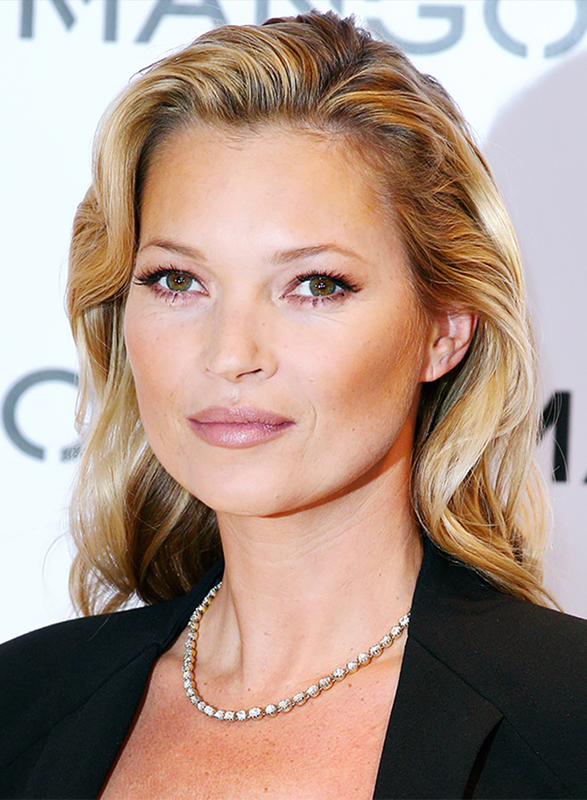 If you can't decide whether to emphasize the blonde tones or the brunette hues and love them all, here's an option: wear them all! Cook up a delicious butterscotch-flavored infusion with lashings of maple thrown in. Roots the color of mulled wine compliment tresses made of equal parts light and dark.
This is a hair color that works best on fair skin, though you can rock it with a tan as well. It's ideally suited for those with neutral undertones to their skin. If you're looking to make an easy transition to this look, it works best with a base/starting color that's at most two shades darker or lighter than the target. Supermodels Kate Moss and Chrissy Tiegen are both proof of just how stunning this particular iteration of the butterscotch hair color trend is.
#6 Butterscotch Ombré – Riley Keough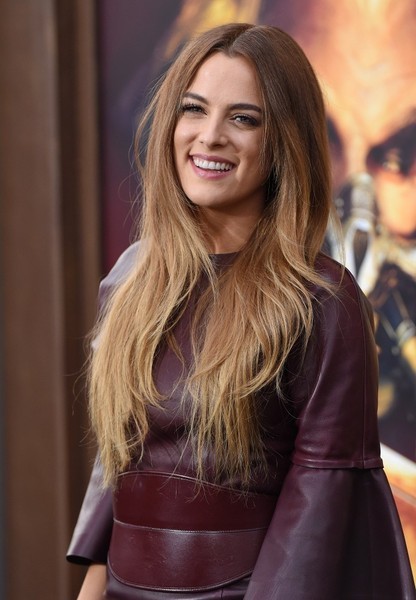 Not ready to give up on the ombré just yet? No worries. You can combine this season's hottest hair color trend with the old favorite. In fact, the butterscotch ombré –as seen on Riley Keough here– has been called this season's hottest trend already, and it's only getting hotter!
Start with a chocolate brown base with neutral undertones, and keep the color going till brow-height. You could start with a darker root, but the key to making the butterscotch ombré work is to work with decidedly brown and blonde tones. Aim for a burnished bronze/ maple hue at the mid-lengths and finally end the ombré with a soft golden butterscotch at the bottom. This particular variant of the butterscotch ombré will work well with most skin tones, especially those that fall within the light and medium marks and have a warm undertone to them. You can opt for even lighter tips if you like, creating a gradient from brown to platinum; I do recommend working with your own natural base or sticking within a two-shade shift at most for easy maintenance and natural-looking results.
#7 Butterscotch Praline – Sarah Jessica Parker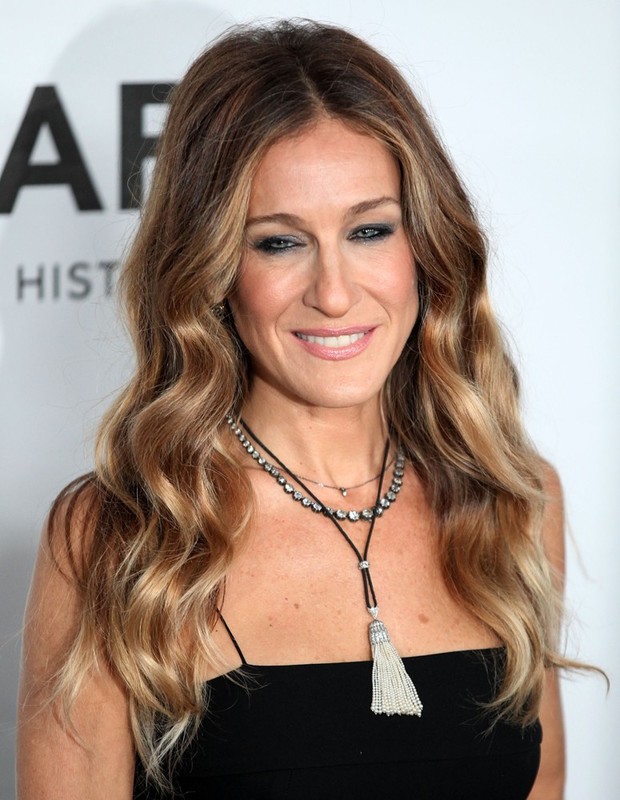 If there's one thing that comes to mind when you hear of Sarah Jessica Parker, it's her hair. She's got some of the most recognizable tresses in the world and what we all wouldn't give to be blessed the same way? Well, strap in, because this latest hair color trend comes with a Carrie stamp of approval.
Working with blonde hair dyes can prove tricky for warm skin tones, so let's make things easy for once, shall we? Those of you with medium to dark skin tones that have a warm undertone should definitely try the butterscotch praline hair color. The base is a soft light brown and tons of gold-hued highlights are introduced to it to create unbelievable tonality and dynamism. For light-medium skin tones, you can opt for paler shades of the same colors- consulting with a pro colorist is recommended because you want your butterscotch praline mix to be tailor-made to your specifications.
Ask your stylist to use at least three different brunette tones and as many blonde shades, if not more, to create tons of body and movement. Keep the tips lighter and definitely ask for highlights to be placed around the face to really lend that movie star radiance to your look.
---
This post was written by Sascha Breuer – For more beauty inspirations be sure to check out his fabulous blog on SaschaBreuer.com and his amazing uploads and travels on Instagram @Sascha_Breuer.