Texture is in and hotter than ever and Keune has eagerly embraced the evolving movement towards a more natural, textured style. With this growing trend of creating a natural look comes a need for specialized education for stylists and clients alike.
Stylists seem to have the magic touch in the salon, with the right combination of products and technique to get those curls and waves to behave. At home, clients are often left with half empty conditioners, serums and leave-in's, struggling to achieve a semblance of the same effect. This is where you, the stylist, can step in as their guide and all-knowing mentor. It's time to educate them about their hair, so you can send them home feeling confident and beautiful.
The best results start with healthy hair and the proper application of the right products. In this tutorial, Amber Skrzypek, Keune Academy Trainer shows you how to give curls a color and style makeover. Amber's client, Imara, had naturally textured hair, but needed a pick-me-up to achieve her true potential. "My focus was to showcase Imara's beautiful natural curls and also her stunning complexion. This is why I went with a lighter, brighter canvas," Amber explains.
Check out the simple, effective steps Amber took for Imara's curly hair makeover, including color application and styling using Keune's bond-boosting treatment Bond Fusion.
---
Color Cues
1. Amber first parted Imara's hair with the "end-result" style in mind. She picked up random curls that accentuated her new shape and painted on Keune Cream Bleach with 20 vol and Bond Fusion Phase 1. "I was looking to achieve a level 8 on her natural level 3 hair," Amber explains.
2. After lightening, she shampooed Imara's hair with Keune's After Color Shampoo, and towel dried it.
3. Next, she applied Semi Color 6.38 (dark hazel-nut blonde) from scalp to ends on damp hair and let it process for 20 minutes.
4. Finally, she shampooed again with the After Color Shampoo and applied Bond Fusion Phase 2 for 5 minutes.
---
Styling Session
1. Amber applied Keune Care Line 2 Phase Spray, Design Line Defrizz Serum and Curl Cream in sections on Imara's damp hair. "It's important when working with curling hair to saturate each section evenly with product. I suggest applying it in three sections: occipital to nape, occipital to parietal and then above parietal," Amber says.
2. Next, starting with the nape area, she took small sections and twisted the hair, alternating the twisting direction from left to right with each section.
3. Lastly, Imara's hair dried under a hooded dryer until all moisture was removed. Amber then broke her curls apart with Keune Care Line Silkening Polish and finish with Design Line Brilliant Gloss Spray.
The result: Beautiful, fierce, bouncy, healthy curls. Curly hair makeover complete.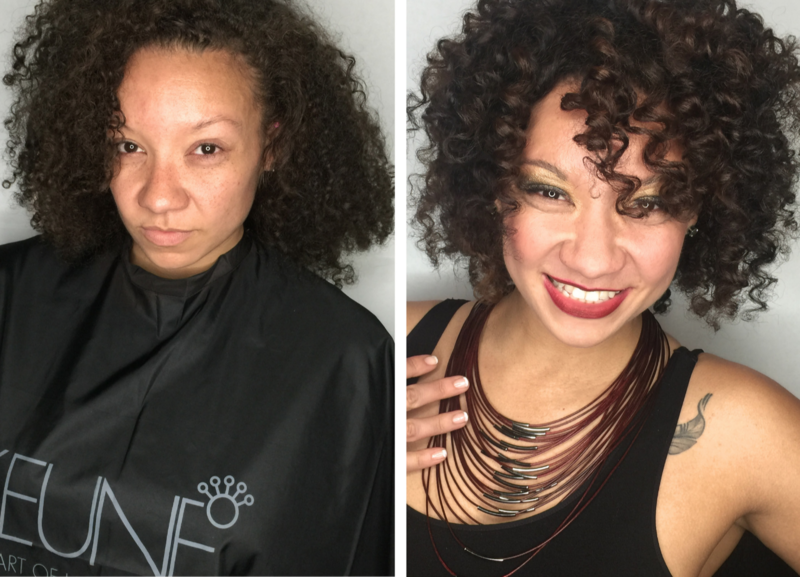 Before & After
---
Interested in working with Keune Bond Fusion? Contact your local distributor sales consultant today!
Keune, for the salon professional since 1922.
To learn even more about their brilliant color, stunning styling, and trend inspiration be sure to stalk Keune on Bangstyle and follow them on Instagram, Facebook, Twitter, and Pinterest!