You want to look great, with styled hair, and still make it out the door to work on time. And yet it never seems to happen! Don't worry, we aren't judging. An early wake up call, kids to dress, feeding dogs, showering, getting dressed, makeup AND hair?! For us, it feels impossible most days to get out of the house in anything but sweat pants and a bun. Don't fret; we have hair hacks that will make you look amazing in a fraction of the time.
Braids/Plaits are your best friend!
Shower before bed, then braid your hair when it's wet. Braiding hair when wet will give you a loose beach wave look. Depending on how much movement you want in the hair, braid tighter or looser. You can add a sea salt spray into your hair before braiding for a bit more texture to the finished look. When you take the braid out, scrunch hair lightly. Brushing will cause frizz.
Didn't have time to shower at all? Again, not judging! Braid your dry hair and lightly go over the braid with a flat iron. (Tip: your flat iron NEVER needs to be at 400 degrees. You can go over your braid at a mid-lower temp for this look). Take the braid down, looooosely shake out and give a shot of hairspray for hold.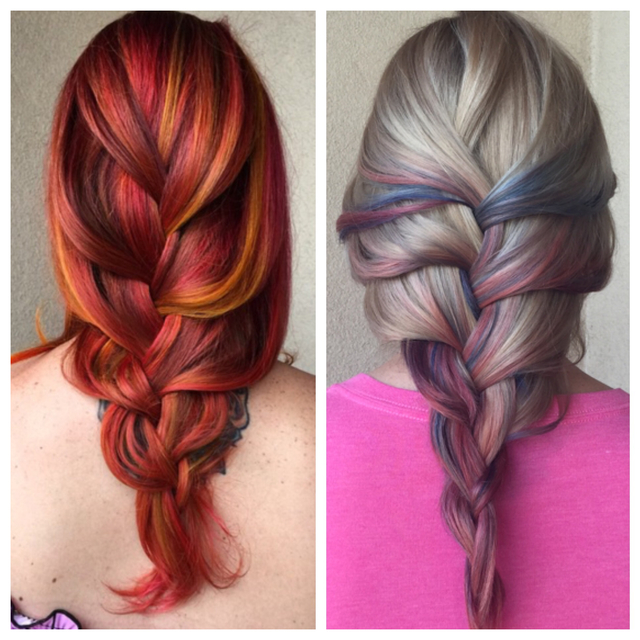 Hair by Desirre Lee
Twisted Buns for Loose Waves!
Three screaming kids and no clean clothes? No problem! Great hair will fix a less than perfect start to the day. This one is fast an easy.... Post shower, lightly spray in your favorite Leave In Conditioner or Oil". Grab a dime to quarter size amount (depending on length and texture of hair) of styling cream and run through middle to ends. Put hair into a bun, twisting the hair as you wrap it around. Feed and dress kids, pack lunches, get out the door and take down as you are walking into the office. Done and done!
A Pony for Every Occasion!
Ponytails are the easiest, sleekest style around. And lucky for you, the messy ponytail is the pinnacle of chic these days. Pull hair up in a pony. Pull side and top out a slight bit to create a "roughed up" look. Take a small chunk from the bottom of the pony and wrap around the elastic. Pin the tiny bit left under the bottom to hide it. TADA! Sleek, sexy, sophisticated in under a minute!
Curls that last!
When curling your hair, start at the middle. It sounds like a myth, but give it a shot. Your hair will hold the curl a bit longer.
Have super-fine hair that won't stay in place?
If you have fine hair and up-do's wont stay in place try giving your bobby pins a quick shot of hairspray or dry shampoo before sliding them in. This trick will create a bit of added "grip" so you can get them to stay in place. You can also try crossing them in an "X" to give added strength so hair doesn't slip out.
Tip: If you are using the kind of baby pin with one flat side, one wave side; the wavy side goes DOWN. Yes, down. We know…mind blown.
Set with Cool Air!
If you are styling your hair during the blow drying process, alternate between hot and cold. Yes, the cold shot is there for a reason. Giving the cold shot to a curl or round brush will help to set the style.
Taming your Flyaways!
If you are constantly fighting flyways, spray a little hairspray on your hand then sloth over your hair. Spraying on your hair sets in in place. Now everyone is in place without creating the stiff look of helmet head!
Check out more hair tips in our article Tips for the perfect Blowout!!