You booked an appointment with your hairdresser, chopped your locks and then headed home beaming and feeling gorgeous! Fast forward to the next morning – you're styling your new short hair for the first time and realize that your canvas has changed. Suddenly your curling iron is too big; the smooth creams that you used when styling your long hair won't work anymore, and that finishing spray isn't strong enough. Then it hits you...your products need an upgrade!
So, before you cut your hair, create a checklist and start investing in some short-hair worthy tools and products that will set you up for success with your hot new hairstyle!
Let's Talk Tools!
The smooth and perfect "mom bob" is long gone. It's time to change the way that you think and do – messy, choppy texture and bed head rules! The tools below will help you create the look that you want.
Blow Dryer: I mean, this is obvious right? A great hair day begins with your blow dryer and how you use it, so don't skimp on this tool. We recommend the Sam Villa Professional Ionic Blow Dryer . Tip: Buy a blow dryer that has a diffuser. A diffuser can be used to create more volume and loose waves, especially when you use the right styling products when you blow dry!
Flat Iron: Remember, we're talking about creating hair that looks undone and your flat iron is the perfect tool to create this type of texture – those perfect beachy waves that last for days! We recommend the Sam Villa Straightening Iron for a few reasons:
1. The plates and body of the iron are rounded and stay hot; because of this you are able to use your straightening iron like a curling iron – this is the key to creating beach waves! Also, because of the curved plates and body, there is no snagging while you iron your hair!
2. There are 3 heat settings, all controlled by a twisting dial at the bottom of the iron (so you don't accidentally turn it off). We recommend using the Color Treated heat setting (392°) as that temperature is color safe and will not dull your hair color or damage your hair! Check out these tips for getting the most out of your flat iron.
Curling Iron: If you are coming from a longer length of hair, the 2" barrel has been your best friend for many trusted years, right? With short hair, you will need a smaller barrel. Invest in a 1" or 1 ¼" barrel size and use the wrap method for those soft waves.  Click here for a tutorial on the many different ways to curl your hair.
Brushes: Have you ever realized how many different types of brushes there are? Don't be confused, we say try them all and see what you like! However, a thermal round brush is ideal for creating extra volume, shine and curls! You also can create subtle waves using your round brush, even on short hair! We recommend the Sam Villa Thermal Styling Brushes and the Sam Villa 9-Row Finishing Brush for creating perfect undone texture.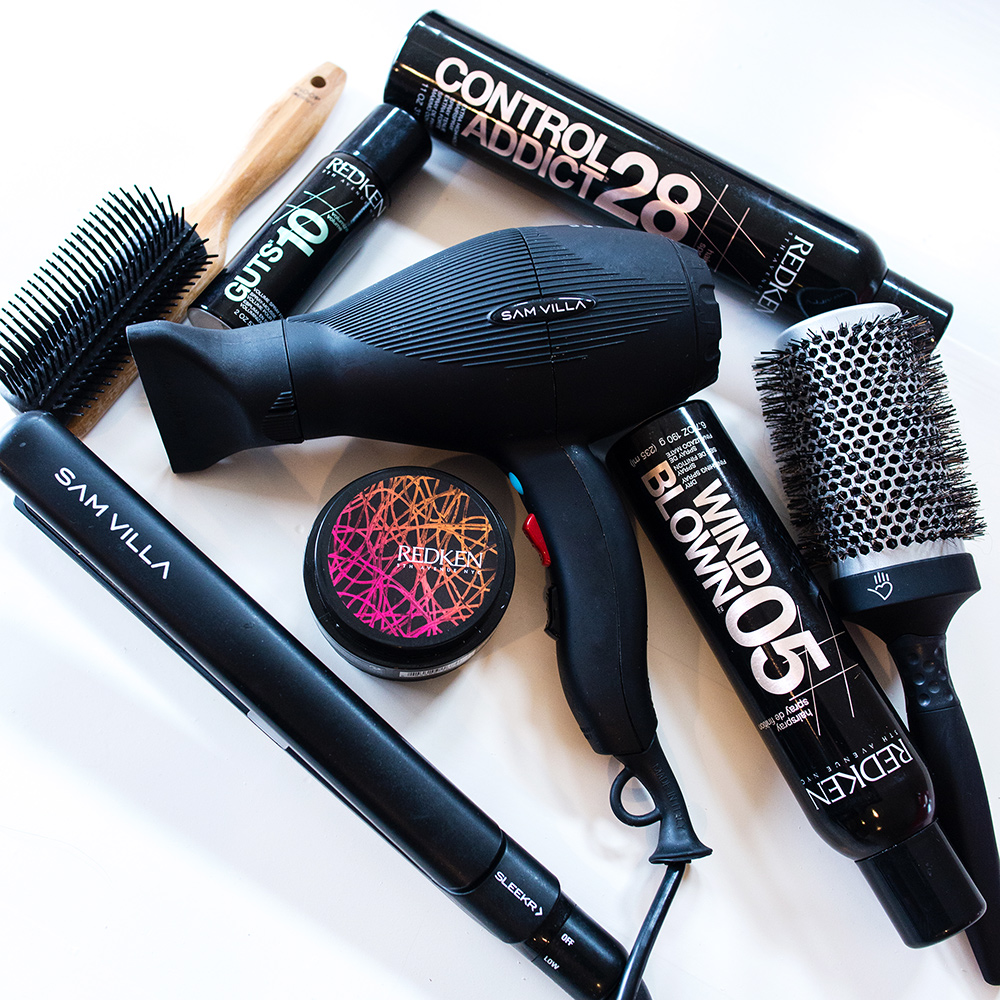 Must Have Products!
If you aren't using product, you have no idea how this will change your life! Because the style is messy, loaded volume and a chunkier finish, we don't want product that will weigh down the hair. Think weightless volume here!
Redken Guts 10: This volumizing spray adds volume, body and creates thicker looking hair. Apply to wet hair before you blow dry!  Redken Wind Blow 05: Weightless texture, hold and a windswept effect, this product is a definite must have! We suggest buying two bottles at a time, you will love it that much. Redken Mess Around 10: This disrupting texture cream is perfect for creating the textured and chunky look. Redken Control Addict 28: Intense hold, this hairspray ensures your hair won't fall flat but leaves the crunchy build up out!
The tools and products you use play a large role in how your hair looks everyday, so invest and experiment! Don't try to create a perfect polished finish...it's all about the messy undone texture!
For more articles, tutorials and products visit Samvilla.com