At KEVIN.MURPHY, we love a perfectly undone head of hair. However, soft movement with a natural wavy shape is not always easy to achieve. Using Kevin's innovative WAVE.CLIPS, stylists can create beautiful loose waves without the use of hot irons or tongs. This multipurpose tool can construct smooth waves on straight hair by adding movement without frizz or fly-aways, giving a soft and lived-in look.
To achieve a natural looking wave, split the hair into four sections: left, right, back upper and back lower. In order to keep movement in the style, it is important to work in relatively large and casual sections and not too close to the base of the hair.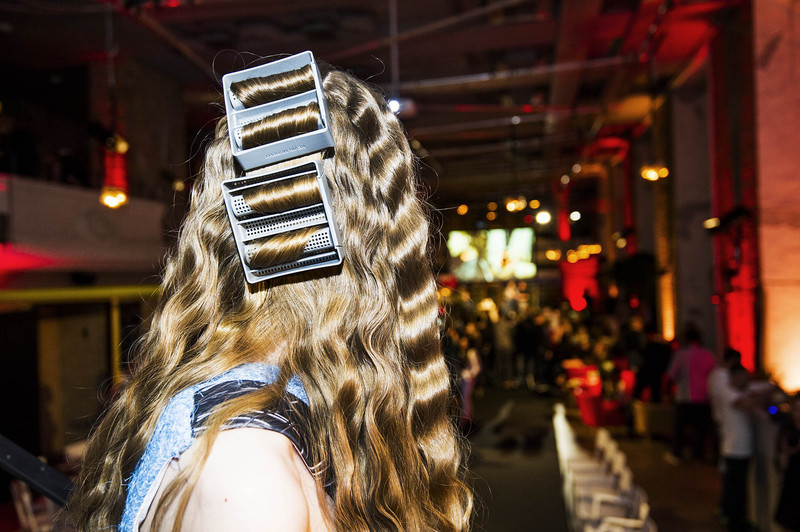 ---
PRODUCTS USED: 
PIN.CLIPS
WAVE.CLIPS
ANTI.GRAVITY or BODY.BUILDER
ANTI.GRAVITY.SPRAY or HAIR.RESORT.SPRAY 
2 TEXTURE.NETS
PIN.CLIPS
---
INSTRUCTIONS:
1. Apply a holding product, like ANTI.GRAVITY or BODY.BUILDER.
2. Quickly blow dry the hair smooth.
3. Starting at top, grab a large section of hair in a triangle shape. 
4, Apply your first WAVE.CLIP parallel to the bottom of the triangle without holding the section too firmly. To set the tool into place, open the WAVE.CLIP's clasp, insert the hair and snap it shut. 
5. Add any additional WAVE.CLIPs side by side down the section as needed.
6. If you need to secure loose hair at the bottom of the WAVE.CLIP, just add a PIN.CLIP.
7. Repeat steps 4-6 for each of the remaining sections.
8. Leave some of the front pieces free, then wrap the TEXTURE.NET around the hair and WAVE.CLIPS. This will keep the hair in place and prevent fly aways while blow drying.
9. Spritz the hair with a styling product like ANTI.GRAVITY SPRAY or HAIR.RESORT.SPRAY for more hold after the hair is secured.
10. With your blow dryer set to high heat and a low blow, begin heating the WAVE.CLIPS section by section. Be sure to heat both sides of the clips for maximum results. 
11. Finish blow drying with a blast of cold air for about a minute or so to set the hair
12. Gently remove the hair nets, pins and WAVE.CLIPS. 
13. Lightly run your fingers through the waves.
14. Spritz on HAIR.RESORT.SPRAY to finish the look.
---
For more hairstyle tutorials and inspiration, stalk KEVIN.MURPHY on Bangstyle and follow them on Instagram!