Author Lainee Read
Your hair can completely change your entire look, and when hair is unhealthy it doesn't style the way we want it to. We spend countless hours and money on our hair but we may be ignoring the key product that truly maintains the health of out hair when working with heat styling tools.
Would you grab your curling iron with your bare hands? No! Because it would burn, right? Our hair is not heat resistant; it needs protection just like our hands.
Heat styling thermal protectants coat the hair follicle, keeping strands sealed and shielded. They provide topical thermal protection while maintaining necessary moisture in the hair shaft, promoting healthy texture, softness, elasticity, and shine. Heat protectants can also enhance the effectiveness of the heat tool you are using.
Available in sprays, gels and even creams, and ranging from flexible holds to strong holds – it can all be overwhelming. So lets dive in to the details.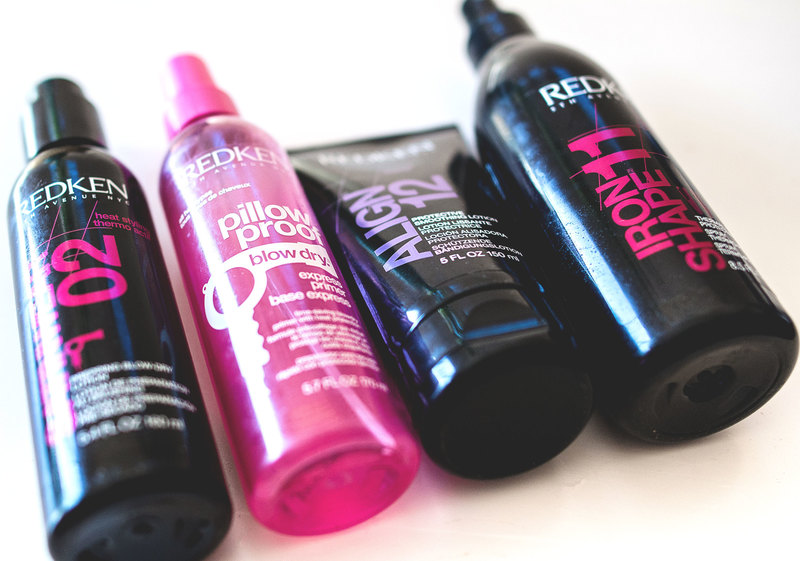 Blow Drying: Protecting our hair begins with the blow dry. A blow dryer is capable of giving off a great amount of heat and if your hair isn't protected your finish will be frizzy, it will lack shine and cause damage. A good hair day begins with the a good blow dry, and so does the health of our hair.
First, we recommend using a primer before you blow dry. This will protect from heat, reduce breakage, provide volume and guess what else? It will speed up your blow drying time! The other great thing about a primer is that it can extend the life of your blowout, creating lasting volume.
We recommend using Redken's Pillow Proof 2-Day Extender. Perfect for a bouncy and flawless blowout, while protecting from heat and breakage.
Applying a protective smoothing lotion prior to your blow dry will also protect from the heat, help to straighten the hair and reduce frizz. This is great for a smooth and straight finish.
We recommend using Redken Satinwear 02 as this will leave the hair with a soft, smooth and shiny finish, and will provide a heat barrier to protect your hair.

Irons: Curling Iron, Straightening Iron or Texturizing & Volumizing Iron
Here's where things can get tricky. Because of the different holds and sprays, it's hard to know what product is best for your desired outcome.
For a smooth finish with your flat iron, go for a heat protectant with a low hold. This will give you a soft and smooth finish. We recommend using Redken Align 12 Protective Smoothing Lotion. Not only does it help smooth and straighten the hair but it protects from the heat without adding a crunchy feel to the hair.
When using a curling iron or Texturizing Iron, go for a heat protectant with a stronger lasting hold.
We recommend using Redken Iron Shape 11 as it provides heat protection to the hair, adds shine and won't leave a sticky finish. Iron Shape offers a medium hold to the hair.
If you need a longer lasting hold, we recommend using Redken Hot Sets 22, a thermal protection spray. This long-lasting setting mist boosts control & shine while protecting from heat damage. Perfect for hairstyles that need a longer lasting hold.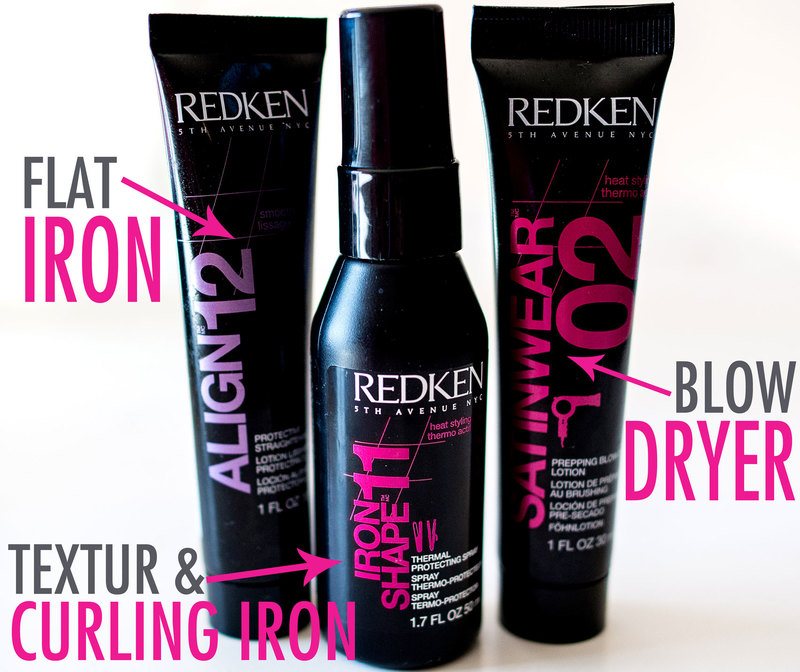 Protectant sprays with a lower hold are good for smooth and straight finishes. Using a spray with a higher hold is ideal for curls and waves. Be sure to use a spray prior to blow-drying, as well as prior to using an heat styling iron.
So next time you use a heat styling tool remember to protect your hair first from heat damage. It's one product we cannot forget! And as a rule of thumb, remember this: Product is NOT an option, it's a necessity!
We would love to hear more about your styling tips and tricks, please feel free to leave any comments or questions below!
---
For more hair tips, tricks and inspiration be sure to stalk Sam Villa on Bangstyle and follow @SamVillaHair on Instagram!