Kate Upton debuted a new cut alongside her brand new rock on the red carpet last night at the Met Gala!
Celebrity stylist, Peter Butler, called this look "Lauren Bacall Inspired" and crafted his hair magic using ColorProof Evolved Color Care line. These products are designed specifically for color-treated hair and with the focus on Technology at this year's gala, ColorProof celebrated their next generation innovations with best-in-class ingredients, creating a new standard in color care.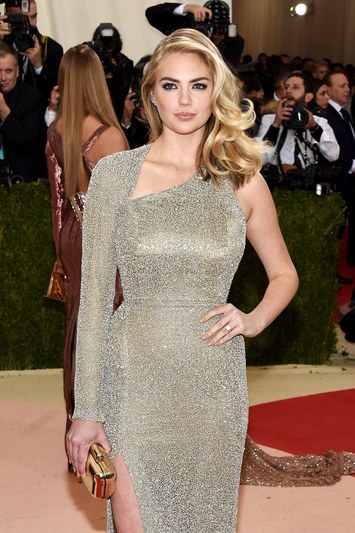 Photo Credit: Getty Images
Steps To The Look
Kate Upton's MET look was inspired by the classically beautiful Lauren Bacall. We started with Kate's hair just at her shoulder and cut it to her collar bone!
I first washed and conditioned her hair with the new ColorProof SignatureBlonde Collection to illuminate, brighten and replenish her classic golden locks. I especially love the SignatureBlonde Restorative Filler because it closes the hair's cuticle to provide a smooth, youthful finish.
We wanted a lot of volume for this look so I started with the LiftIt Color Protect Foam Mousse to help build the volume and create soft curls. The hair is pulled to one side that compliments not only her amazing structure but a beautiful diamond ear cuff she is wearing!
The TextureCharge Color Protect Texture + Finishing Spray really came into play for this look as well. I applied the Texture Charge to each section of the hair when it was completely dry after I blow dried each section with a round brush.
Then apply the FiberBlast Texture Crème to the ends of the hair to help keep flyaways down.
To finish the look I used the HumidityRx Anti-Frizz Weatherproof Spray which is a life saver with the weather today being humid and wet!!
---
Be sure to check out ColorProof to see all of the amazing products for colored treated hair!