Behind the Runway: LAFW 2015 by Matthew Tyldesley
My dreams to work the Los Angeles fashion week came true when I received a call from Artist/Educator Sara Branham this past summer. She wanted to know if I would be willing to Travel to L.A. to be on her team. Without even giving it a second thought, I immediately said yes. She had been made a team lead by Kristin Longstreet the CEO and producer of HotRoller Girl productions. Kristin runs a company that creates hairstyling teams to work backstage at shows across the US. Sara had chosen specific artists to work on her team based on skill sets, talent and personality.
I arrived in sunny LA October 6 and made an impromptu stop at The offices of Bangstyle to see President Ashlee Levitch and her team where I was able to tour their facilities and do an interview asking about my role, the team, and our role in LAFW.
Afterward I went back to the house we were sharing to await the arrival of the rest of the team. We had a total of 8 hairstylists working the show from across the US. We were responsible for styling hair for Australian fashion Designer, Betty Tran on Wednesday and Brazilian Designer, Marcelos Quadros on Thursday. We did a run through of the looks prior to arriving to Union Station where the event was being held.
Union station was bustling with models, security, handlers, designers, a make up team from Cinema secrets and other teams assigned to other designers chosen by Hot Roller Girl Productions. The back room was exciting and the buzz for amazing fashion was apparent. LAFW brought together designers from across the globe to showcase their collections for a week long event.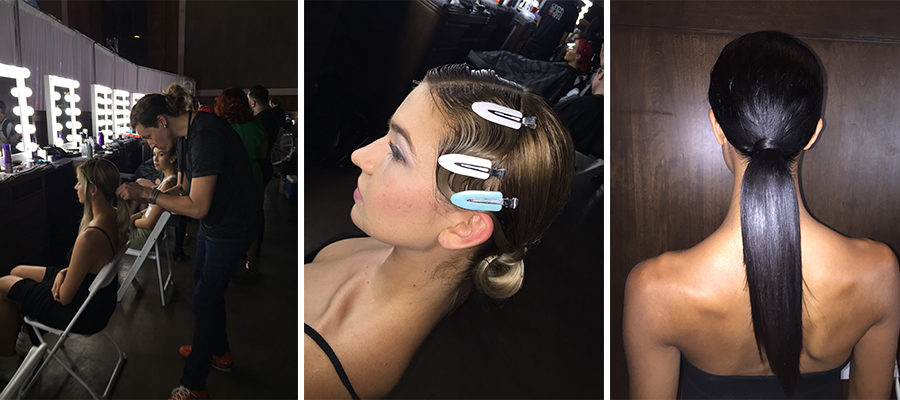 Wednesday: Designer Betty Tran had a total of 14 models with a call time of 7 pm for the show starting at 9 pm. We created looks that we're very Avante-Garde for runway. The models that were hired, had hair that varied in length. For long hair models we created a side part with finger waves and converged the back portion into a low bun using gel. Models with short hair, we gelled their hair flat. We diffused the model's hair to dry to set the gel using our Sam Villa Dryers . We then used the new Chrystofer Benson visors to cover their faces as we proceeded to paint either black or red washable paints over the entire models heads. Encompassing the hairline in a clean application all over as well as the buns we created. We immediately applied loose glitter in the corresponding color of paint used on each model and diffused them afterwards to set the paint. The look was a hit and paired beautifully with the collection designed by Betty Tran. Models wore garments in red, black, white and grey. It was exciting being backstage as models took to the runway to an inviting, energized crowd.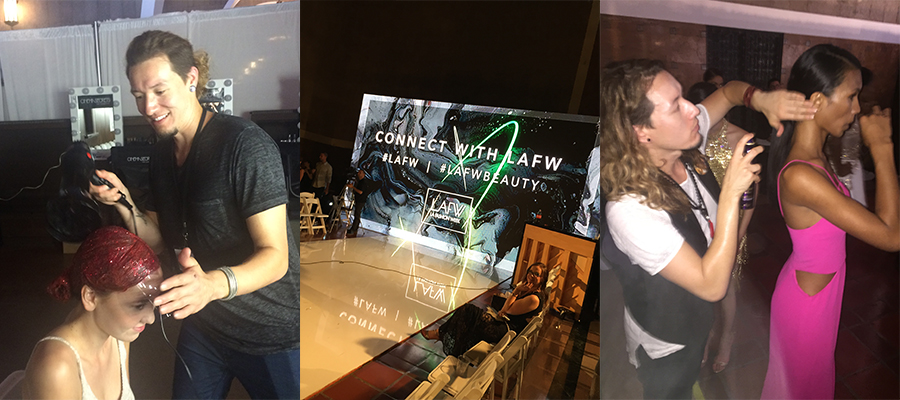 Thursday: designer Marcelo Quadrophonic had 11 models. Call time was 5 pm with the runway show at 7 pm. Marcelo requested we create a clean, straight, low ponytail with a right side part. As with any show, models had immediately came from another show so the team paired up to execute the styling in a quick and efficient manner. We used a cushion paddle brush in sections to converge all the hair into a clean low ponytail while keeping intact the right side part. Model's hair varied from short to long so we modified the looks per model. After hair was converged into the pony we used elastic cord to create a butcher's knot and ironed the ponytail in small second with straightening irons for a smooth, slick look. The time had flown by so quick and before we knew we had completed all the models who were busy readying themselves in the collection created by Marcelos. His collection ranged from gowns to swimsuits with colors in yellow and fuchsia. We watched backstage as the models took to the runway.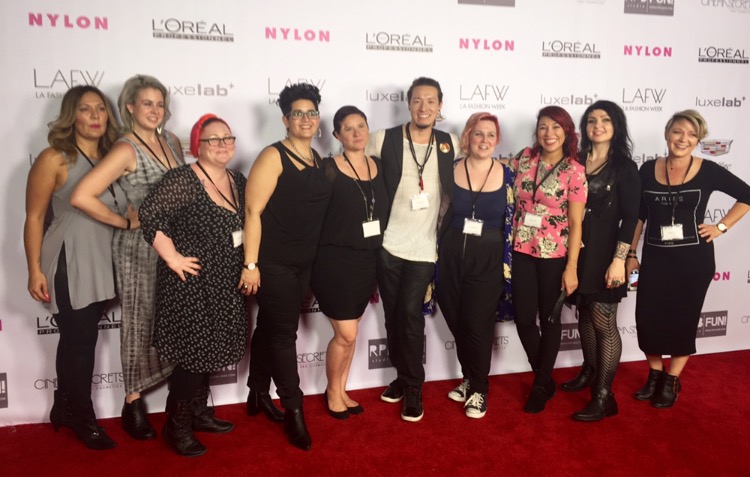 We felt accomplished, energized and happy with our work. We were a strong team and the designers personally thanked us for all we had done. I look forward to working backstage at future shows. This was a dream come true for me and I can't wait until the next show.
Matthew Tyldesley @HairbyMatt | www.matthewtyldesley.com
Lead Hairstylist/Team Lead:Sarah Bramham @artic_child | www.sarahbramham.com
Kristin Longstreet CEO & producer HotRoller Girl Productions: @hotrollergirl www.hotrollergirlproductions.com
Betty Tran: @bettyTran | www.bettyrean.com.au
Marcelo Quadros: @marcquadros | www.marceloquadros.squarespace.com
LAFW @lawfofficial | www.lafw.net