We are thrilled to partner with the Professional Beauty Association (PBA) to promote all the amazing artists who are finalists for the 2015 NAHAs (North American Hairstyling Awards), the most prestigious hair and beauty award in the country. Bangstyle had the pleasure of getting to know Aeriel Payne, one of this year's finalists in the "Makeup Artist of the Year" category. Check out our exclusive interview with Aeriel to learn more about her collection and what fuels her passion for beauty.
Tell us a bit about your nominated collection this year. What was the inspiration behind the looks? How did the creative process unfold?
The inspiration was based on the nail art created by the manicurist. The colors were my first inspiration. Blue, black and silver. The second was the texture of the nails, which was very abstract. I decided to use the same colors as the nails and create texture and shapes using different makeup media, such as grease paints, acrylics, glitter, cream colors and pigments to complement the nails.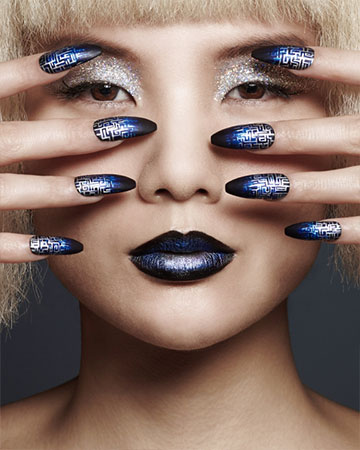 Where there collections in other categories that you found inspiring or particularly appealing?
I was fascinated with all the collections. There were so many amazing artists.
What is your favorite aspect of being a makeup artist?
Being able to express my creativity and be inspired and to inspire others.
Most humbling moment as an artist?
I am humbled just to be able to do what I love everyday.
What role does Digital play in your success as an artist/brand?
It's a great way to network, but most importantly, it allows my work to inspire those in the industry, as well as, those outside the industry.
What is your recipe for a successful shoot?
A great idea/imagination, an amazing photographer, a talented hairstylist, a well connected wardrobe stylist, a beautiful model, and me, the creative makeup artist. All in sync.
Who influenced you the most in your career?
No one in particular. I have come across many people in my career along the way who believed in me and open doors for me. I just try to pay it forward.
What time of day do you feel most creative?
Anytime of the day usually: But my creative juices do seem to flow late at night, when I should be sleeping.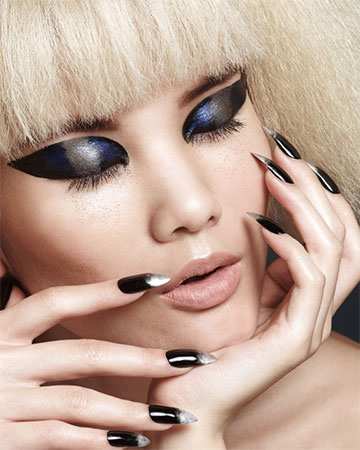 What non-beauty related areas do you find yourself constantly being inspired by?
Abstract art, because of the colors. Color inspires me all the time. I will see a color and start thinking of shapes. What type of shape I want to create with that color on an eye, for example. Then, what color do I want to compliment or clash with that color, and so on, and so on…
What's your guilty pleasure?
Red wine and popcorn.