Overview & Introduction:
The Matrix philosophy is to inspire all salon professionals to transform a passion for beauty into personal success. By sustaining one of the industry's largest teams of educators including colorists and salon owners – Matrix artists remain dedicated to crafting style and motivating others to express personal creativity. Through innovation, education and inspiration, Matrix encourages hairdressers across the globe to share the American dream and imagine all they can be!
In this Digital Photo Journal series, Matrix Artistic Director Daniel Roldan shares his personal views and storied photos as he travels across world educating artists on his craft, sharing tips, tools and techniques to creating inspired hairstyles – all while documenting via Instagram.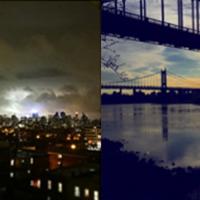 The Inspiration… New York City
"One of the benefits of traveling is that you're always experiencing new sites and sensations, which can be very inspirational. As a photographer, I capture these scenes and moments; but as a hairstylist, I strive to create looks that show my inspirations that can transcend beyond a photograph. For me, hair and photography go hand-in-hand as forms of expression that complement each other, telling stories about my travels. When I'm out and about, I'm always looking for different shapes, colors and infrastructures that serve as inspirations which are then reflected in my work."

The Looks… Concrete Jungle
"New York City, known for its bustling lifestyle and diverse culture is really an ever-growing inspiration in itself. It is my home, and has helped shape me into the artist that I am today. Despite what seems to be chaotic at times, there's actually a strong sense of structure and order in NYC – people often adhere to a strict and busy schedule and the city itself is a reflection of that. Inspired by the grid-like structure of the city and its concrete jungle reputation, I created several looks that show its cool, edgy vibes while illustrating the grid system with tight-knit braids."
About
Matrix, the number one American professional hair care company in the world, is at the forefront of salon education and innovation, helping professionals build on and improve their skills while creating cutting edge, first-to-market products. Daniel used the new Matrix Style Link line to create these inspired looks – Style Link allows for total styling freedom and makes it easy for anyone to prep, play and perfect!
To create Look 3, apply Style Link Smooth Setter to damp hair. Blow dry using a cushion brush, shiny smooth. Braid 4 (cornrow) braids using Style Link Overachiever for control and shine. The first 2 braids are the profile braids, starting at the front hairline following the profile down to the nape. The second two braids follow the hairline to the middle of the ear, continuing to the ends. Hair between braids is flatironed, using Style Link Heat Buffer . Lastly, use StitchbyDanielRoldan to create the pattern. Start by going underneath the braid with the Needle through the braids. Thread the white leather string through the eye-loop and pull through, looping underneath and tying off. I used 4 white leather bands down the center and 3 on the sides to create this look.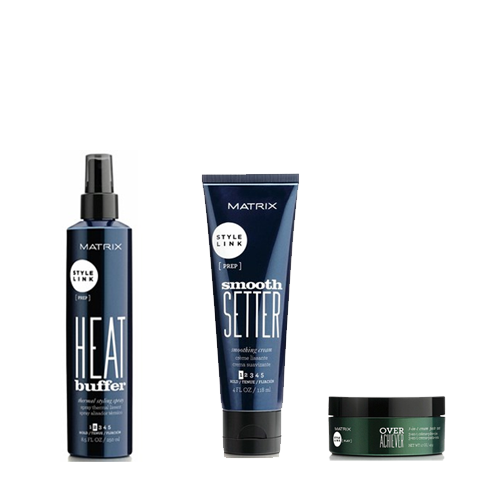 Be sure to Stalk Daniel Roldan on Bangstyle to keep up on all his hair art!