One of her most profound mentors is her mother... in an industry such as ours, how many people are lucky enough to own this sentiment? She owes much of her artistic upbringing to her mother, a hairdresser of over 40 years. Whose impact has given us the chance to witness the influential hair artist that is Cynthia Valdez. In this collection, Cynthia breaks the rules of what a normal men's collection would look like and blurs the lines of structure into a masterpiece that screams for a change in the men's grooming industry. Take a peek at her collection and learn even more about Cynthia and her inspirations…
---
Can you tell us a little more about you and your styling background?
Since I have been able to practice hairdressing as a profession I have always dreamt of being an editorial stylist. In the real world is hard to earn that title so I have been working non-stop since I was in beauty school to earn it.
I have been Participating in contests since early on in my career, which have opened a lot of doors that lead me to be a two time and two year in a row finalist for NAHA. In 2015 as newcomer stylist of the year and in 2016 as Hairstylist of the year, both some of the highest honors a young hairdresser can dream of.
Since then, I have become a business owner of Vinyl Beauty Studio in Austin, TX and also I have had the pleasure of working with high fashion models like Chloe Noorgard and the One Management team, as well as have my work printed in several commercial publications and industry magazines like Modern Salon, American salon and Behind the Chair. I have earned my title with every shoot I do, paid and unpaid, with the magic of my fingertips and my heart wide open to every opportunity that comes my way.
What drew you to hair styling?
I have been in love with hairstyling since I was a little girl. I got my first mannequin when I was about 10 yrs old. My mother has been my main teacher; most of my styling background, from braiding to general up-styling techniques, comes from her and her 40+ years of experience behind the chair.
What is your favorite technique to use?
My favorite technique behind the chair is using hairnets to shape up-styles. This technique cuts my time in half and I can create beautiful shapes.
What has been your biggest defining moment in your career?
The moment I decided to take control over my career and realized one cannot give power to other people to shape your path and reach your goals.
I had to change my perspective on how I see my work. I value the education I get from mentors without wishing and hoping for them to give me an opportunity or the title of becoming "somebody". My career is a self made project and this turn has opened my mind to a new world of possibilities that with hard work can be realities.
Is there a specific area you often find yourself looking to for inspiration?
Music inspires me a great deal; it sets the mood for every collection I create. I have a pretty wild imagination and I have an obsession with concept, which is why everything has to make sense in my head. I enjoy being inspired by a certain kind of beauty or aesthetic. I find many of my muses from indie movies and indie music videos.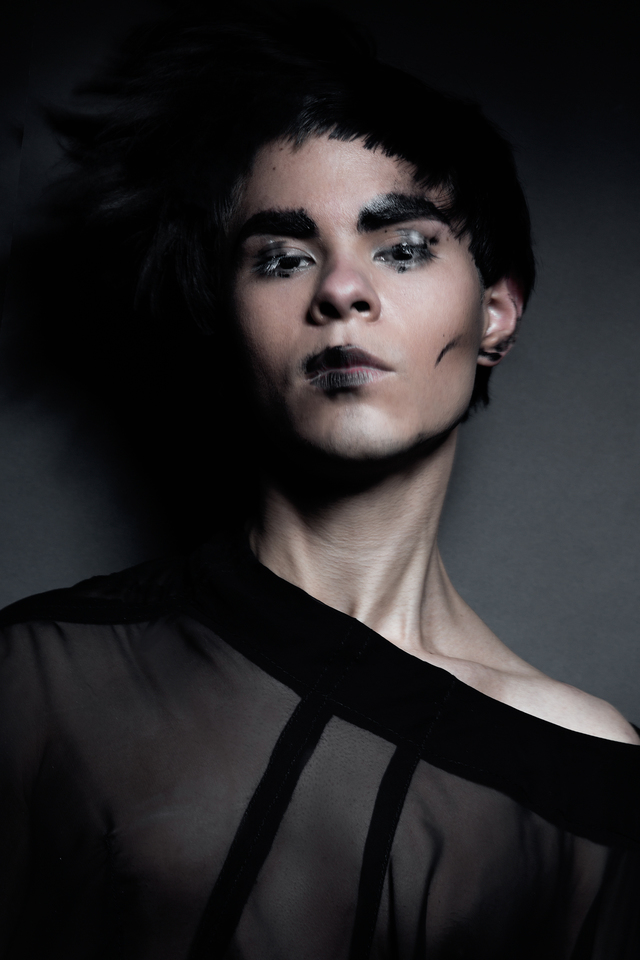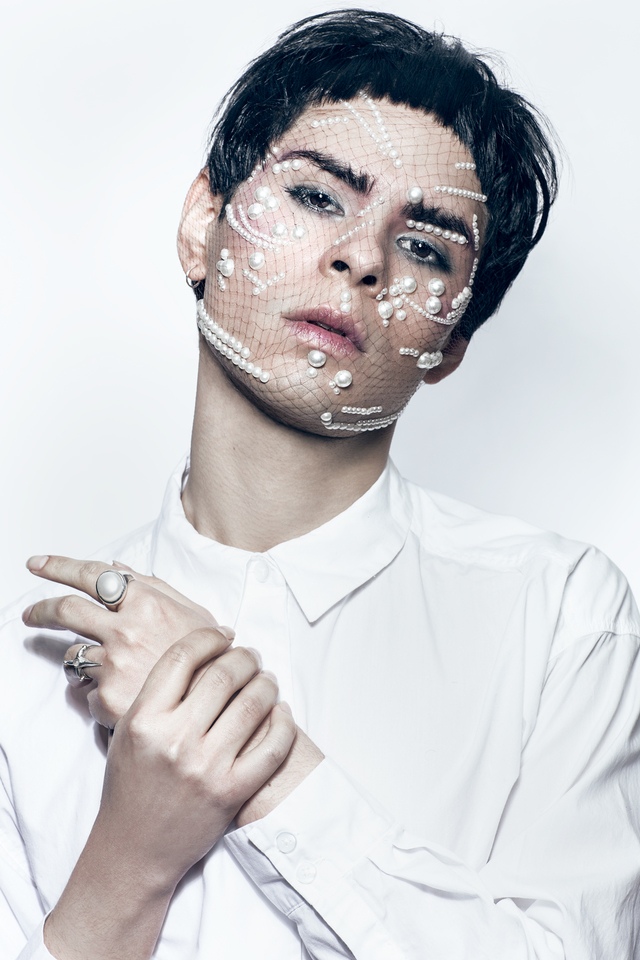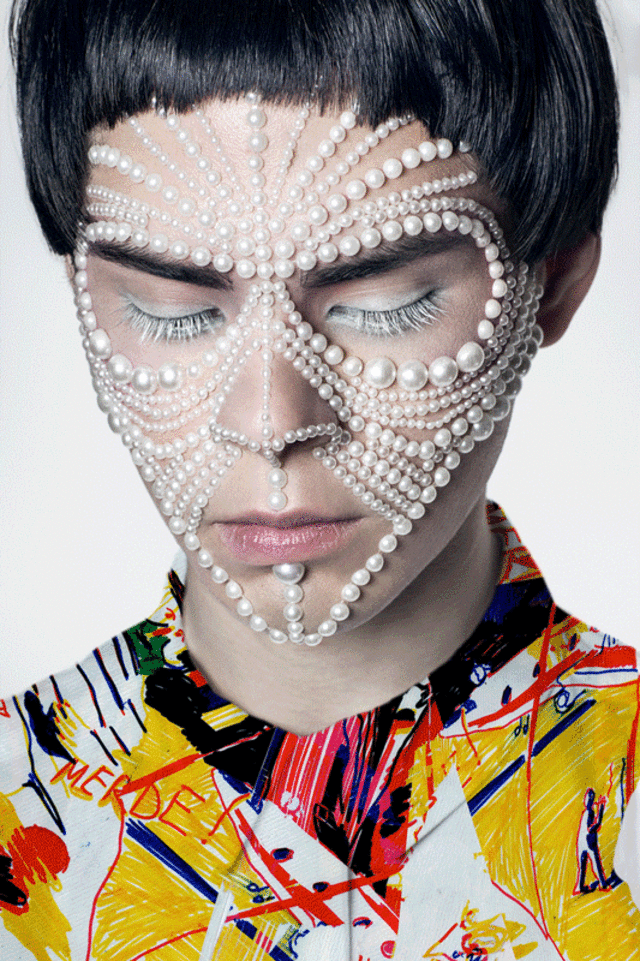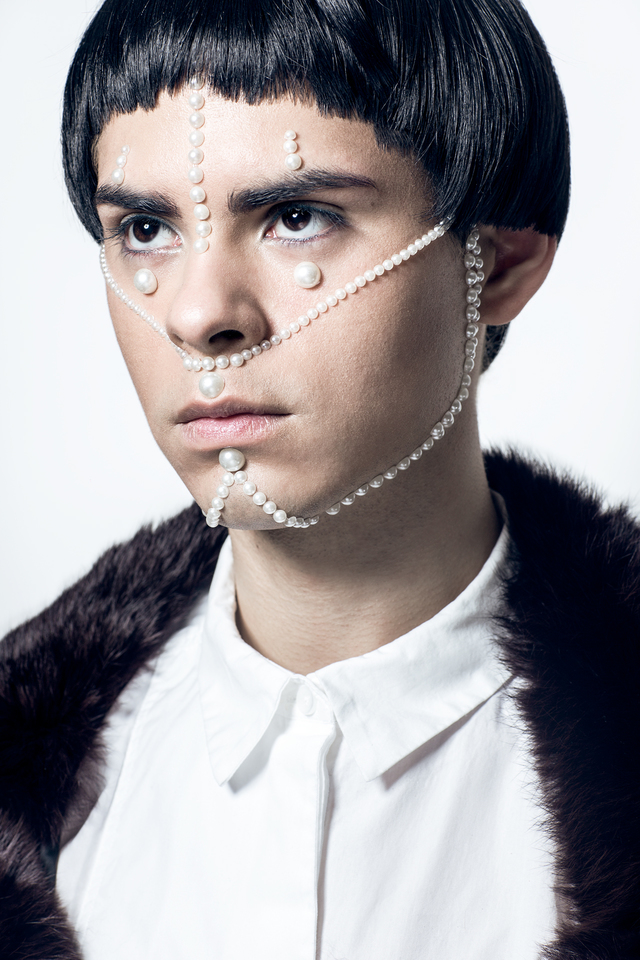 What is the one product/tool that you can't live without?
I can't live without my Paul Mitchell gold series curling irons. I'm obsessed. I own them in every size!
How did you dream up this collection?
I am fortunate for have a team that is very adventurous and when we think of concepts and how to tie our skills together we let our imagination go wild. For this collection we wanted to create beauty portraits channeling an androgynous looking kid. We seamlessly incorporated more Avant Garde makeup with classic haircutting and it turned out magical.
How do you use styling to enhance your images?
Wardrobe styling is a great part of the images. If you think about it, each collection talks about a certain character that is fictional, so just as a character in a movie, what they wear tells part of the story.
I believe that in beauty editorial, styling should be what helps you tell the story not take away from it.
How did you work with your makeup/styling team to craft the final image?
We are a team of creatives and we are obsessed with telling a story.
We brainstorm together to create a concept, we don't create restrictions. Our general ideas develop as we are in the studio. We like to change it up and play with lighting, styling and makeup as much as we can to achieve the perfect look.
What is this collection saying about Men's Trends?
This collection speaks about daring and being different. Men's collections often just show you harsh lines with a rough aesthetic as men should always look, but in this collection you can sense way more than just a men's haircut; its not
limiting. Men's styling and grooming can be much more than black and white dapper haircuts and that is what I wanted to showcase.
If you had a superpower, what would it be?
If I had a super power…I would tele-transport.
Who were your mentors along the way and how have they shaped your career?
I try to learn from everyone that is open to gifting me with knowledge, so I find mentors everywhere I go. I keep myself inspired by learning from my peers and other salon owners rather than just dropping big names behind a brand. However my main mentor has to be my mother for her work ethic. A stylist behind the chair since she was 16 yrs old (40+ yrs now behind the chair) who still attends hair shows, classes and seminars. A woman that doesn't shy away from any challenges and lives to create an emotional impact on her clients. When it comes to techniques, I've learned from many brands and big names, whose talent I admire, but nothing has felt as impactful and transcending as the knowledge and light from those who I choose to surround myself with and learn from on a daily basis.
What hair/color trends can we look forward to this fall?
I believe we will be seeing a lot of texture, Patti Smith shags and bad girl haircuts. As well as some radical changes in color and ice queen vibes for sure.
(THANKS Kylie Jenner -__-)
---
For more inspirations from Cynthia, be sure to stalk her on Bangstyle and stay tuned for even more editorials ahead.