Method Alliance in a nutshell is innovation for the education of stylists. They are pushing the technique envelop to levels of sheer brilliance; while aiming to increase creativity alongside efficiency they are enabling stylists with a set of cutting-edge of tools! Take a peek at "The Method"…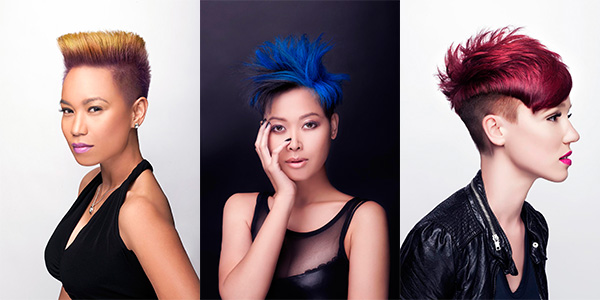 Method Alliance: New Hair Icons Trend Collection
Featuring Haircut & Cutoloring Designs With "The Method"
Tarzana, CA Alan Benfield Bush and the newly established Hair Icons has recently released a series of creative new designs. The Hair Icons Team of hair design engineers is dedicated to empower the hairdresser while featuring education with The Method using a universal approach to length, width and depth. With this Hair Icons Trend Collection, the Method Alliance Team continues to gain respectability from top salon owners and artistic hair design engineers.  
Hair Icons Collection: Bush notes, "The beauty of this new haircut and haircolor design collection is the versatile architectural hairstyle design options created for trendsetting fashion forward salon clients by our Hair Icons Team.  I am extremely proud to be working with Chad Clark, Allan Ngo, Hector Rodriguez, Angel Del Solar, J. Christian Gallagher and Alexander Baron.  This team is dedicated to empower the hairdresser with The Method. These Hair Icon designers were selected to create this new trendsetting hair fashion collection by their recognized expertise, experience and accomplishments as well as the use of their words and hands to create this world-class presentation. Each Hair Icon used The Method with their own slightly different and creative interpretations."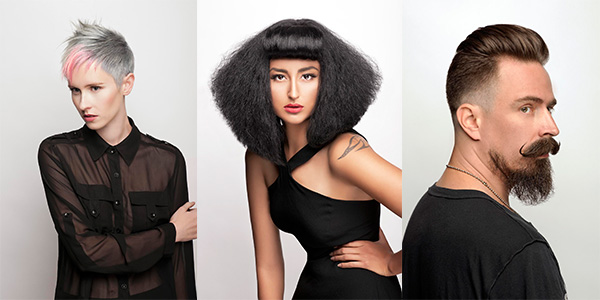 Hair Fashion Commercial Diversity ~ With An Edge:  This first Hair Icons Collection was created to share an assortment of professional haircut and haircolor trends that will work for any salon client, while each hair design was also created to allow for styling versatility in the salon as well as at home between salon visits.
Length, Width & Depth: Alan Benfield Bush is famous for inventing a revolutionary new and trademarked system of haircutting called "The Method." Bush notes, "Every hair designer uses The Method, whether they know it or not. The fact of the matter is the approach is often different with each hairstylist. You can normally only take the hair up and down or side-to-side. As the hair design artist, you can go in and out while you creatively use the desired length, width and depth for each client.  All haircut techniques fit within one method of understanding. Thus, The Method has become a universal language tool across the world."
The Method:  The Method has three forms of haircutting called geometrics, volumetrics and trimetric projection. This proprietary Method goes far beyond the current hair fads to bring all licensed salon professionals together on a level of understanding the elements that we all use in creating design. With The Method and all of its techniques; hair designers quickly become the master in control of their own creative spontaneity. Alan Benfield Bush also authored the much respected Condensed Cutting Technique, Condensed Perm Technique, Condensed Colour Technique and Condensed Setting Technique.  Bush promises, "Mastering The Method will give you the ultimate freedom with hair design creativity that you have never experienced before!"
Cutoloring: Cutoloring is an innovative technique developed by Alan Benfield Bush to work with all haircuts and haircolor within the same Method techniques. This Cutoloring Technique informs you on how to do more coverage in less time. Cutoloring, enhances condensed techniques using volumetric convexity. The haircut is the design. Haircolor is added to enhance and flatter. Where you stand to do the haircut you stand to do the color. With Cutoloring, you can effectively highlight a client using only 1 to 4 foils.
Hair Icons Team:  Bush adds, "I am very proud of the shared energies by this new educational platform artistry team of fantastic hair designers!" Allan Ngo and Chad Clark started their careers at the prestigious Sassoon Academies. They traveled to Belgium with Toni & Guy and have traveled the globe as respected top educators for many manufacturers. Angel Del Solar has been the International Artistic Director for numerous companies, educating across Spain, Russia, Portugal, Argentina and the USA. He has been featured in dozens of top fashion and trade publications inclusive of Vogue, Elle, Cosmopolitan and Allure. Alexander Baron worked with Vidal Sassoon of London, England. He was Artistic Director with Trevor Sorbie in London and has worked with Dwight Miller; a NAHA Lifetime Achievement Award Winner. Hector Rodriguez was Artistic Director for BMAC, a Japanese Shears Company. He is owner of the prestigious Beverly Hills Cush Salon and his work has been published in numerous magazines. J. Christian Gallagher is an expert in platform artistry and salon operations. As an educator for many companies, he has earned numerous awards while his artistic work has been highly published in top magazines.
Method Alliance: The Method Alliance Hair Icons Team provides valuable hair artistry and generic business education for artistic engineers, salon owners, distributors and manufacturers. This includes an innovative non-branded and 100% generic approach. Besides teaching creative hair design, they also have programs to improve business skills with profitable techniques. Launched by Alan Benfield Bush, Method Alliance also offers ongoing coaching, consulting and education with annual retainer-based programs to ensure your long-term success. For more information about Method Alliance educational seminars, manufacturer, distributor and special educational events; contact Alan Benfield Bush at 707-217-2700, Alan@MethodAlliance.com or visit www.MethodAlliance.com.  Method Alliance
Be sure to stalk photographer Larry Oskin to learn more about "The Method"…