We are thrilled to partner once again with the Professional Beauty Association (PBA) to promote all of the talented artists who are finalists for the 2017 NAHAs (North American Hairstyling Awards), the most prestigious hair and beauty award in the country. In this feature get to know more about this year's Newcomber Stylist of The Year Finalist, Junryl Molina.
With color, hair becomes an expression – of outside factors, of internal wants, fashion and social trends. In this feature, we learn more about the inspiration behind Junryl Molina, an influential stylist from San Francisco, CA. While he has perfected color in salon, he is taking his expertise into the world of competition with this amazing entry for NAHA Newcomer Stylist of The Year. Take a peek at the beautiful collection and learn more about how he got to where he is now.
---
What was the inspiration behind your collection?
My inspiration for this collection was gemstones. A few of my coworkers actually like to buy and bring crystals to work to put out good auras at our salon. I became fascinated by all the different kinds of crystals and gemstones that I decided to incorporate all the different colors on my models' hair. Combined with the precision cuts, I feel the colors really stood out.
What was the most important aspect for you?
The most important aspect for me was color placement. I definitely wanted their fringe to be a main feature so I made sure the perfect blend of colors would enhance that particular element as well as creating complimentary or even contrasting colors surrounding their fringe to complete the look.
Biggest challenge?
My biggest challenge in creating this collection would most definitely be getting the movement of their hair captured just right. It took a lot of takes and so much patience. I couldn't have asked for a better team to stick it out with me. Aside from that, I would say the whole thought process behind my theme was pretty challenging because I really wanted my entry this year to stand out and be different than what I'm used to doing.
As a newcomer, what did you learn about competition?
As a newcomer, I learned that you have to have a lot of passion for what you do. You must have a lot of drive. Despite what others think of your skills because you're so new in this industry, you just got to learn to either brush it off or learn from their advice or even their criticism. But most importantly, know your worth and knock it out of the park. I'm so grateful to have an amazingly supportive salon family who believed in me from the beginning and I'm so happy that I can make them proud. This is my second try for this competition and I can say I learned immensely from my last shoot. I knew I needed better photography, a better theme, did more research to see what it is that the judges look for, and worked even harder than I did. And because I failed last year and had been fortunate enough to be nominated the year after, I feel like I have a better sense of what it takes to succeed in this competition. In other words, never give up.
What does your collection say about trends?
I would say my collection approaches today's trends in a more transcending fashion. Nowadays, I see more females sporting edgy bangs and asymmetrical as well as blunt cuts. And we also see more people, thanks to the likes of Guy Tang, asking for more creative color. Couple those ideas together and you get what I see as hair of the future.
Any tips for creating this beautiful color?
Use Joico or Pravana for your creative color needs as well as Goldwell for those bright golds and reds. Play with different block coloring patterns and color melting techniques and you should be good to go. Don't second-guess, just go with your gut.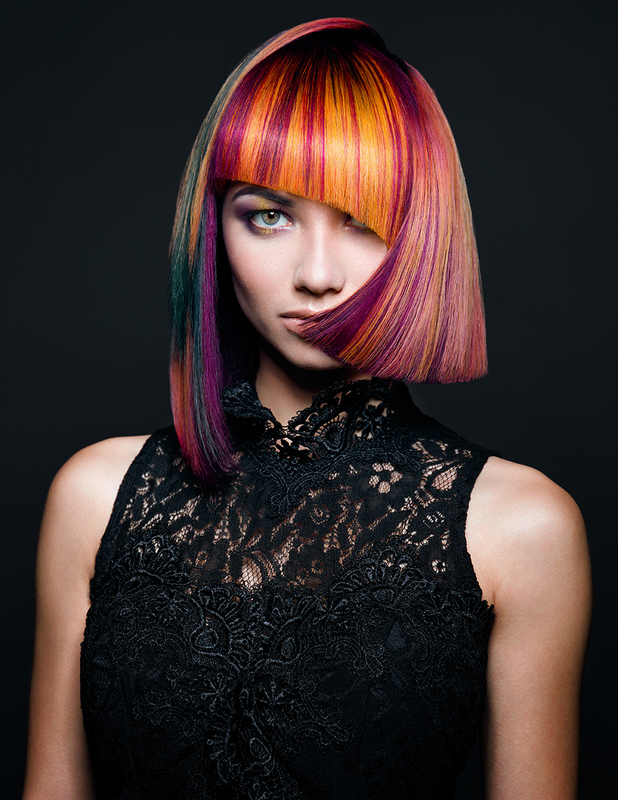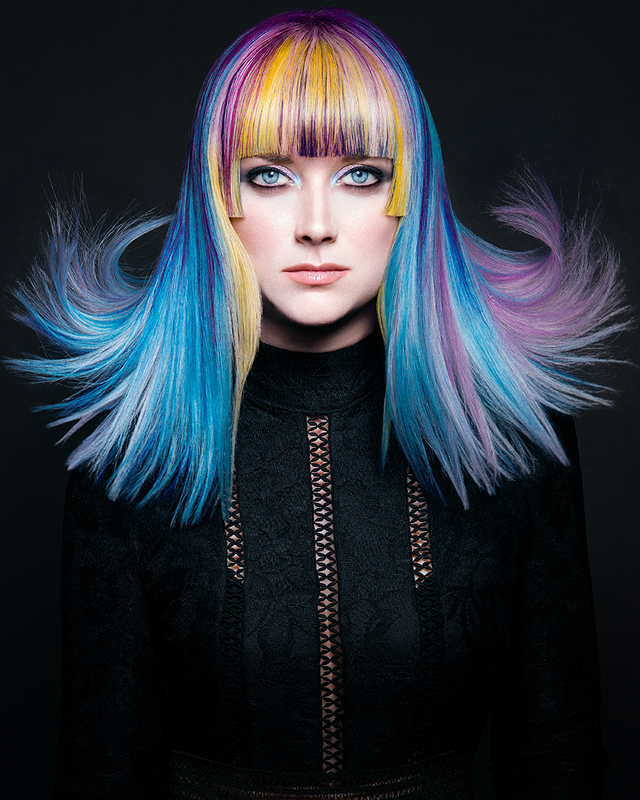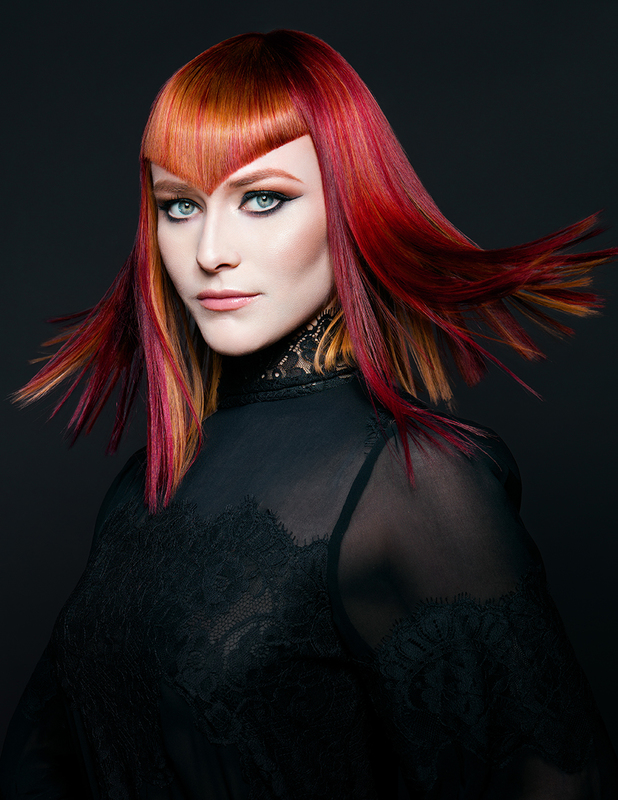 How did social media influence your work?
Back then, social media was pretty non-existent and finding inspiration was a task. Now it's super easy with Pinterest, Instagram, YouTube, etc. You can find so many big hair influencers on social media and that definitely helped me find some inspiration for my work.
Tell us more about you, as an artist.
Currently, I am a color specialist at Patrick Evan Salon located at Union Square in San Francisco, CA. As much as I love to do creative/transformative color, I do love the simple (and sometimes difficult) art of balayage. I could balayage all day. Warm, cool, subtle, extreme, you name it, I'll do it. Blonde is my favorite topic and reds are right underneath that. I would say my heart is in color and I wouldn't have it any other way. I like to photograph my work as much as I can so I can continue to build a portfolio. I've done it since Cosmetology school. I am even in charge with our salon's social media content on instagram. It's so easy nowadays with all these social media platforms to share your work. Check out my hair Instagram @stylist_junryl as well as our salon's @patrick_evan_salon.
How do you Vegas?!
Oh man, I have only gone to Vegas once as an adult and that was when I was invited to go to Beacon in 2015, following my graduation from Cosmetology school and my 21st birthday! And although I was there mostly for educational purposes, I still managed to have some fun with my friends from school who came with me. Spending some time at the pool underneath the warm sun was my favorite.
Salty or Sweet?
I say SWEET! Definitely, sweet! Now I'm craving chocolate.
What did you learn about yourself through creating this collection?
I've definitely seen growth in me as an artist from doing this collection. I have a keener sense of what my audience would like to see as well as what I'd like to see for myself. I approach things more logically now instead of just throwing things together because it sounds good. I learned that even though this was the most difficult shoot I've done and many times felt like giving up, I can manage to stay grounded and focused without losing passion for my work. I've also learned that I'm willing to invest in my pursuit for success. I put in a lot of time and effort into finalizing these looks and I have to say my hard work paid off and I couldn't have done it without my amazing team!
If you won the lotto (or slot machine) tomorrow, what would you do?
If I won a large sum of money tomorrow, I would first give back to all the people that have helped me throughout my journey, especially my mom who helped support me through beauty school and my amazing salon family at Patrick Evan. Then, I would maybe take a vacation and explore the world so I can continue to be inspired. Come back and invest in as many classes as I can and donate to beauty schools who could really use some new material/aid so that their students could succeed and have as much opportunity as I was given when I went to my school at SFIEC. Then whatever I have left I will save for my future and maybe buy a home for my dog and I as well as my mom and my brother.
---
Be sure to check out even more of Junryl Molina's work by stalking her on Bangstyle and stay tuned for the latest NAHA finalists!