We are thrilled to partner with the Professional Beauty Association (PBA) to promote all of the talented artists who are finalists for the 2016 NAHAs (North American Hairstyling Awards), the most prestigious hair and beauty award in the country. Bangstyle had the honor of interviewing amazing hair artist, and one of this year's finalists in the "Men's Hairstylist Of The Year" category, Thom Robins.
The thought process behind Thom Robins' collection is absolutely beautiful, hearing about this and then looking at the collection again further shows off his sheer brilliance for creating a cohesive work of art with depth and meaning. To hear about his collection, his inspirations, and the latest in men's trends, take a peek…
---
What was the inspiration behind your collection?
Its funny, because I knew straight away that I only wanted to use Asian models, and by doing so I would challenge myself with the hair texture. All of my models came from different parts of Asia so their face shapes, bone structures, and features are all different, which makes for an excellent profile.
With this in mind I started looking into Asian culture; K-pop, Japanese street style and various sub groups, from which I pulled hair inspiration to create a look I was keen to work with. The actual shapes I used in this collection herald from woman's hair images I drew inspiration from during the research stage, which perfectly executed the mild feel of gender fluidity that this collection demonstrates. I feel that this is an important part of men's culture today.
Ultimately, I wanted this collection to show minimalism in its overall appearance; strong cohesive shape references and a clear illustration of how men's styling today is crossing over techniques found in traditional barbering and modern styling.
How do you prepare for a successful shoot?
It takes a lot of planning. "Fail to prepare, prepare to fail" is a quote that plays a part in a great deal of what I do. But, my top tips would be: research your looks heavily and print everything out. I like to pin everything to a wall and start refining a cohesive mood board. Prep your models a couple of times before the shoot day so you know what you're doing. Have a strong team that you trust fully and have a clear plan of action for the day of the shoot. It will be a long day, so make sure everyone knows their call times and that you give yourself plenty of time to prep and shoot each look. Remember you can't do everything, so let people do their thing and focus on what you are good at…hair!
Do you always work with the same team? Have you used the same team before, or did you work with someone new?
I'm fortunate that I have friends who work in photography, makeup and fashion so I was super comfortable working with them for this collection. It was the first time we had all worked together but I was very confident and happy with the team as a whole. We will work on the next collection together, for sure.
Did you know that you were going to be shooting this collection in black and white?
Yes. By the end of the refining process during my research I was consistently drawn to Black & White, so I ran with it. I also really like black and white as an aesthetic for men's hair, especially if you are working with shaved length as its great for capturing gradient. That being said, my next planned collection is something different and in full colour.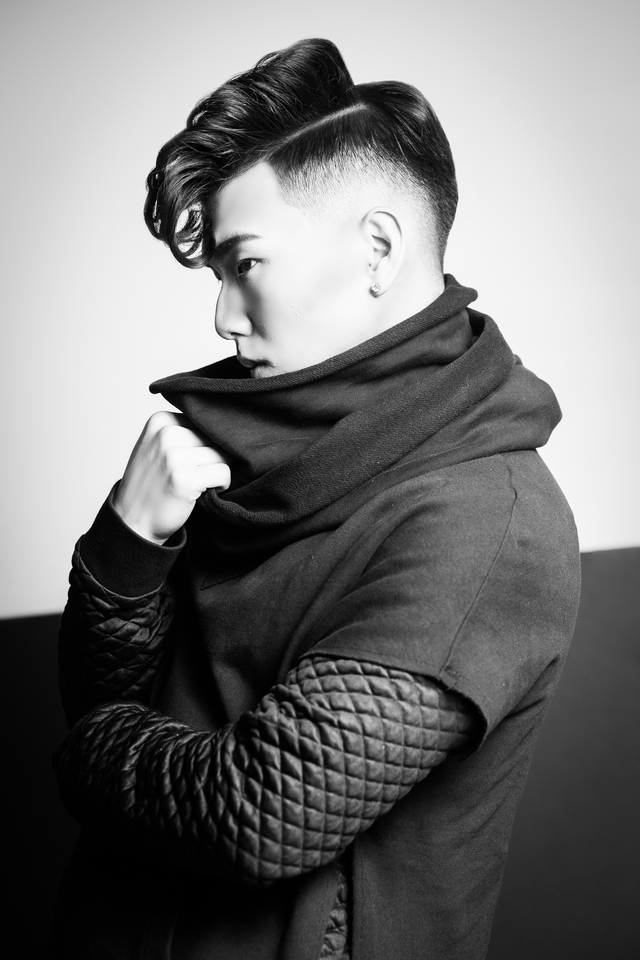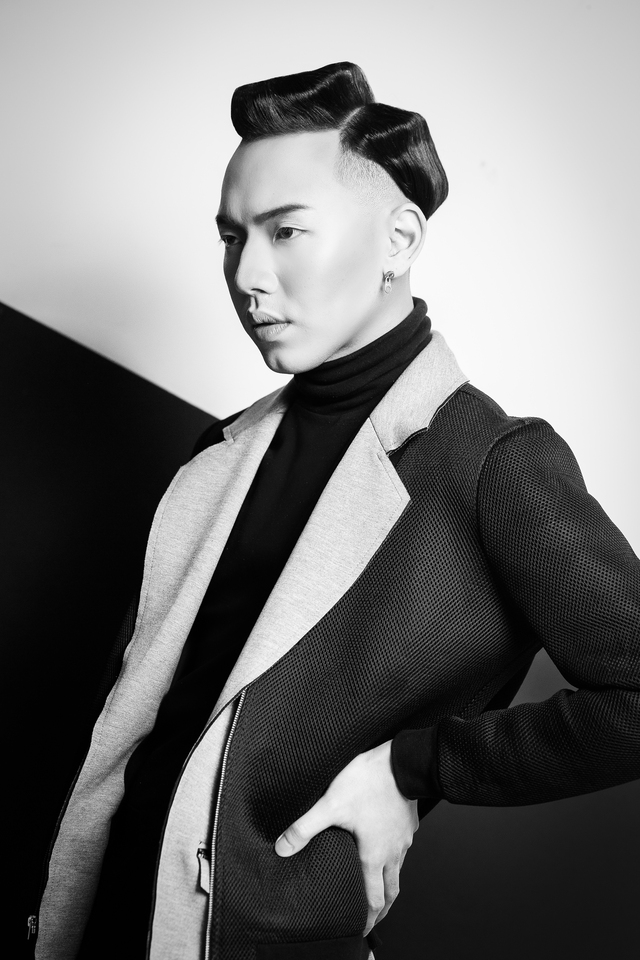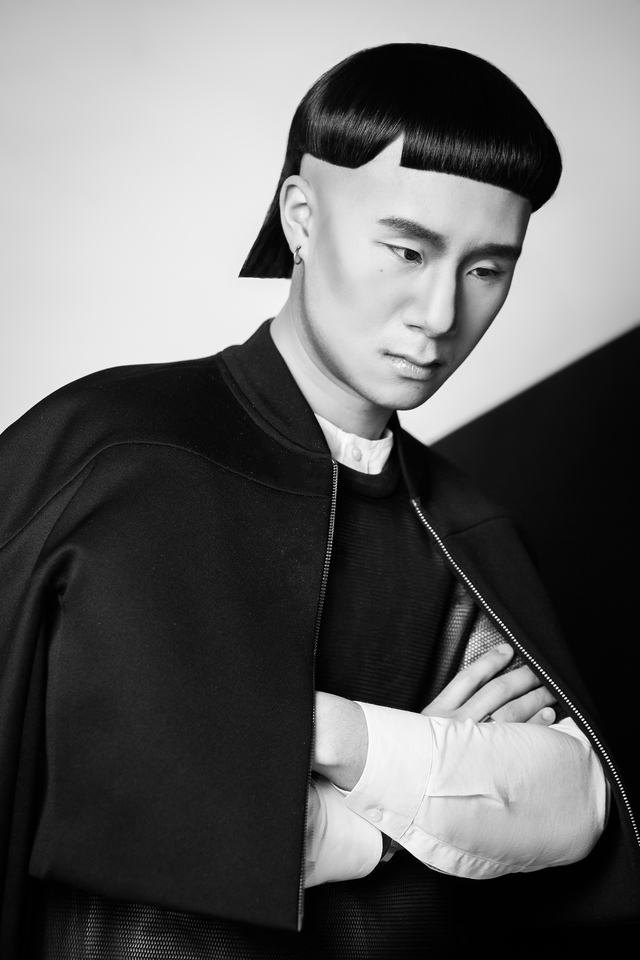 Outside of hair, where do you draw inspiration from?
Creatives. I actually have a jewelry and media brand called "The Inspired" that I am launching, which is all about inspiration and its many forms. We feature people through video media and then create minimal jewelry pieces that represent their medium. I think Inspiration is a shared experience and I am constantly around people who are inspired which consequently inspires me. As I am writing this, I am sitting in my apartment while my partner is prepping hair for a shoot, a stylist is dressing the model and a makeup artist is doing her thing, I can't get way!

What do you think is the most exciting technique in the world of hair right now?
I look at everything from the men's perspective, because that's what I do. What massively excites me right now is the crossover of barbering and hairdressing. People are now starting to see that you can't knock out short back and sides all day but men are wanting more and more. The more evolved the style, the more technique and knowledge a men's stylist needs to have, which will typically come from woman's hairdressing. Working with the natural texture of men's hair and removing weight to best utilize the natural texture is a focus of mine.
What's men's trend do you see becoming popular next?
Tough, to be honest I really feel that new men's hair trends are just a slight evolution and variation of the previous trend (man bun excluded).
For example, if we've seen short faded sides and slick tops (Pomps and side parts) that are really tailored and polished, and now I feel the trends are similar. We won't loose that masculine shape; it will just be with more texture and flow, more relaxed, longer sides, less fades. This is because guys are utilizing their natural texture instead of overly working their look. Similar looks that we have seen over the last few years, but working with their natural hair type. From an industry standpoint, I would say the next business trend is the evolution of the barbershop to a men's "Salon." It's simple, guys want more now.

How has the popularity of Men's Grooming changed the styling world?
I recently read an article that stated that the men's grooming market is set to bring in $21 billion in revenue globally in 2016. This will be a huge influence, by default. Hair care brands are now producing more products for men, salons that were predominantly focused on women are now investing heavily in training their staff in men's hair and traditional barbering techniques, there is now a celebrity barber culture which you would never have seen 10 years ago, and men's hair is now pretty much as respected as woman hair within the industry. The thing now is ensuring those who work exclusively in men's hair don't get left behind like before; it isn't about side parts and fades, learn how to style hair and cut extensively with shears only. The men's hair industry died before, so lets not let history repeat itself.
What's the one tool or product you can live without?
That's a tricky one; I use a lot of different products. But Bumble and Bumble are making some great products that are excellent for men's hair. A good volumizer is essential for everything from creating volume to adding grip and changing the texture of the hair to make it more workable.

What advice can give to the next generation of stylists?
Learn and learn and learn and learn and learn. DO NOT FAST TRACK!! Pay your dues; sweep the floor, make the tea and absorb everything from everyone around you. There are a lot of schools out there, especially in men's grooming offering 5 month courses, but that doesn't make you a stylist if you're standing next to someone who's put in years of training before they hit the floor. Nothing can beat 2 or 3 years of solid training/apprenticing, or hard craft as we say back home.

If you won the lottery, what's the first thing you would splurge on?
Opening my own salon, seriously.

How do you Vegas?
I've never been to Vegas before being given this chance…I am a Vegas virgin! But I imagine it goes something like eat, drink, sleep, repeat, come home broke - we will find out.

What's your guilty pleasure?
Science fiction, bucket loads of English builders tea, bubble waffles, jewelry and right now, anything in gold or copper.

Celebrity crush?
Not so much a crush but an admiration, Johnny Cash.

Who is the one person you don't want to forget to thank on stage?
Well, lets not jump the gun, however if I do get the chance to collect an award; after I've thanked everyone who has helped build my career so far, I will give a special thanks to my partner, Freddy Sim. He has, whether he admits it or not, helped build my personal confidence over the last couple of years to the point where I can believe in my abilities to push myself and achieve great things. His passion for hair has inspired me; there really is something to be said for having a positive and proactive attitude to life.
---
For even more inspiration, be sure to stalk Thom on Bangstyle and Instagram @ThomRobinsHair & check out the other NAHA Features!