We are thrilled to partner with the Professional Beauty Association (PBA) to promote all of the talented artists who are finalists for the 2016 NAHAs (North American Hairstyling Awards), the most prestigious hair and beauty award in the country. Bangstyle had the honor of interviewing amazing hair artist, and one of this year's finalists in the "Newcomer Stylist Of The Year" category, Katrina Ruiz.
We're not sure which is more inspiring; Katrina's collection, or her story. She talks to us about where she draws her artistic inspirations from, how she dreamt up her collection, and the one person she doesn't want to forget to thank.
---
What inspired you to enter NAHA this year? How did you prepare?
I love the art of hair! I have been drawn to it from the start! That's why I became a hairstylist. My dream is to become a platform artist. After meeting some of the most amazing artists in the industry like Nicholas French, Phillip Wilson, and Vivienne McKinder. I knew this is what I was meant to do! This is my addiction and my outlet for the battles in my life. I prepared by creating, with trial and error nothing is more satisfying to me then being creative and telling a story without words!
What was the inspiration behind your collection?
I was in my kitchen cleaning up hair from a previous collection for a local hair show called "Hairspiration" I was working on. There was a song playing loud over the TV called crave you by Flight Facilities. In the song there is a verse that says: "I come into the room dripping of gold!" My mother and me looked at each other and both said at the same time "NAHA," and smiled! So my models are dripping in gold. I wanted a very heavenly; out of this world, unique feel to my collection!
How did you pick your team and what tips did you take to ensure a successful shoot?
I entered a competition through my school, Taylor Andrews Academy. They hold a mini NAHA called TAHA every year. I ended up winning the grand prize of a NAHA sponsorship. With the help of Larry Curtis, Keith Bryce and my great friends Katie Warden and Former NAHA winner Lizz Kopta, we created an outstanding collection! They saw my visions for the look, and we brought it to life, together!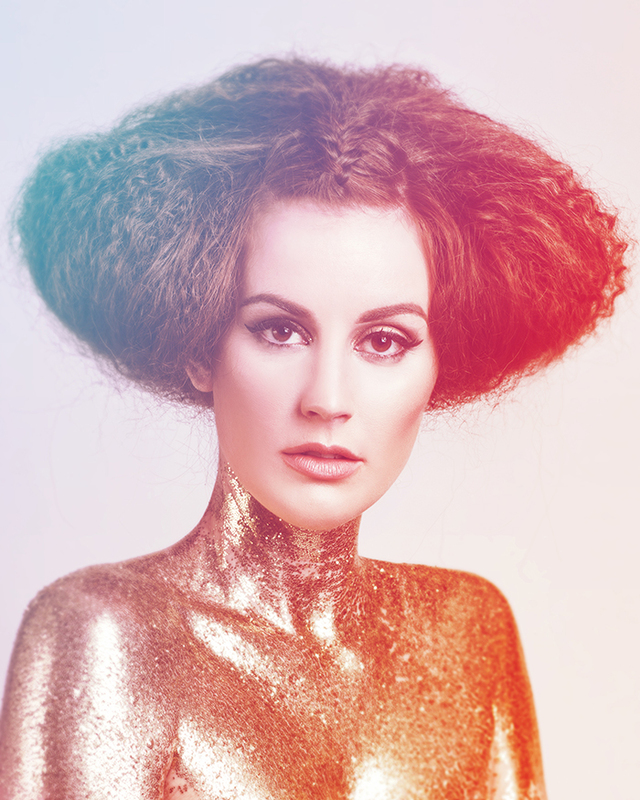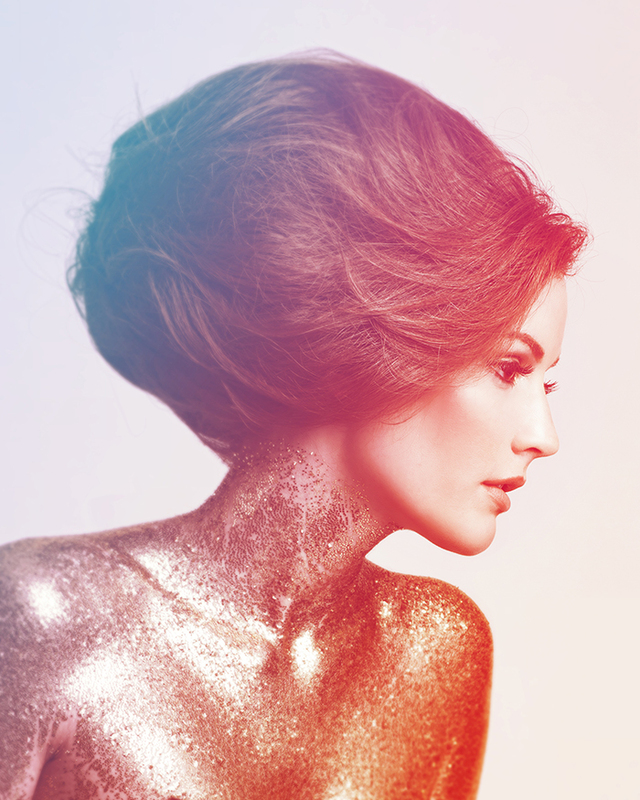 What technique did you use to create such gorgeous texture?
I wrapped the hair tight around a small metal rod and heated it with my flat iron.
Outside of hair where do draw inspiration from outside of hair?
Everything really, I see so many cool things. From the light at the bank to planting pots at the store, inspiration is everywhere. Many things have amazing textures and patterns, you just have to have a creative eye and appreciate the little things most people don't notice!
What do you think is the most exciting technique in the world of hair is right now?
I really love the newest hair cutting techniques! They are my favorite to play with!
What is the one tool or product that you can't live without?
A wand.
Who were your mentors along the way?
I had really great mentors! I asked a lot of questions to everyone! From Nicholas French to Robert Grimms, Chystopher Benson, Jake Thompson, Carly and Lizz. I always had questions, got them answered, and was inspired by everyone! I did a lot of research and learned a lot they the journey! I am still learning and I love it.
What steps did you take to get to the place in your career?
Hard work! I've know what I've wanted from the start and I never lost focus! I have so much passion and love for what I do. I always put 100%
If you won the lotto the first thing I would splurge on?
I would love a house on the beach in Oregon.
How do you Vegas?
Every July, enjoying the company of amazing friends and new hair artists from around the world!
What is your guilty pleasure?
My guilty pleasure is a hot bath while listening to "The Last Of The Mohicans" Radio on Pandora.
Salty or sweet?
Sweet!
Who is the one person you don't want to forget to thank on stage?
The one person I don't want to forget to thank is my mom. She quit her job and moved from another state to come live with me to take care of my 4 children, while I attended school to become a hairstylist!
---
Be sure to stalk Katrina on Bangstyle to see even more of her beautiful work!