At Redken, we know that big hair is always better! Whether with lift at the roots or texture in your waves — volume is one of the most sought after outcomes in both salon and editorial settings. "Voluminous hair has always been and always will be in style. There's classic, big volume, and now we're seeing more of this cool, textured volume, which is just as beautiful," says Rodney Cutler, Redken Brand Ambassador and owner of Cutler/Redken Salons in NYC. Take your texture to the next level and ensure consitently voluminous hair with our new High Rise and Beach Envy collections.
When aiming to achieve a bouncy voluminous blowout; the products you apply before blow drying are equally as important as the products used to cleanse the hair - due to the way products are able to penetrate the hair shaft during cleansing. Redken's new High Rise Volume and Beach Envy Volume haircare collections feature filloxane, "which is an ingredient that penetrates the cuticle to the cortex and spreads along the fiber to provide more body, texture, volume and substance to the hair so you can achieve the best volume regardless of the end look you're trying to achieve". 
Now all you need to decide is which type of Volume is best for your clients?
With High Rise Shampoo, Lifting Conditioner and Duo Volumizer, hair is destined to reach new heights! Perfect for a polished blowout with lots of bounce. High Rise Volume Shampoo & Conditioner deliver a lightweight, volume-boasting blend of filloxane and softening polymers to create lift and body. Due to the fact that filloxane penetrates the cuticle to the cortex and along the fiber of the hair, hair will have more body and volume no matter the style. These products work perfectly together or can be layered with your existing product technique.
If runway texture is all you dream of; Beach Envy Texturizing Shampoo and Conditioner and Wave Aid is the choice for you. It will take those waves to the next level. This lightweight formula works with natural texture and enhances wave patterns to create a more defined look. With a blend of filloxane, polymers and minerals to infuse texture in your strands, you'll be able to create loose waves and amplify body while maintaing elasticity in hair. Wave Aid can be used as a hair prep or finishing product - without salt it works wonders to aid in texture without creating a gritty or heavy feeling. Used as a finisher, Wave Aid can create softness or replenish your style.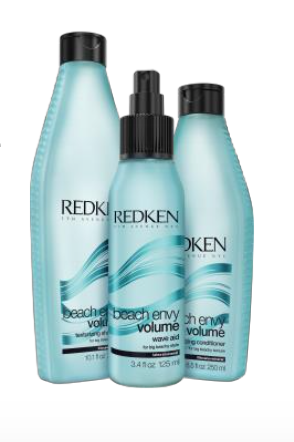 Need a secret weapon? Just as professional strength deep conditioning treatments work wonders on damaged hair, Chemistry Volume Shot Phase transforms hair to achieve maximum volume in a professional treatment. Perfect for when you need that extra boost in your blowout!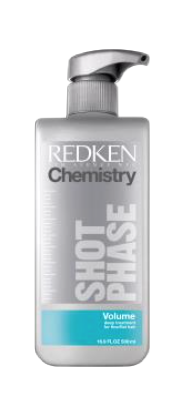 Whether you're looking for a sleek voluminous look or a beachy textured blowout, put some pep in your hairs step with the prep. 
---
Be sure to stalk Redken on Bangstyle for all the latest fashion forward tips, tricks, and product picks!