Since the beginning of our written history, nature has played an important role in our creative expression. Our environment shapes how we view, interact and survive as a species. In turn we create ART from what our senses gather naturally from our surroundings, whether it may be mountainous, coastal or a scorched desert. We see and feel the land, the sky and it's moving parts such as, the warms winds of the Caribbean, the lone wolf in Alaska, to the town of Cooper Peddy in South Australia where you'll find one of the biggest sources of OPAL on earth.

Today in our industry we are seeing an eye opening butterfly effect, which essentially defines a trend in motion. We are seeing artists and our guests wanting to mimic nature in their look. It's almost like we are searching and striving to regain our connection to Mother Earth. I think human kind has been lost for a decade or two, caught up in wars and financial disasters coupled with simply trying to find themselves and survive. Now however we are emerging with our eyes open in to a world that stood still waiting for us to come home and enjoy and embrace her beauty once again through artistic expressions inspired by Mother Earth herself in all her continued glory.
Together, THE UNICORN TRIBE strives to push ourselves as artists UNLOCKING our true potential by bringing COLOR back to LIFE.
---

Model was an overall level 9/10 with remnants of faded out pink and blue in some areas and had around 3 inches of level 7 outgrowth.
Step 1
Use Wella Blondor + 20Vol for a root retouch feathering it around one centimeter away from scalp, process until almost a level 10.
Step 2
Use Wella Blondor + 20Vol + Olaplex and pull this through mid-shaft and ends, to brighten up the blonde, and remove any old fashion color that would lift. Process until consistently a level 10/11.
Step 3
Rinse, Tone using Wella 8/81 + a ribbon of violet modifier.
Step 4
Mix 5 formulas using Sparks color:
Starbright Silver (diluted with clear)
Mermaid Blue (diluted with clear)
Flamingo Pink
Key lime + Mermaid Blue (diluted with clear)
Lavender created by mixing by eye Mermaid Blue + Flamingo Pink + Starbright Sliver (diluted with clear)
Step 5
Section out the hair into quadrants and randomly chose diagonal back sections to weave out and color melt different combinations onto either her roots or her ends using the Redken Blur Brush, making sure to leave a lot of blonde out, about a 2 to 1 blonde to color ratio.
Step 6
Once done, paint yout glove with the flamingo pink and scrunch the color through the ends randomly, repeating that with the lavender and Mermaid Blue to create the water color effect.
Step 7
Process for 25 minutes then rinse in cold water, trying to keep the blonde out of the way. Apply Olaplex Step 2 treatment to hair, sit for 15 minutes, rinse, condition with a light color safe conditioner, rinse, then style.
---
Oppallios by JoeAnna Parker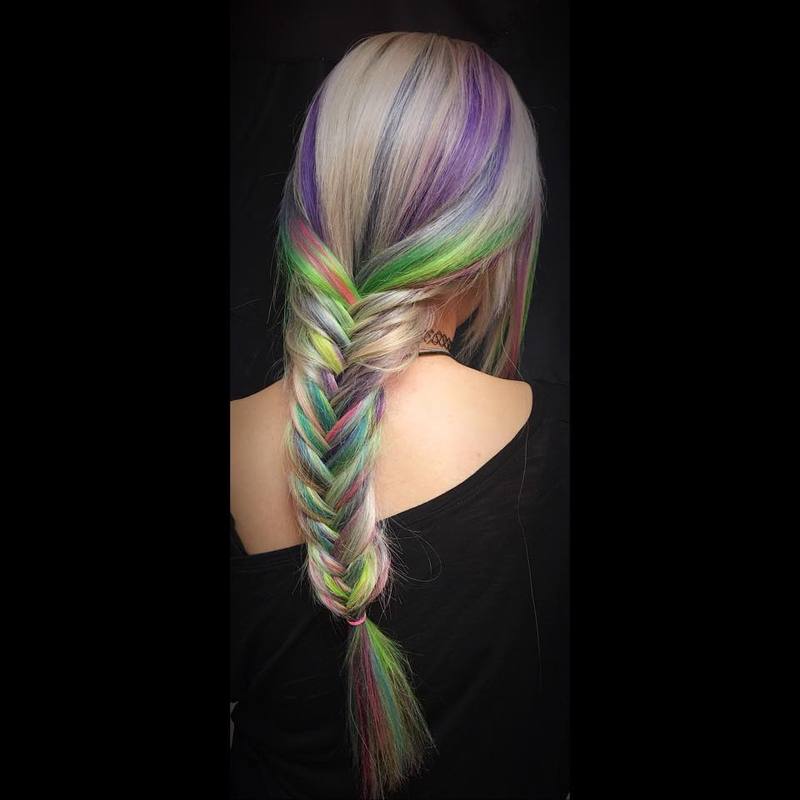 Step 1
Retouch roots with 30 Vol Redken Flash Lift
Step 2
Rinse & wash with Rusk purple shampoo
Step 3
Use Olaplex stand alone treatment 20 min
Step 4
Using Sparks color
Start with the starlight silver and purple (mixture of the red velvet, mermaid blue and clear) at the base, take only horizontal sections and colormelt into the wild flamingo, key lime, mermaid blue leaving out blonde slices in between. Section each colormelt with embee meche.
Step 5
Repeat the colormelt technique on her Bombshell tape in extensions. (We colored 25 pieces and left 15 pieces blonde.)
Step 6
Process color for 30 min.
Step 7
Rinse with freezing cold water and deep condition.
Step 8
Apply Kenra blow dry spray &
Dry 100%
Step 9
Install tape-ins.
Step 10
Cut, layer, blend and style.
---
Under The Sea by Theodora Raptis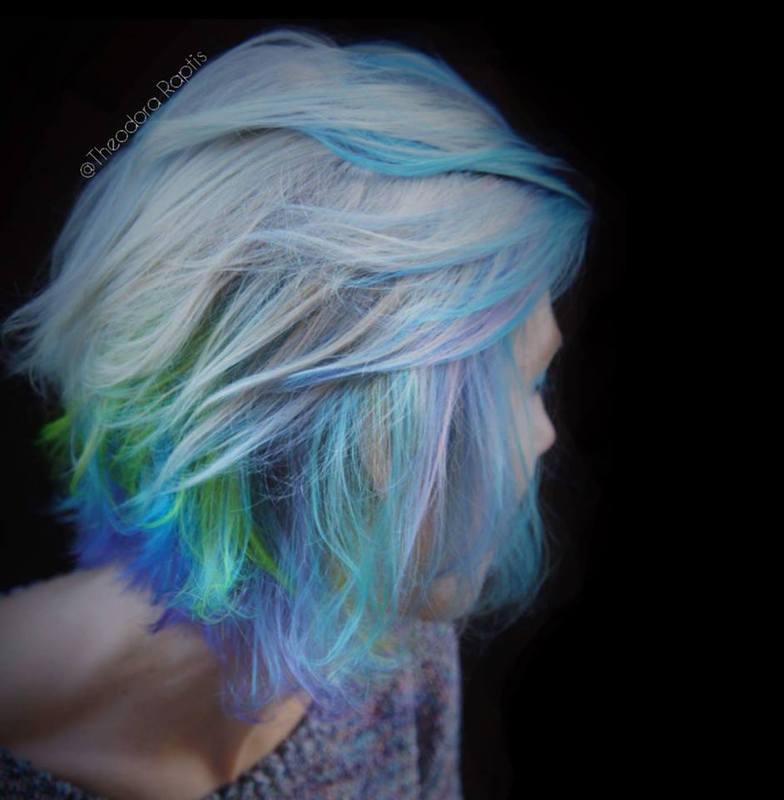 Step 1
Model began with virgin blonde hair, level 10
Step 2
Sectioned out her underlay starting from the back. Leaving a veil on top for an Opal finish.
Step 3
Starting at the nape I used Sparks "Purple Passion" to add a little depth to our pallet.
Step 4
Then in horizontal layers moving upward I switched between Mermaid Blue and Key Lime. I painted everything by hand and separated with foils.
Step 5
Heading into the side sections I worked diagonally. Introducing Pink Flamingo for a dash of warmth.
Step 6
The roots were done with Mermaid Blue through the sides and into the bang underlay. Then I blended the Pink Flamingo to create a colour melt from blue to pink. Pulling some blue all the way to the ends
Step 7
Finishing the look I used Starbright Silver to tone the warmth out of the top section. Leaving it on for half the time.
Step 8
Colour processed for 35 minutes with a bag for heat. Then rinsed in cold water.
---
Black Opal by Amber Yancey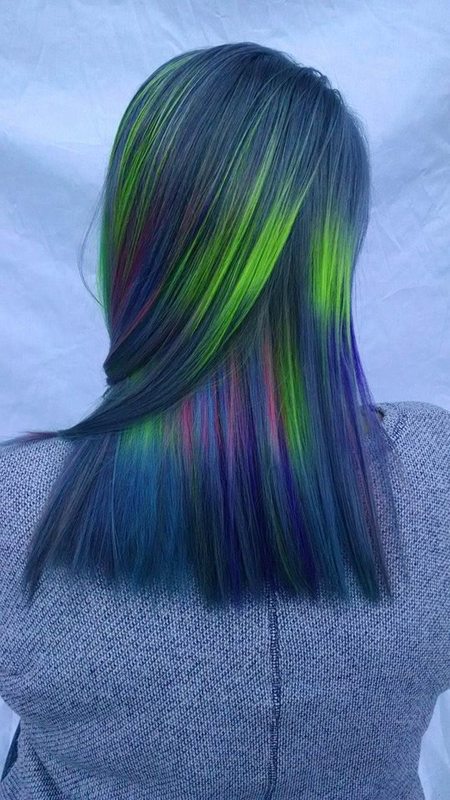 Step 1
Pre lightened the hair to a level 10.
Step 2
Applied star bright silver on the roots 3 inchs out. Sectioned the hair in for sections based on were the part is.
Step 3
Starting at the bottom of the hair line in the middle of the hair shaft about 3/4 inchs rotated sparks color in key lime, flamingo pink, mermaid blue, and a light purple I made from mixing flamingo pink and mermaid blue both diluated with clear and some starbright silver. The remaining end color I put star bright silver.
Step 4
Towards the crown and up I rotated the same steps followed in step 3 but switched it up and would do starbright silver all the way down to the ends and alternating every 2 to 3 inch sections placing key lime, mermaid blue, light purple or flamingo pink on 3 inchs of ends.
---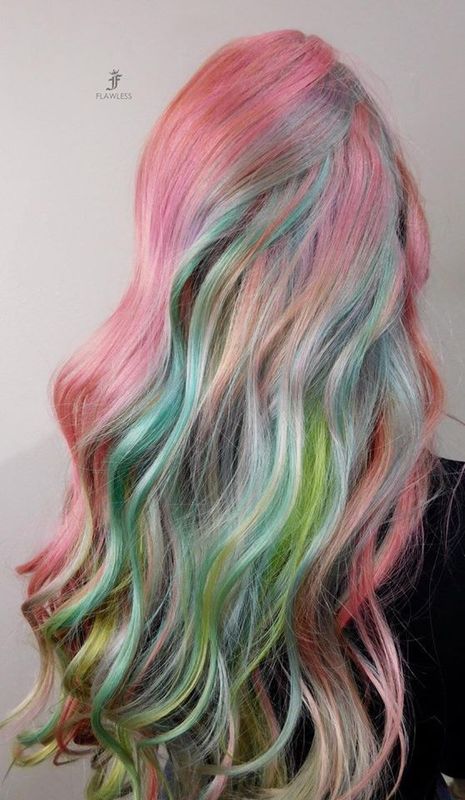 Step 1
Apply Redken flashlift with 30 Vol. and Olaplex to pre lighten hair to a Level 9 .
Step 2
Take fine sections and paint the lightener on top and bottom of the hair to create a even saturation then foil each section. Process for about 1 hr.
Step 3
Shampoo & rinse, tone her using Redken eq shades 09v and 09t for 15 minutes .
Step 4
Mixing and playing with the new shades of Sparks I created 6 amazing colors,
Key lime + mermaid blue + clear = mint color
Key lime + Clear = yellow color
Startbright silver + Clear =. Light silver
Startbright silver + mermaid blue + clear = blue silver
Wild flamingo + red velvet + clear = peach color
Red velvet + Clear = pink color
Step 5
Section hair from ear to ear separating the front and back, work your back section from the bottom to the top using V sections. Apply colors (mint, yellow, light silver and blue silver).
Step 6
On the front section create a square top section and apply the peach and pink color.
(I also applied silver and pink on her front sides -I wanted to create a cascade of delicate pink shades over the rest of the colors).
Step 7
Have fun!
---
Lavender Lights by Sydniiee Morgan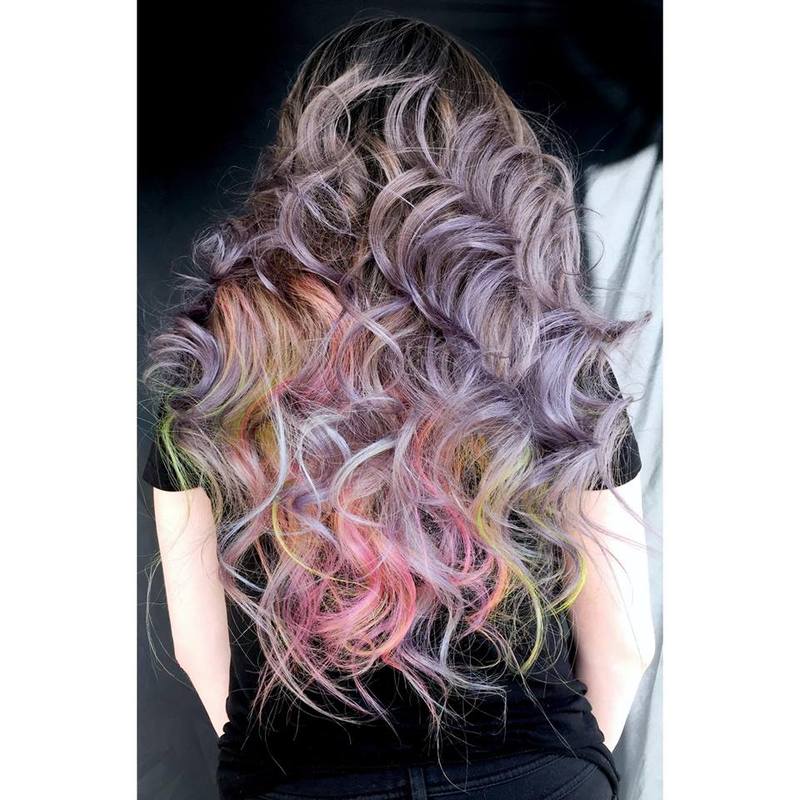 Client started with Level 7 hair:
Step 1
Heavily Balayage with Wella Freelights and Blondor with 40v
Step 2
Dry Thoroughly
Step 3
Section out the front from ear to ear. And horizontally from ear to ear across the back. Take Sparks Starbright Silver with a dab of Sparks MermaidBlue and FlamingoPink to make a LavenderSilver and apply all over from Root to ends on the front and top section of the back.
Step 4
Take the remaining hair at the back of the head, apply LavenderSilver formula to the Root area and pull it down as far as desired. Alternate Sparks MermaidBlue, FlamingoPink,
Step 5
Apply KeyLimeGreen(diluted with clear) and LavenderSilver mix in vertical sections, melting them into each other down the section in as many different combos as desired.
---
Warm Opal by Lauren Kattenburg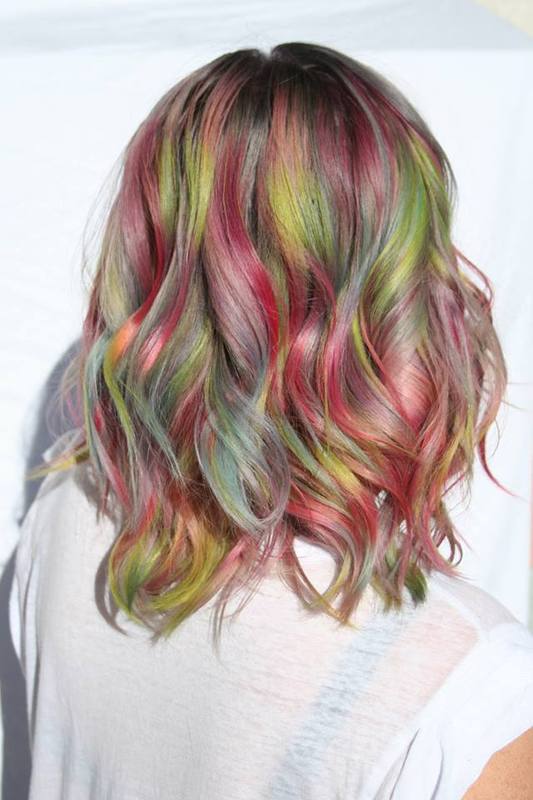 My model is naturally a pretty light blonde but we needed to bump her base up a little so that the Starbright Silver would pop on her roots. She had previously done a Level 8 Wella Illumina shade on her roots so we did a quick 10Vol Blondor shampoo cap before beginning.
Step 1
Apply Wella 12/89 +12/11 + 30Vol to get a nice cool pale tone and completely prep hair.
Step 2
(I diluted some of the colors that were used.) Use Sparks Starbright Silver, Sparks Wild Flamingo, Sparks Mermaid Blue + Sparks Clear (equal parts), Sparks Key Lime + Sparks Clear (equal parts), Sparks Red Velvet + Sparks Clear (1 part red velvet, 2 parts clear), and Sparks Mermaid Blue + Sparks Red Velvet (3 parts mermaid blue, 1 part red velvet) for a soft plum tone.
Step 3
Use a 7 part sectioning to create maximum movement, slicing on a diagonal through each section.
Step 4
Place Starbright Silver to create a stretched root. Then in each slice of hair apply anywhere from 2-5 of the remaining color through the midshaft and ends to give the hair the movement and gradation appearance of an opal.
Step 5
Allow color to process for 45 minutes and then wash hair with cold water and Sparks Color Care Sulfate-Free Shampoo and Sparks Color Care Conditioner.
Step 6
Dry the hair with a Tangle Teezer Half Paddle Brush and JBeverly Hills 5-in-1 Styling Conditioning Cream. Curl the hair using a BioIonic 1.25in Style Winder and then finish the look with a little JBeverly Hills Revive Coconut Oil.
---
Be sure to stalk all of these amazing artists on Bangstyle to stay up to date with their work and the latest color trends!