Salon treatments are a great way to significantly improve the overall health of your clients' hair in a short amount of time. But Kevin saw that hair was not responding to a generic "one size fits all" approach to treatments and masques and, from this observation, the TREAT.ME range was born.
TREAT.ME was designed for an in-salon experience that can be tailored to suit each of your client's individual needs by using a high concentration of active ingredients to make the hair's surface more elastic, supple and smooth. The star ingredients for TREAT.ME are "Super Proteins" from vegetables and plants, which strengthen the hair shaft and repair damage created by heat styling and chemical services. 
KEVIN.MURPHY has released four different Cruets in the TREAT.ME line: MOISTURE, STRENGTH, ANTI-AGEING, and THICKENING, with the two latter joining the range this month. When combined with the ELIXIR FLACON, each cruet delivers extraordinary results.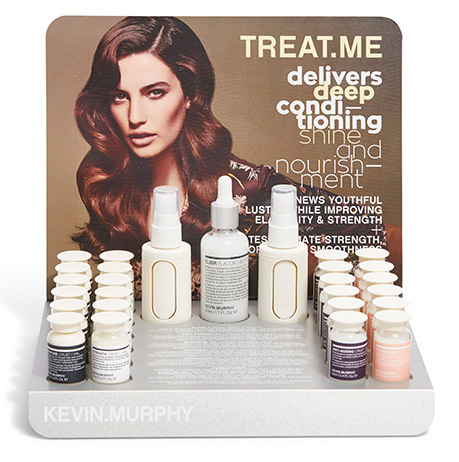 MOISTURE contains exotic plant extracts, such as Moringa Oil, that release over 26 Amino Acids to build healthy hair. Gardenia Extracts soften the hair and Mongongo Oil, derived from the deepest regions of Africa, offer excellent hydrating and restructuring benefits.
STRENGTH uses targeted essential Amino Acids to restore durability, thickness and elasticity to the hair, while Soy Protein increases the ability of the hair to bind moisture. Compositions of Vegetable Proteins are included because they are similar to the structure of the hair and absorb easily to create radiant, strengthened and luminous results.
ANTI-AGEING renews youthful lustre and shine to dry and brittle hair caused by environmental pollutants, chemical impurities, or just chronological ageing. Baobab Oil provides moisturising benefits while improving the elasticity and tone of the hair, helping to fight follicular ageing in an innovative new way.
THICKENING works to stimulate new hair growth, leaving the hair feeling moisturized and strengthened. Using eyelash thickening and lengthening technology, this formulation works to improve the quality and density of the hair, as well as fortifying, strengthening and protecting the root sheath. It also increases microcirculation to the scalp to lengthen the Anagen phase of the hair, resulting in more rapid hair growth.
Just a drop in the ELIXIR FLACON can be a powerful thing. The ELIXIR FLACON was created to intensify the performance of the treatments using repairing vitamins, Sugarcane Extracts, and AHAs (Fruit Acids) to impart long-lasting results. 
---
For more innovative product releases, haircare tips, and styling ideas, be sure to stalk KEVIN.MURPHY on Bangstyle!