From Editorial to Runway and Salon Services, the Patrick Evan Salon in San Francisco does it all. We had the pleasure of speaking with Pam Genio-Bates, a recent Redken Next Big Thing Winner about her salon, the experience of working in a large salon like Patrick Evan and her favorite aspect about her team and their work.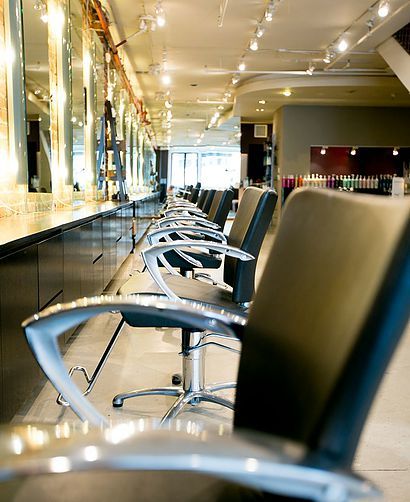 If you could define your salon in 3 words, what would they be?
Fun, friendly, talented!
What makes your salon unique?
We are the true definition of a "salon", with no pretense. It was really important to Patrick that each client feels welcome, and that every employee is genuine and approachable. Patrick also truly values the input of every employee because at the end of the day, he wants us to be happy and will support us in whatever we need.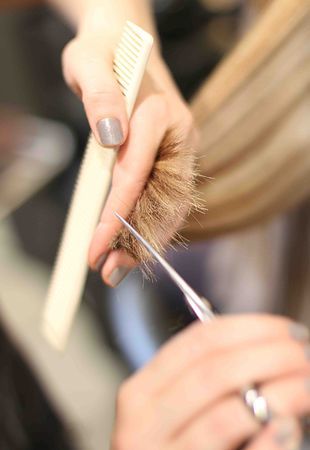 How does your team influence the space?
We have 18 chairs and between the stylists, assistants, and front desk employees it's imperative that there are no egos or divas! It can get a little hectic and tight in the salon, and the fact that we all know how to work around each other makes for a happy working environment.
How does the atmosphere affect the workflow?
I like to think of it as a little dance. When we're in sync with each other and vibes are good, things run efficiently and we can all concentrate on doing great work. Yeah, things get stressful but we support each other and move forward together.
What's are the tools or products you can't live without?
ALL OF THEM! hah! For tools, I love my Sam Villa Hairdryer and Hot Tools Marcel Irons. I'm a total nerd for marcel irons because of the control I can achieve (yes, I'm a control freak). Sometimes spring irons can be limiting as well. As for products, EVERY person should be using Redken's One United. It's an all-in-one, leave-in treatment that really sets the foundation for any products you layer on top of it. It has so many benefits that it literally helps every head of hair. Plus it smells amazing!
Favorite type of music to listen to in the salon?
Oh man. Patrick once said he wanted to control the music in the salon, but that went out the door! It really depends on the mood and day. Sundays are a little more laid back, so we'll listen to some oldies-a little Etta James, a little Marvin Gaye. On higher energy days there are more pop remixes thrown into the mix, maybe a little EDM when we need to really amp up.
Salty or Sweet?
BOTH. Lately it's been salty, but I used to own a baking company in San Diego so it was sweet for a really long time. I do love me a good cheesecake!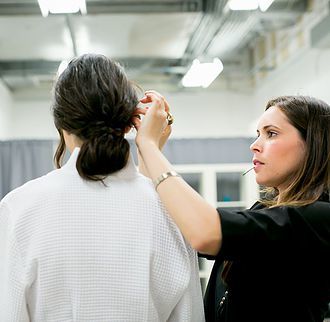 Is there a specific area you often find yourself looking to for inspiration?
Whenever I look for inspiration, I find that taking a class gets me on the right track. We live in a time of Pinterest and Instagram, which can get a little visually overwhelming, so taking a class (especially at The Redken Exchange) makes me take a step back and actually think about how to achieve certain looks in a methodical manner, which gets me really excited to do hair. I'm also constantly inspired by the people I work with; I'll sit back and watch them work, or blow-dry one of their clients and think "Hot-damn!" I'm lucky to be around so many talented people that I can learn from every day.
If you had a superpower, what would it be?
Hands-down, it would be the ability to be in multiple places at once! I tend to over-commit myself so it would be amazing to be able to say, take a nap while also volunteering at my daughter's school, and teaching a color class in a salon.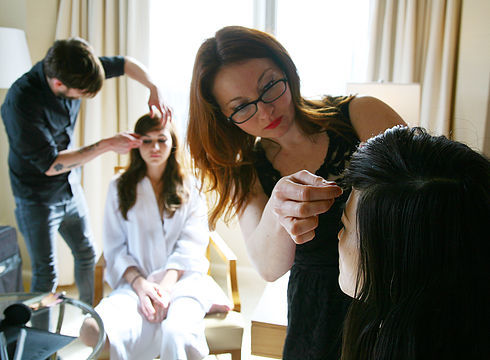 What is your team's favorite technique to use?
I don't think there is a team favorite. Everyone has their own flair on how to approach certain finished looks. What's great about that is we all get to learn something new from each other.
What are the most popular salon services? Color trends?
The salon does a lot of thermal services (Keratin treatments and Japanese straightening), but we also do a great deal of Balayage. Personally, most of my books are filled with Balayage, and foil highlights. Gimme all the blondes!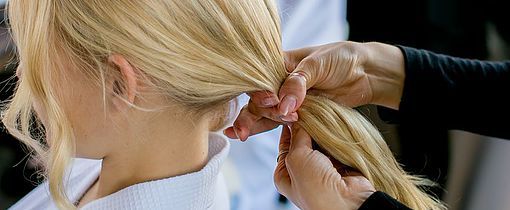 What is your favorite thing about Patrick Evan salon?
I genuinely love every person I work with, and we have 50 employees! When I moved to the Bay Area it was so important to me to be in a salon where it felt like family; we spend so much of our days at work, I didn't want negative energy. Coming into the salon never feels like work-it just feels like I'm going to see a bunch of friends, which is truly amazing.
---
Be sure to check out the Patrick Evan Salon on Instagram and be sure to check out the #RedkenNBT Winners to learn more about the contest!