It is very easy to get fixated on something particular when you are creating work according to a thought out plan. Personally, I think it is very important to know what you are doing, set goals and reach them. But I also have to admit, when concentration becomes a fixation, it prevents creatives from using the maximum opportunities available at the time.
On my personal example, I would like to demonstrate how an idea can be converted into something bigger and better.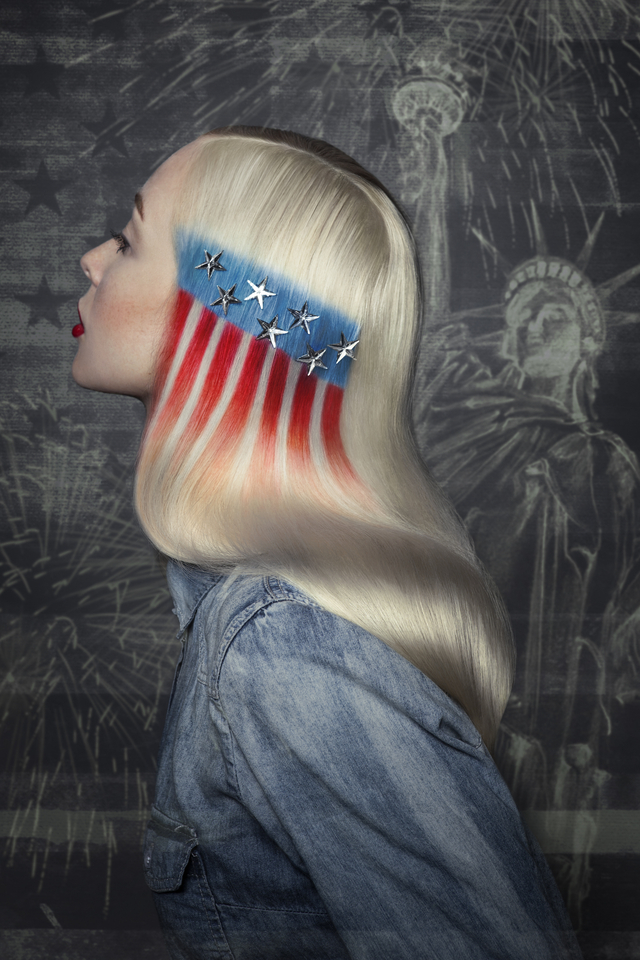 The hair color was created by Cameron LeSiege. I modeled and photographed the collection. This self-portrait of mine is a perfect example, because it was never aimed to be what you see.
This is how the story looks from Cameron's perspective: "This patriotic look, believe it or not was created on a whim. I was painting Daryna's hair using a placement that delivered her three totally different looks based on where she parts her hair. The American Flag is one of the three looks. Daryna is the perfect canvas for any fun and creative ideas because she is always open to something new and exciting. The original plan for this look was to create two solid lines of color, but when she and I saw the red and blue together we simultaneously said, "American Flag!"
And there you have it…what was only going to be solid stripes became the stars and stripes! Painting the American Flag on Daryna was very relevant because we recently celebrated her becoming an American citizen."
People who know me will tell you that I will do anything for a great photo. I am always ready to experiment even on myself, when it comes to an awesome idea. It is amazing how Cameron and I are always on the same page, our ideas always sync. I just had to get some star stickers from Hobby Lobby to complete the look.
Ability to be fickle helped us to create this interpretation of an American Flag. Something that could have been simple became intriguing and refreshing.
WEEKLY CHALLENGE:
Let your creativity take over sometimes. Start with your original idea, complete it, but at the end, give it a twist, try to step it up, convert it into something different, push your creativity to the limit. Sometimes such experiments produce the best work.