The minute we saw Kelli Mason's newest collection uploaded…we just had to get the scoop! With the focus on the popular trend of fantasy color, we asked all the questions and got a deeper look into the collection for you!
What was the inspiration behind your collection? How did the creative process unfold?
I am incredibly inspired by nature and all of it's secrets. For this color and design, I was inspired by a picture of a unique sunset over water that had vibrant purples, shades or pink, orange, and aquas. It was so lovely and mystical….it made me want to be there in that moment.
I wanted it to translate literally as if the sun was setting over water with glimmers of all the colors on the water. I used all Pravana Vivids Neons & Pastels as well as Surface hair color additives. I wanted all the colors to live organically on her canvas. I used perforated plastic wrap to give myself a window to see through as I laid in each layer of color.
For the styling, I wanted a few different styles to show off the way the color moved as it was twisted or braided. Braids are a great way to make something look lived in…that's definitely my esthetic. My photographer, Santino, actually brought some chalk with him and we thought it would be fun to make her skin look watercolor as well so we ended up coloring her chest with chalk…that was fun and unexpected, it just happened!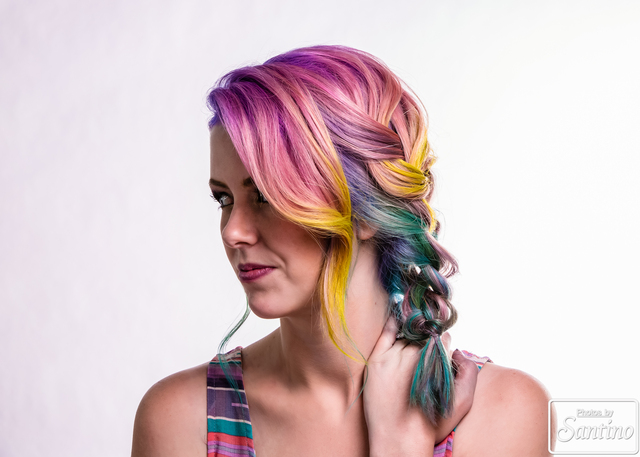 What is your "Recipe" for an amazing shoot?
Having a clear vision. I always write everything down. I have 1 million thoughts a day, the good ones I keep for a rainy day. If I come back to it and I still am in love with it, I go for it. I delete a lot!! It's all about editing to find that perfect little nugget of majesty! After that, just be prepared. I write down inspirational ideas I have for a style or color and then practice it on a mannequin before I shoot. Know how to do many different techniques; so if your plan doesn't go the way you want, pull a trick out of your bag and you never know…it could be even more perfect! Have fun and don't judge your work too harshly. We never stop learning or growing, it's all part of the process.
What's on your "Pump Up" playlist?
90's Alternative is my jam, or anything Pearl Jam. Sometimes a little Nicki Minaj can get the energy going too :)
What other areas of beauty do you draw inspiration from?
I live in Michigan now where there are the most beautiful lakes you will ever see. I grew up in Texas by the Gulf of Mexico. I draw a lot of inspiration from the ocean as well. Outer space is definitely something I ponder about a lot too. My daughter and I love to stare up at the stars and search for the moon.
Who are your idols in the hair industry? Have you met any of them?
There are so many talented hairdressers out there and I am inspired by so many! If I had to pick 3...they would be:
Wayne Grund. I have had the incredible opportunity to have Wayne as a mentor in my life the past 5 years as an educator for Surface Hair. He created Surface Hair out of pure passion to leave the Earth a better place and give stylists a product line that respects our health. I am forever grateful that he became a part of my growth as a hairdresser and a person.
Candy Shaw Codner. I attended her balayage academy at Jamison Shaw hairdressers in Atlanta. She is a woman who knows what she wants and has branded herself so well. I learned valuable skills from her that have changed my life as a stylist!
Eric Fisher. The first hair academy I ever attended was the Aquage Academy, when I was just starting in the industry. Listening to him talk about business and his passion for hair dressing blew me away. That's when I knew I wanted to get into education. We were talking about face shapes one day and he told me my face was symmetrical haha and I will never forget it.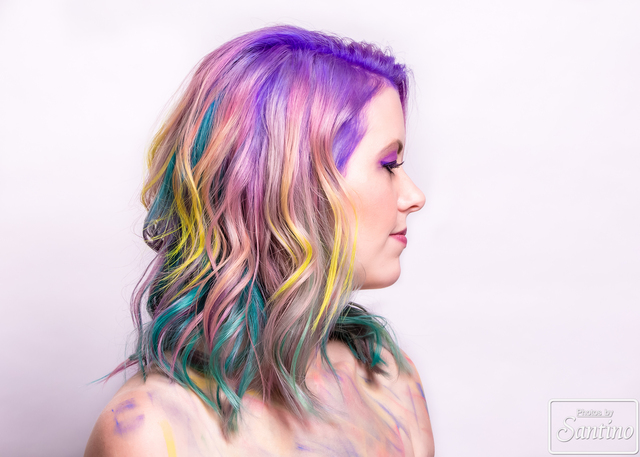 If you could style anyone's hair…who would it be and what would you do with their hair?
Jenny Strebe (@confessionsofahairstylist) I always am obsessed with her color!!!! I follow her on periscope and know she cuts her hair herself. I'd like to give her layered fringe and a shattered lob. I think that would look rockin' on her.
What is the one tool and/or product you can't live without?
Hands down my Surface Trinity Protein Tonic and Bassu Oil!!!! I paint hair every day I am behind the chair and it keeps my guests hair in mint condition. They are essential for healthy hair.
What hair trend are you loving right now?
Disconnected haircuts!! There are so many ways to do it and I feel like it's an easy way to add a little edge to your look. Also coral! love that color, I think it's going to be super hot for fall!!
Any Hair Trends you would like to revive?
Half moon bangs. I just love them.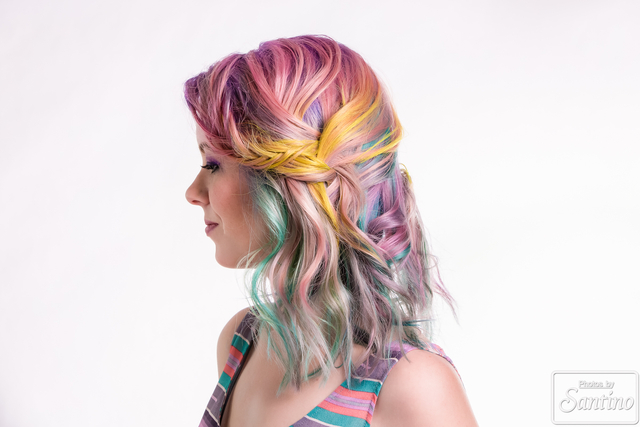 What time of day do you feel most creative?
Right before I go to bed is when all my juices get flowing. When I try to fall asleep, all of these images and inspirations start flooding in, almost like I am seeing the future! I know that sounds kind of creepy, but it's the truth. That is when I write every thought down, whether it's an idea for a technique or something I want to say while educating. I found this quote from the CEO of Microsoft in the SKY magazine while traveling recently, "Poetry is efficient because it's about compressing human experience into it's essence." Designing hair is my poetry.
You're home alone with no one to judge you, what do you eat? What do you watch? What song do you belt out?
I'm most likely eating some pizza, drinking wine, watching True Detective, Under the Dome or Million Dollar Listing New York…I love Fredrik! I'm probably singing a country song because they are the easiest to get stuck in my head!
Be sure to Stalk Kelli Mason for more of her Hair Art.