Rose gold hair color is all the rage right now! Lucky for us Nicoletta Gauci shows us how to stay relevant this season and gives us tips on how to transform our client's hair for the next phase of this trend…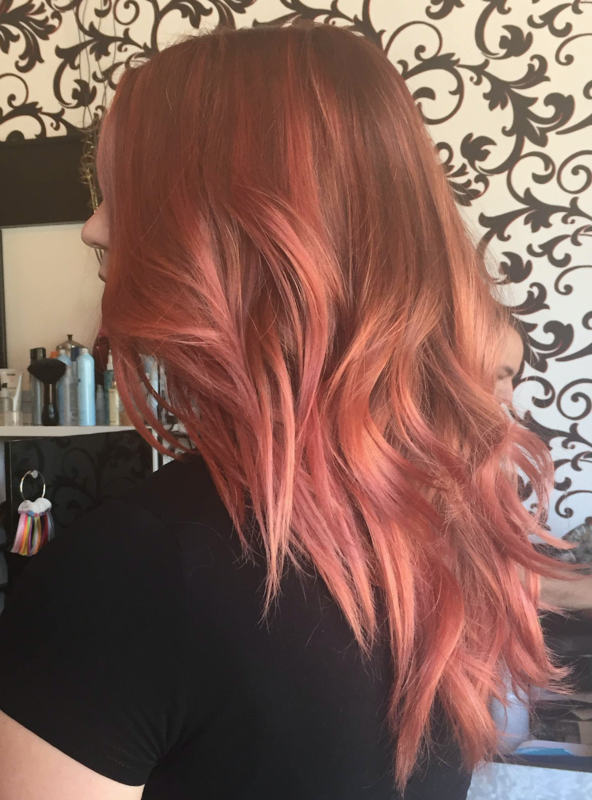 To hairstylists, makeup artists and fashionistas, rose gold is the hottest new trend! Rose Gold by definition is "a pink-tinted metal. It is gold with an added copper alloy. The more copper alloy in the metal, the deeper the rosy tones will be."
For us hairstylists, that definition alone can help us with our formulation and give us an understanding of what our best canvases are. Deeper rose golds can be created on a canvas of level 6 and above, wherever red & orange undertones are present, if the undertones are not present they should be accounted for in the formulation or in a re-pigmentation. Deeper tones are best created with a Demi/Semi Permanent Oxidative dye. Lighter rose golds have a yellow (gold undertone) and are best on levels 8 and above. These tones can be created using either Demi/Semi Oxidative colors or Direct dyes.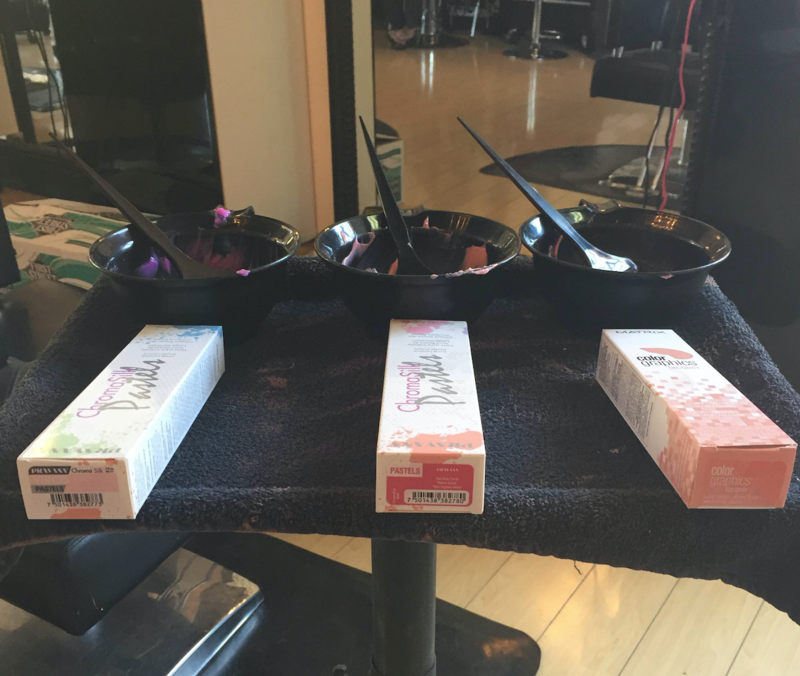 For clients who just want a taste of rose gold a direct dye is the best option. Go for a baby pink or peach if yellow tones are already present in the hair. If there is an absence of yellow try for a coral tone! I love to gloss over my Direct Dyes with an ammonia free glaze for added shine and longevity! In this case I would opt for a violet based glaze at the lightest level matching my canvas to add some depth to my color!
Direct dyes sits on the hair like sunless tanner sits on our skin. With each wash they will gradually fade and you will be left with your original tone.
PRO TIP: Since the hairs porosity with affect the amount of color it grabs, it is vital to do test strands!
TAKE HOME TIP: Make sure to instruct your client on proper home care, cold water & minimal shampooing are key!
For the look below I melted baby pink, peach and coral direct dyes together (keeping one tone constant on my base) and glazed with a 9V diluted to an 11!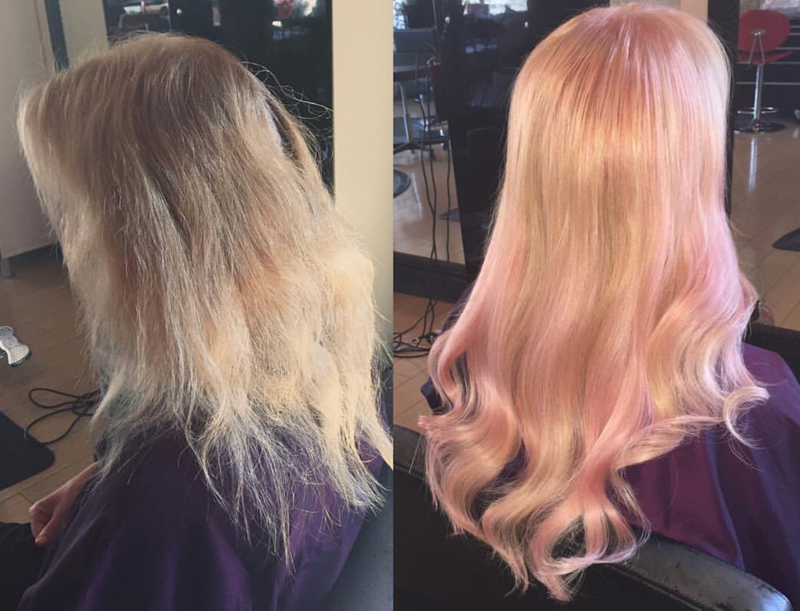 Some clients have more conviction with their rose gold ambition and for those I go with a Demi/Semi permanent option. I like to create a dimensional base even with my "fantasy" colors, that way after fading you are still left with a beautiful dimensional color. That way the fantasy color can also really sing without needing a rainbow of formulations. A handpainted balayage effect can take a level 6 to a level 6,7,8,9,10 giving your rose gold top coat a chance to really shine and giving your client something she can't do at home.
How to get the look:
After I balayage I dry the hair and begin my rose gold transformation.
For increased depth at my base I like to mix a red violet (level 7) with a red (level 7) and a pearl natural (level 8). This gives me the copper I need for a deeper rose gold while keeping a pink hue, and by using 5 volume I achieve a deposit only color.
I bring my base down at varying lengths using herringbone sectioning to create a lived in look. For my lighter tone I like using a red violet (level 7) and a violet (level 9), this gives me a peachier rose tone which mixed with the yellow undertones in my untoned level 8,9,10 canvas will result in a gorgeous rose gold.
As a final step I lock in my color with a ammonia free glaze with a yellow base at a level 10.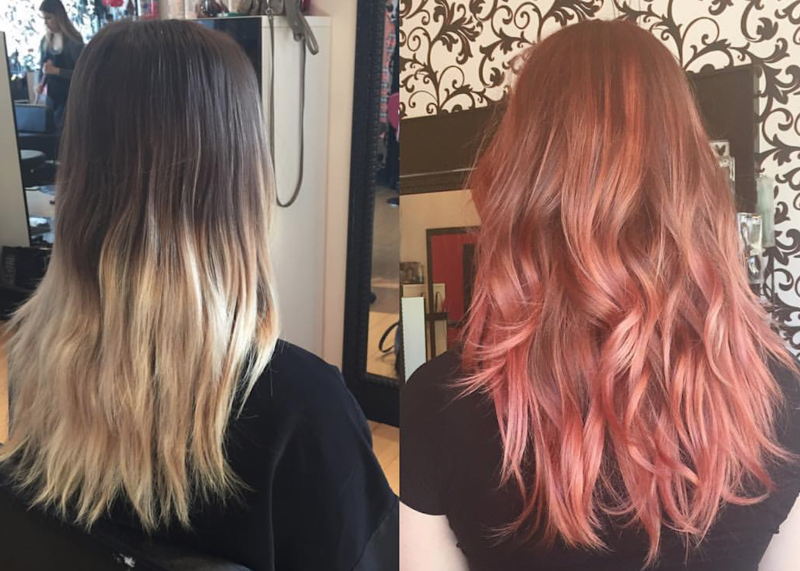 Rose gold is by far my favorite "fantasy hair color" trend! It looks good on countless skin tones and when done in a subtle manner can be incorporated into most clients appointments (peekaboos, shine lines, ombre)!
Trends eventually fade and your clients rose gold will to, but what happens when it's holding on for next season?
Color wheel time! A color balance (bleach, shampoo, developer) can help exfoliate remaining color off the cuticle but after that its good 'ol formulation! Deeper rose golds can be cancelled out with blue green tones at the same level or one level darker (you know your color line best for how much neutral you should add). Lighter rose golds can be canceled with same level blue based neutral tones! I recommend using a bond builder for all services when creating a major makeover and giving your client the best take home prescription possible!
Be sure to stalk Nicoletta on Bangstyle to keep up on her latest tutorials and trends!!