Tribal Warriors
Hair: Sam Villa Creative Team
Art Direction: Geneva Cowen and Pascal Sauvageau
Photography: Shalem Mathew
Makeup: Marie Laure Larrieu and Joelle Boucher
Stylist: Jeremie Cote
Inspiration:
"Sense of warrior to set up the tribe – emotion, let the Sam Villa tribe ignite your creativity…your soul… Every single one of us craves the feeling of being part of something bigger than ourselves. By nature, we are tribal, culture is necessary for survival, all of us are born into a "tribal mentality" of various forms - family, religion, country of origin, ethnicity, etc. A tribal mentality can indoctrinate an individual into the tribe's beliefs, culture… a common ground is established with honor and respect. When a team is plugged into a tribal thought process it encourages exploring and developing… the unspoken assumption of the tribal mind is that everybody loves being part of a tribe. At Sam Villa, we are creating a tribal mind that everyone wants to become a part of. As we build our tribe, I continue to reflect on Nelson Mandela who felt that the comfort and security of belonging to a group or tribe was more important than venturing alone. It's about a new level of trust as today's hairdresser is gravitating to the 'smaller guys.' As we collectively change in this industry, the tribes around us gradually change and evolve. At Sam Villa, we are finding a new sense of worth and meaning in the world of hairdressing. These photos are meant to ignite tribal instincts in stylists," Sam Villa, Founding Partner of Sam Villa and Redken Education Artistic Director.
Collection
It's about Simplexity - a complementary relationship between simplicity and complexity. Women want style that is simple and easy to maintain with details that add interest, luxury and multiple identities. Includes textured surfaces, accessories, up styles with plaits and braids, a sense of movement – tilting back. The Moulet (in French this means 'molding') is molded away from the face, '90's rerun – bold patterns – simple but complex, reinventing a classic wedge with a bob feel, carefree attitude.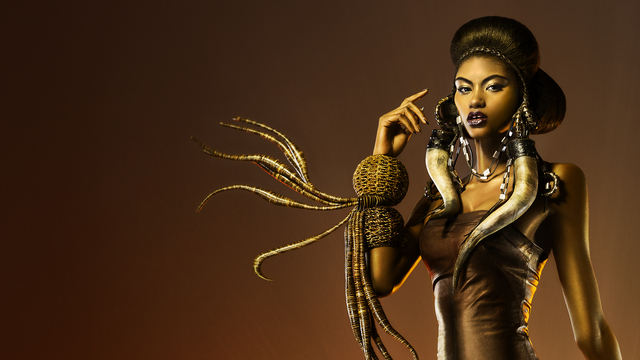 Sectioning: Begin with a diagonal forward section from top of crown to in front of ear, isolate what is now top front section and isolate the back section into a ponytail at base of crown.
Step 1
Working with back ponytail section, backcomb entire section working with Redken Quick Tease 15 Backcombing Finishing Spray and a Sam Villa Styling Brush, and roll into a faux bob and pin.
Step 2
Move to top front section and backcomb the entire section working with Redken Quick Tease 15 Backcombing Finishing Spray and styling brush and roll toward top crown area and pin in.
Step 3
Apply braided hairpiece around front hairline securing into nape of faux bob with pins and finish with Redken Quick Tease 15 Backcombing Finishing Spray.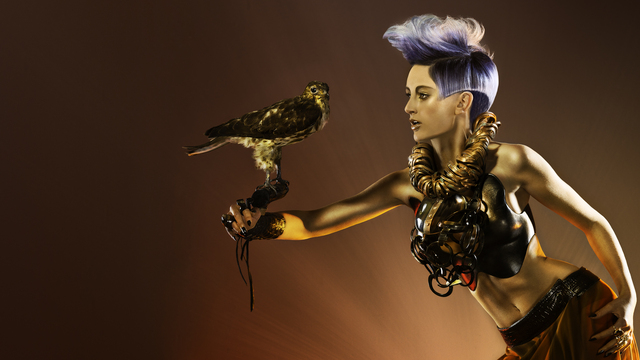 Cut:
Elements: Reaching from the past to the future with double identity, combining classic wedges and bobs, tilting back away from the face, precision cutting with strong disconnection. Tip: Use 3 drops of Redken Diamond Oil Shatterproof Shine Intense to 6 oz water in a spray bottle for a smooth cutting lotion on decolorized hair.
Sectioning: Begin in front top area and section off rectangle shape width of eyes from front top of head to back of crown area. This creates the top tier of the sectioning. Middle tier is now sectioned beginning at corner of eye with a horizontal curved line working to center back of nape. This will create the middle tier and bottom tier. You now have created 3 separate tiered sections, bottom, middle, and top.
Step 1
Begin with bottom tier and work front to back with diagonal back sections, elevation 90 and over direction to each previous section. Work these movements all the way to center back. Next, work with the Sam Villa Signature Series Blending Shear and remove desired excess weight and length working from front to back.
Step 2
Now move to middle tier. Separate front to back and begin in front area working with horizontal sections and cut in curve line from corner of eye to top of ear. Maintain elevation as low as possible with no over-direction. Move to back area and cut curve line from top of ear to center back. You have created the curved perimeter, bob in front working to wedge in back.
Step 3
To graduate the middle tier, begin in front working with vertical sections, elevations 45 above a horizontal line finger angle 45 and over-direction to each previous section. Work this movement until reaching corner backs and maintain same elevation and finger angle yet now over direct with a stationary guide to corner backs.
Step 4
For the top rectangle, use a Sam Villa Signature Series Razor to create a vandalized crown (more roughed up), begin in back crown area of rectangle working with a horizontal section. Elevate section 90 and cut with razor short to long working from right to left. Next horizontal section, elevation 90 over direct to previous section, yet now cut short to long opposite way working from short left to long right. Continue to alternate each section until the top center of rectangle. Now, continue to work with the same movements alternating each section yet now over direct to a stationery guide at center top.
Finish:
Apply Redken Guts 10 Volume Spray Foam and directionally blow dry with a Sam Villa Small Round Brush and Sam Villa Professional Ionic Blow Dryer - flat to the low side and on high side, diagonal sectioning off part at 90.
Finish with Redken Quick Tease 15 Backcombing Finishing Spray - end result is strong and clean with volume on top of head – flowing and airy.
Cut:
Shaved, skin fade on both sides of the head.
Finish:
Apply Redken Satinwear 02 and section hair into five triangles, wrap in buns and secure with long hairpins, and then dry naturally to create consistent natural waves.
Create Alpaca wool dreads by rolling the natural fiber - wool is a very moldable fiber. To ensure the dreads look natural, vary the amount of wool in each section to create unique variations in the width and size for a more natural feel. Use different colors and tones of wool to create natural looking highlights.
Apply Redken Powder Grip 03 to 1-2" sections of hair and roll and twist while backcombing the wool fiber into hair at the same time. Hot Tip: Leave some natural texture intermixed throughout the shape to create varied texture and an authentic look. Pin additional wool dreads in to add fullness and create shape in the crown area.
Apply Redken Mess Around 10 for control and Redken Wax Blast 10 for texture.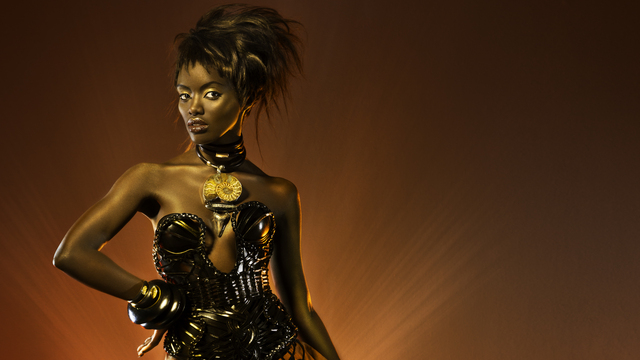 Cut:
The shape was constructed utilizing an artistic approach with precision design featuring disconnected pieces.
Finish:
Create volume in the crown by applying Redken Guts 10 and using a Sam Villa Professional Ionic Hair Dryer and Sam Villa Signature Series Styling Brush, create volume by drying the new growth in the crown area with on base sections.
Apply Redken Iron Shape 11 to various sections and use a Sam Villa Signature Series Sleekr Iron to create definition and movement in the shape.
Use Redken Powder Grip 03 and Redken Control Addict 28 to support the longer disconnected pieces and add a floaty feeling.
Created with white-batted Alpaca wool to create a floaty texture.
Finish:
Pull sections of wool at different lengths and pin in the center of the wig with silver hairpins.
Prepare natural hair by braiding in a circular pattern to create a stable foundation to pin wig into.
Spray white hairspray to camouflage the color of the natural and to create a haircolor foundation that is seamless with the white wool.
Pin tufted hair into cornrows keeping the volume and length in the crown and nape to create a Moulet silhouette. Hot Tip: Wool is resistant to product and moisture, it's what allows animals to survive in all climates. When product is applied, it will bead and roll off, therefore, no product was used in creating this look.