These two looks from Matrix will refine your seasonal style and allow you to transition from day to night and chilly to cozy.
PURE GOLD

Style Link Volume Builder

Style Link Volume Booster

Style Link Texture Builder

On damp hair apply cocktail of StyleLink Volume Builder and StyleLink Volume Booster. Distribute well. Blow-dry using a large round brush. Using a large barrel Marcel iron, start at the crown and wind from scalp to ends creating a rope around the barrel. Pin in place.

Brick lay random placements throughout. At front hairline create center part, direct away from face and curl loosely from mid-lengths to ends.

Leave tendrils unpinned at face frame. Release when cool and use a wide tooth comb to separate into loose but defined waves. Spray with StyleLink Texture Builder.


SO REFINED

Style Link Height Riser

Style Link Style Fixer

Select a large section of hair, apply StyleLink Height Riser for grip. Begin to twist section from base to group hair together. Once twist reaches the mid-lengths, hold ends down with the opposite hand. Place index finger at center of section, twist finger in a complete circle to create a full loop and continue twisting.

Pin looped section and ends in place. Expand and loosen.

Continue throughout the entire head, building an asymmetrical silhouette with height while keeping the nape and front hairline close to the head.

Leave strands at nape loose. Spray with StyleLink Style Fixer.

Keep the party going! Learn how to make your hair glow with the Pure Gold color!
---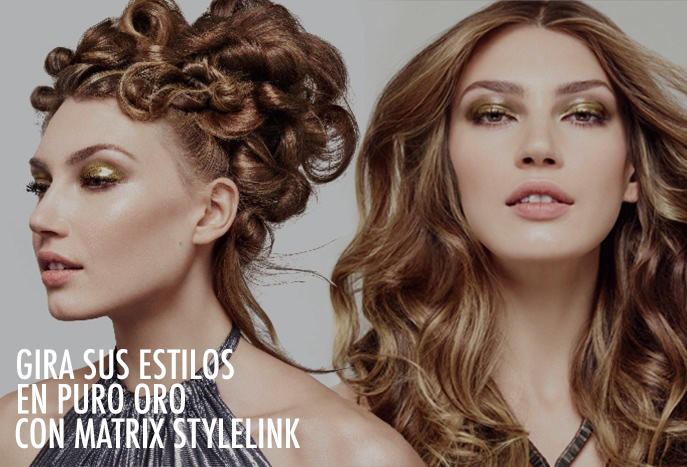 Estos dos looks de Matrix refinará su estilo estacional y le permitirá la transición del día a la noche y frialdad a calentito.
PURO ORO

Style Link Volume Builder

Style Link Volume Booster

Style Link Texture Builder

Sobre cabello húmedo aplique un cóctel de StyleLink Volume Builder y StyleLink Volume Booster. Distribuya bien. Seque con secador utilizando un cepillo redondo y grande. Usando un barril-hierro grande de Marcel, comience en la coronilla y enrollar desde el cuero cabelludo hasta las puntas creando una cuerda alrededor del barril. Fijar in lugar.

Pone colocaciones aleatorias en todas partes en forma de ladrillos. En la rayita delantera cree la parte del centro, directa lejos de la cara y rizar sueltamente desde los partes medios hasta las puntas.

Deja los rizos no-fijados en el marco de la cara. Suelta cuando esté fría y use un peine de dientes anchos para separar en ondas sueltas pero definidas. Rocié con StyleLink Texture Builder.

TAN REFINADO

Style Link Height Riser

Style Link Style Fixer

Seleccione una grande sección de cabello, aplique StyleLink Height Riser para grip. Comience a girar la sección de la base para agrupar el cabello junto. Ya que el giro alcanza los partes-medios, mantenga las puntas hacia abajo con la mano opuesta. Coloque el dedo índice en el centro de la sección, gire el dedo en un círculo completo para crear un giro completo y continúe girando.

Fije la sección del giro y las puntas en lugar. Expanda y suelta.

Continúe en todas partes de la cabeza entera, construyendo una silueta asimétrica con la altura manteniendo la nuca y rayita delantera cerca de la cabeza.

Deja los mechones en la nuca sueltas. Rocié con StyleLink Style Fixer.

¡Que la fiesta siga! ¡Aprenda cómo hacer que su cabello brille con el color de Puro Oro!
---