A solid pair of shears is one of those investments that will ease your work behind the chair and help turn out more expert cuts. In addition to the details of varying shapes, sizes and types of grip, learning what shears are made of, types of blades, and the design behind them will help you make a sound decision. In an effort to give you even more options, the Classic Series. Shears by Sam Villa offer the same quality found in the Sam Villa Signature and Streamline Series Shears. Designed for stylists that prefer an offset handle over a forward thumb design, these shears cut through hair effortlessly, are extremely durable, and hold their edges far longer than most shears, and are available in 5.5", 6", 6.5", and 7" sizes.
"Stylists kept asking us for an offset handle versus the forward set handle we're known for, so we created this new Classic Series line with a ton of features stylists are going to love" explains Sam Villa, Co-founder and Chief Creative Officer of Sam Villa and Global Artistic Ambassador for Redken.
The Features:
Cryogenically Tempered Proprietary Japanese Molybdenum Alloy Blades: Combining the cryogenic tempering with the Moly Alloy creates an incredibly hard steel that holds its sharpness but is still pliable enough to cut like butter and resist nicks in the blade.
Convex Blades: Convex blades are superior to beveled blades in creating a smooth effortless cut and are great for finishing techniques on dry hair (slide cutting, point cutting, etc.). They also last longer between sharpening, increasing their lifespan.
Offset 'Crane' Style Handle: Allows cutting action with a lower elbow position and also makes cutting against the skin easier by lifting the hand away from the cutting surface.
Ergonomically Sculpted Finger Handle and Finger Ring: Comfortably supports a wide range of cutting angles. The finger contact surfaces are wider to spread the cutting pressure over the fingers instead of focusing it all on a narrow point. The finger rest is offset toward the hand, so the pinky finger doesn't have to stretch to reach it.
Ergonomically Sculpted Thumb Ring: Allows for a wide range of thumb angles. The thumb ring is wide at the bottom to spread the cutting pressure and the anatomic bend of the thumb which allows cutting by using the side-tip of the thumb. This helps to only move the thumb blade when cutting – creating straighter cuts.
Ball Bearing Blade Stabilizer: A blade stabilizer on the back blade adds final stabilization to cutting by making sure blades open and close with extreme precision and wear evenly over time, resulting in longer periods between sharpening and extended life.
Polymer Inlays in the Pivots: Special inlays in the pivot eliminate metal-to-metal wear in the key contact point on the shear, making shears feel like new for many years.
Patent Pending True Balance Tension System: The tension system has a knob that applies pressure to a leaf-spring plate to broaden the application of tension lengthwise. It applies pressure over the width of the blade eliminating wobble both lengthwise and widthwise. It also features a coil spring which counterbalances the tension from the plate to give a weightless feel to cutting action.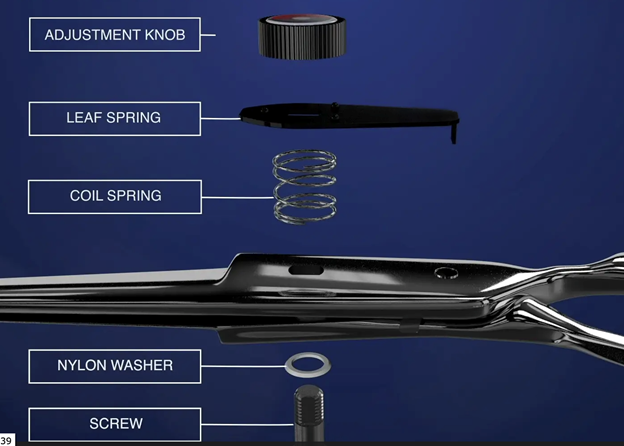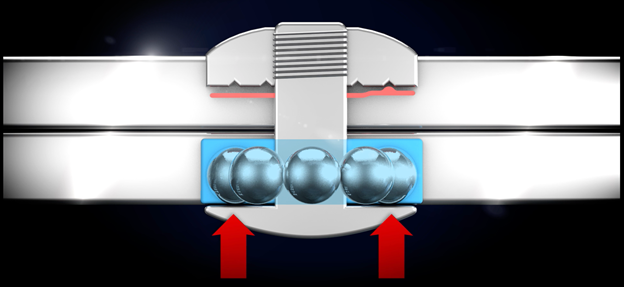 Learn classic cutting techniques here and more about the vast array of shears from Sam Villa here.