Hot Trend: Mixed Textures

(New York, NY) – Now that the NYFW frenzy has died down, stylists everywhere are figuring out how to adapt the runway looks for their guests. Geneva Cowen, Artistic Director for Sam Villa, says the hot trend is mixed textures.

"The hair at the Diane von Furstenburg show was amazing, it really stood out to me because texture was added to natural curl to create a multi-textured style that was modern, yet very relaxed," says Cowen. (Reference: http://video.vogue.com/watch/diane-von-furstenberg-spring-2016-ready-to-wear-runway-backstage). "Mixing texture and curl together is a really easy way to add interest to any style and keep guests on trend for the season. The look you're going for is not as disheveled as a wave, but not as polished as a blow out," she adds.

---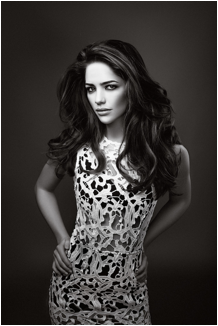 Mixed Texture How To

Lightly mist hair with Redken Pillow Proof Primer heat protectant and dry with the Sam Villa Professional Ionic Hair Dryer until 80% of the moisture is out, apply Redken guts 10 volume spray foam and finish drying – this creates incredible volume and hold.

Build volume by stretch drying the base area. Use fingers to elevate hair above 90 degrees and direct the nozzle of the dryer directly at the base for maximum lift.

Visually assess were mixed texture should be on the surface and perimeters. Less is more for a sense of organic movement.

Select square sections, alternate between 1/2 inch to 1-1/2 inches to create a more natural effect, and lightly mist with Redken Iron Shape 11 for hold and flexibility.

Start with the fringe area. The sections on each side of the selected part should be waved away from the face. Insert Sam Villa Sleekr iron at the base of each section and lightly compress while slightly turning wrist, compressing slightly more as the iron is pulled towards the ends. HOT TIP: If wrist is turned too much it can create an unnatural bend and if not turned enough it creates movement without a curl. This is a challenge many guests have; educating them will set them up for successful styling at home.

Repeat on random sections throughout the shape.

Run fingers thru hair to separate curls and marry textures together. Apply Redken control addict 28 high control hairspray for an unpretentious, sexy look that lasts all day.


Image Credits - Hair: Team Sam Villa; Artistic Director: Geneva Cowen, Artistic Director for Sam Villa; Photography: Shalem Mathew; Makeup: Lorina Alailefaleula; Wardrobe: Rachel Droege.