Vuelve tus clientes morenas a rubias con Programa de Pasión: M2R — Viaje de Morena a Ligereza de Robert Santana, Director Artístico Global.
¿Cómo describiría rubio?

La respuesta es la misma manera que se mide el éxito. No se puede. El suceso se mide diferente, al igual que rubio se mida diferente, dijo Robert Santa, Director Artístico Global

Nuestro objetivo a Estilo y Forma es ayudar usted volver morenas a rubias hermosas a través de este serie.
La serie de artículos y fotos son de la Programa de Pasión: M2R: — "Morena a Rubia Viaje a Ligereza" de Robert Santana que organizó en el salón de Andreas Hogue en Northbrook, Illinois.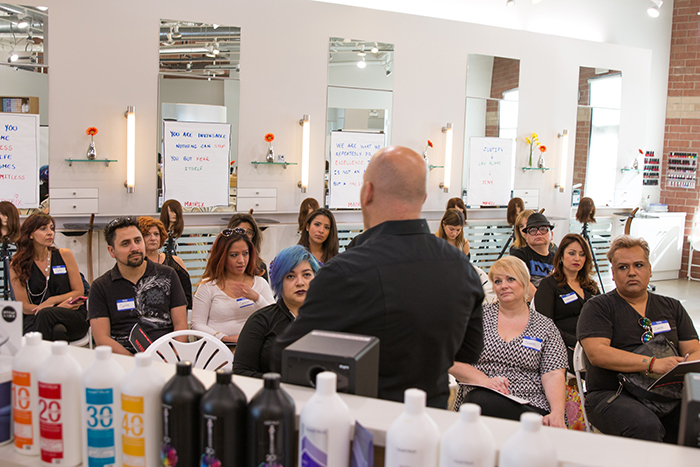 Sigue este serie y a ser equipadas para emprender el viaje con clientes en su salón. Para el primer artículo, vamos a trazar el viaje entero que cada estilista debe de tener en cuente antes de comenzar el proceso. ¡Teniendo un plan de juego enzuriza que no hay sorpresas!

El Viaje (El Plan de Juego)

Analizando el Cabello

●Haga un análisis individual del cabello del cliente. Nuestro modelo, Marta es un nivel natural 4. Para medir el nivel, no sólo globo ocularlo. Introducir una muestra para hacer una lectura exacta.
●Consejo: SI tienes problemas para emparejar el nivel del cliente a una muestra, cerrar los ojos durante 3 segundos y vuelva a abrir. Esto debería ayudar a retratar el color con más precisión
●Nuestro objetivo es aligerar su crecimiento a un nivel 7 y su longitud y extremos a un nivel 9-10.

Consultación

●A través una formulario escrito o conversación verbal, descubrir lo que él/ella quiere. Luego, puede averiguar si son o no sus expectativas de color de cabello son realístico.
●Preguntar. Preguntar. Preguntar. Pregúnteles si tienen color en su cabello anteriormente y qué tipo es. Si no saben, haga preguntas para describir si fue comprado en una tienda, permanente o profesionalmente aplicada.
●Siempre hacer un cadena de prueba para ver cómo el cabello del cliente reaccionará con el aclarador. Prueba del filamento en la parte trasera del cabello en el hueso occipital.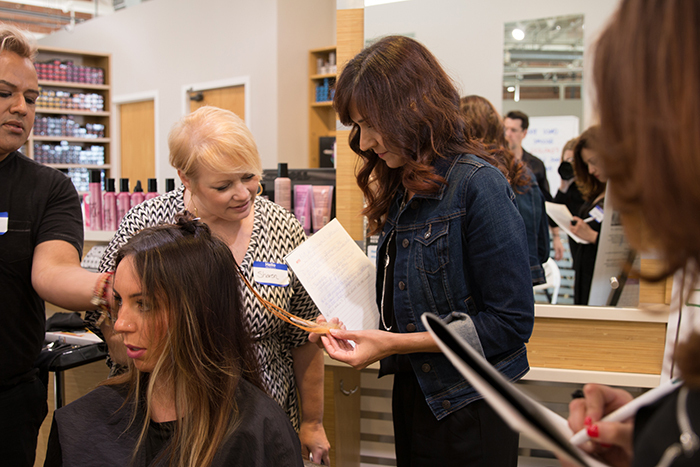 ¿Qué obtuvo de la consultación?

●Lo que encontramos de Marta en particular, es que ella quiere simular consecuencia.
●También hemos aprendido que ella es un natural nivel 4 con previamente aligerado medios y extremos.

¿Cómo se produce el proceso de aligeramiento?

●Para saber cómo se producirá el proceso, tendrá que volver a lo básico.
●Tenga en cuenta la carta de la pigmentación de color de cabello natural y la rueda de color como la palma de su mano.
●Color natural del cabello es el resultado de uno o dos pigmentos naturales (melanina) en diversas cantidades, las proporciones en la corteza y la forma en que luz reacciona con estos pigmentos.
●El resultado final después de aligeramiento va a depender y ser impactados por su color natural.
●SIEMPRE pruebe un filamento en vez de ir a través de 4 horas de decoloración sin saber cómo se va ver. Sin sorpresas, ¿recuerdas?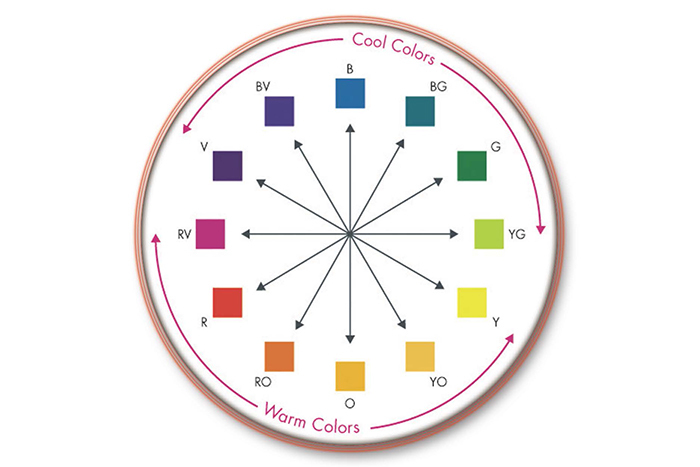 ¿Qué técnicas se pueden utilizar?

●Técnica de la hoja
●Técnica de cola de caballo—¡Vamos a describir esta técnica en un próximo artículo!

El Proceso (Usando Hoja Técnica)

●Seccionando: Separe el cabello en cuadrantes y florete, difuminados y decoloración el clarificarte. Comience en la parte inferior izquierda y hacia la inferior derecha, parte superior izquierda, de arriba a la derecha. Enjuague en el mismo orden.
●Aligeramiento
・Longitudes de Mediados - Light Master con 30 Vol. Universal Revelador de Matrix
・Extremos - Light Master con 20 Vol. Revelador
・Relación de Light Master y Revelador puede ser 1:1 o 1:1.5 o 1:2 dependiendo de preferencia.
•NO laves el cabello con champú entre el primer y segundo aplicación de aligeramiento. Champú atrofiar el proceso y crear más desgaste en el cabello
•NO use una secadora pare acelerar el proceso de aligeramiento. Siga las instrucciones del fabricante.
•Enjuague: Utilice un champú clarificante, como Total Results Alternate Action, dos veces para enjuagar aligeramiento. Deja un tratamiento como Total Results Miracle Morphers Slim Down Lipid en el cabello durante 3 minutos y enjuague.
•Tonificación
・Consecuencia — SoBlur Mute
・4 pulgadas de consecuencia - 1 oz. ColorSync 10N, 1/4 oz. ColorSync 10WN, 1/2 oz. ColorSync 8N, 1/4 oz. Color Sync 10P con 10 Vol. Matrix Universal Revelador.

Productos

•"Recomendando producto es donde fallamos," dijo Santana. Cuando no están teniendo en cuenta las recomendaciones, el cliente utiliza champú de farmacia y pone en peligro la integridad de su cabello y la calidad de su color. Asegúrese de que su cliente sale de su salón con al menos un champú y acondicionador que proteja el color.

Mantenimiento

•Recomendar Biolage Avanzado RepairInside para empezar, entonces recomendamos una progresión FiberStrong y finalmente ColorCare para mantenimiento en la casa.

La semana que viene, vamos a hablar sobre la importancia de la consulta de cliente cuando se trata de aclarar. Estad atentos y leer más de los blogs de Estilo y Forma.

---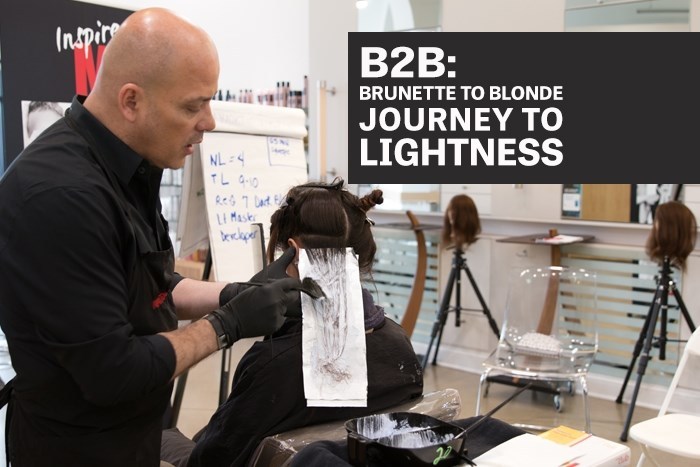 Turn your brunette clients into blondes with Matrix Global Artistic Director Robert Santana's Program of Passion: B2B (Brunette to Blonde)- A Brunette's Journey to Lightness.
How do you describe blonde?

The answer is the same way you measure success. You can't. Success is measured differently, just like blonde is measured differently, said Robert Santana, Matrix Global Artistic Director.

Our goal at Estilo y Forma is to help you turn brunettes into beautiful blondes through this series. The article series and photos are from Robert Santana's Program of Passion "B2B (Brunette to Blonde)- A Brunette's Journey to Lightness" that he hosted at Andreas Hogue Salon in Northbrook, Illinois.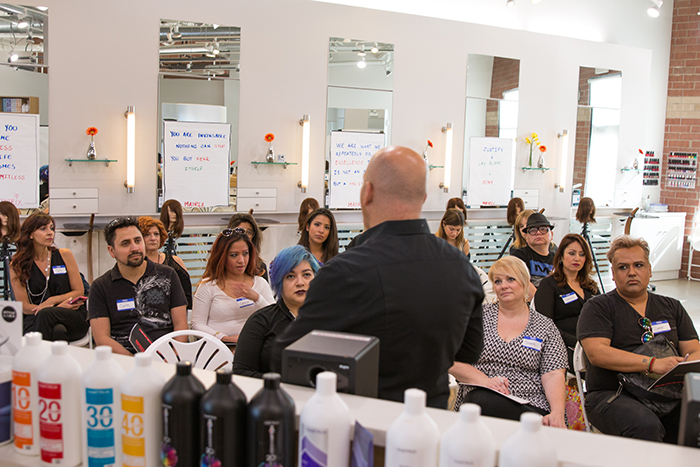 Follow this series and you'll be equipped to take the journey with clients in your salon. For the first article, we're mapping out the entire journey that every stylist must consider before they begin the process. Having a game plan ensures there are no surprises!

The Journey (The Game Plan)

Analyzing the Hair

• Do an individual analysis of the client's hair. Our model, Marta, is a natural level 4. To measure the level, don't just eyeball it. Introduce a swatch to make an accurate reading.
• TIP: If you're having trouble matching the client's level to a swatch, close your eyes for 3 seconds and open them again. This should help portray the color more accurately.
• Our target is to lighten her regrowth to a level 7 and her mid-lengths and ends to a level 9-10.

Consultation

• Through a written form or verbal conversation, find out what he/she wants. Then, you can find out whether or not their hair color expectations are realistic.
• Ask, ask, ask. Ask them if they have previous color in their hair and what type it is. If they don't know, ask questions to discover if it was store-bought, permanent or professionally applied.
• Always do a test strand to see how a client's hair will react to lightener. Test strand in the back of the hair at the occipital bone.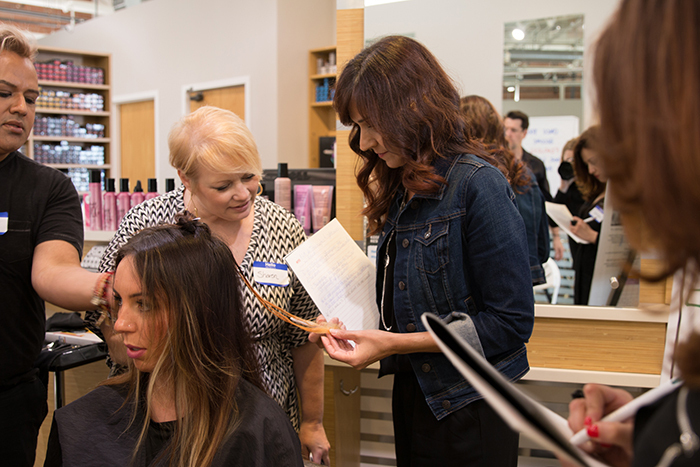 What did we obtain from the consultation?

• What we found from Marta in particular, is that she wants to simulate outgrowth.
• We also learned she is a natural level 4 with previously lightened mid-lengths and ends.

How will the lightening process occur?

• To know how the process will occur, you'll need to get back to basics.
• You should know the natural hair color pigmentation chart and the color wheel like the back of your hand.
• Natural hair color is the result of one or two natural (melanin) pigments in varying amounts, their proportions in the cortex and the way in which light reacts with these pigments.
• The end result after lightening will depend on and be impacted by their natural color.
• ALWAYS test strand instead of going through 4 hours of decolorization without knowing how it's going to look. No surprises, remember?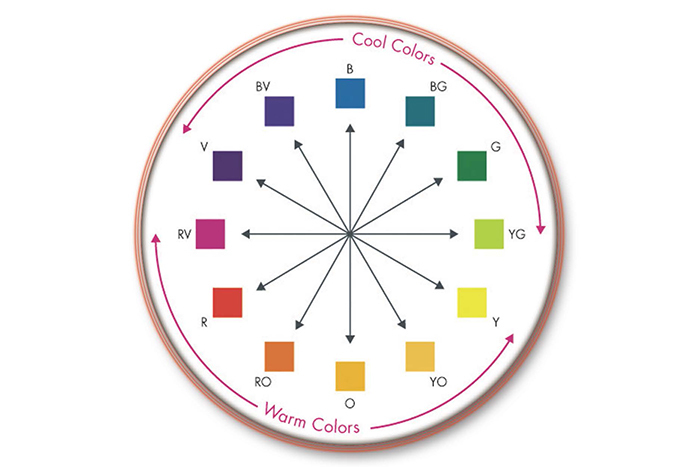 What techniques can be utilized?

• Foil technique.
• Ponytail technique- We'll be describing this technique in a future article!

The Process (using Foil Technique)

• Sectioning: Section hair in quadrants and foil, feathering and fading the lightener. Start on the lower left and move to the lower right, top left, top right. Rinse in the same order.
• Lightening:
・Mid-Lengths- Light Master with 30 vol. Matrix Universal Developer
・Ends- Light Master with 20 vol. developer
・Ratio of Light Master and Developer can be 1:1 or 1:1 1.5 or 1:2, depending on preference.
・Leave on for 55 minutes, squeegee and reapply for up to 55 minutes if the color isn't where you need it to be.
• DO NOT shampoo between the first and second lightener application. Shampooing will stunt the process and create more wear and tear on the hair.
• DO NOT use a dryer to speed the lightening process. Follow manufacturer directions.
• Rinsing: Use a clarifying shampoo, like Total Results Alternate Action, twice to rinse out lightener. Leave a treatment like Total Results Miracle Morphers Slim Down Lipid on the hair for 3 minutes and rinse.
• Toning:
・Outgrowth- SoBlur Mute
・4 Inches from Outgrowth- 1 oz. ColorSync 10N, 1/4 oz. ColorSync 10WN, 1/2 oz. ColorSync 8N, 1/4 oz. ColorSync 10P w/ 10 vol. Matrix Universal Developer.
・Mid-lengths and Ends- 2 oz. ColorSync SPGV with 1/2 oz. 10A and 10 vol. Matrix Universal Developer.

Products

• "Recommending product is where we fail," Santana said. When recommendations aren't given, the client uses drugstore shampoo and compromises the integrity of their hair and quality of their color. Make sure your client leaves your salon with at least a shampoo and conditioner that will protect their color.

Maintenance

• Recommend Biolage Advanced RepairInside to start with, then recommend a progression to FiberStrong and finally ColorCare for home maintenance.

Next week, we'll talk about the importance of the client consultation when it comes to lightening. Stay tuned and read more blogs from Estilo y Forma!


---
For more professional color tips be sure to check out EstiloYForma's website and stalk them on Bangstyle for the latest trends!