Valentine's Day is about more than heart shaped chocolate and red roses (although we do love those too!). It is a day to share the love with those who make your days a little extra special. Whether you choose to celebrate Valentine's or Galentine's day, check out these styles to inspire your own.
---
Does your hair need a pick-me-up?
Treat yourself to an extra special blowout. While in the shower, take the extra time to guard your locks against damage by using a pre-shampoo treatment like Oil Wonders Volume Rose Pre-Shampoo Treatment from Matrix. This will ensure your strands are safeguarded for your blowout while staying silky and voluminous.
Before you begin your blowout, use Plumping Mousse at the root to give your hair a boost, and then seal in your style with a spritz of Finishing Spray before heading out for the night to make sure your blowout stays beautiful and bouncy.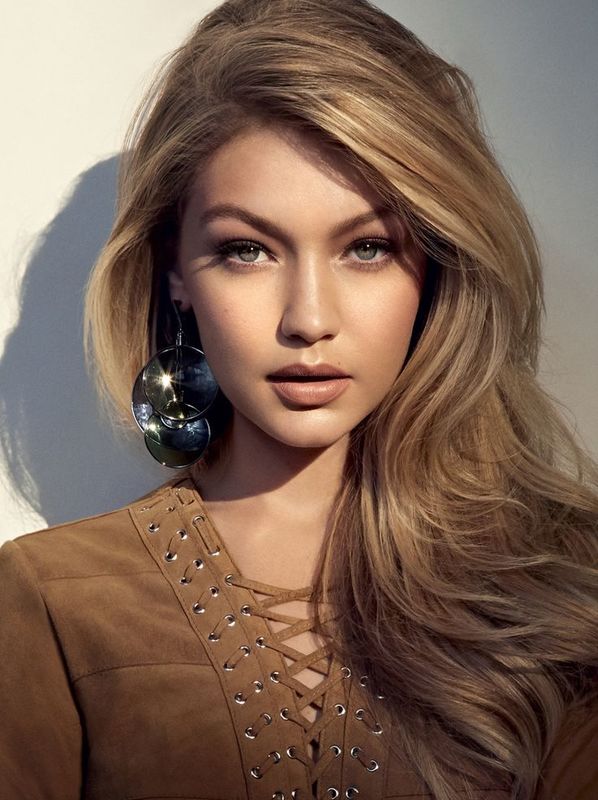 Treat Yourself To Festive Tips!
Our favorite way to celebrate the season is not only with fabulous hair but love themed nails as well! What better excuse to don red and pink and hearts all over?
For a simple twist on your mani – paint one hand red and the other hand pink, this two toned style is perfect for the nail art enthusiast who's just beginning.
If you want to up the ante on your nail art game - Try doing a split nail either horizontally or vertically. Using a combination of light and dark pinks, red and pink or even orange and red! We love mixing up the warm tones for this lovely holiday!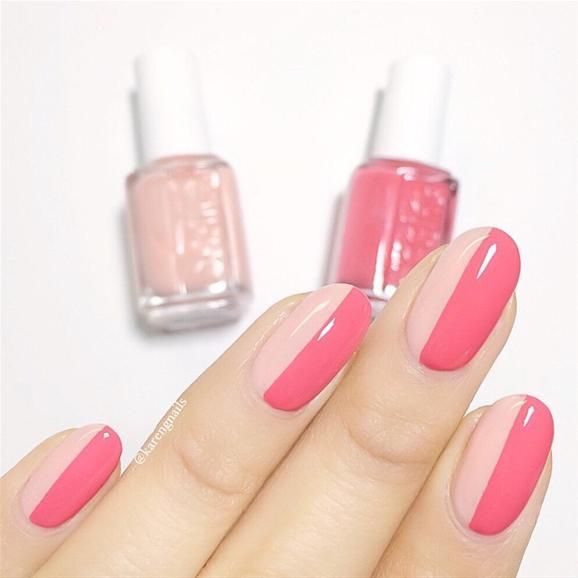 Our favorite nail design for Valentine's Day has to be the Heart French! This works best on longer shapes, preferably almond, and with a nude or clear coat underneath and a perfectly placed tip in the shape of the heart you've got yourselves a style worth stealing.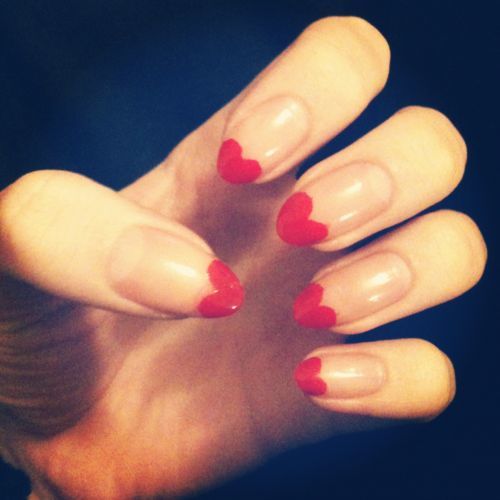 As a way of showing you how much we LOVE having you as a part of our community, we decided to give you some goodies you are sure to love. And because this holiday is about sharing the l.o.v.e., we are also giving you a second set for your BFF! Check out the contest and rules below! XO Estilo
---
Comparta el Amor
El Día de San Valentín es sobre más que chocolate en forma de corazón o rosas rojas (¡aunque amamos esos también!) Es un día de compartir el amor con los que hacen sus días un poco más especial. Se decide celebrar el Día de San Valentín o día de Galentine (con todas sus mejoras amigas) echa un vistazo a estos estilos para inspirar su propio.
¿Su cabello necesita un vigorizante?
Dese el gusto a un blowout muy especial. Mientras que en la ducha, tome el tiempo adicional de proteger sus mechones contra el daño usando un tratamiento pre-champú como Oil Wonders Volume Rose Tratamiento Pre-Champú de Matrix. Esto asegurará que sus mechones están protegidos para su blowout mientras quedándose sedoso y voluminoso.
Antes que comience su blowout, usa Espuma para Volumen en la raíz para dar volumen a su cabello, y luego sella su estilo con un rocía de Spray Fijador antes de salir por la noche para asegurarse de que su blowout se mantiene hermosa y animoso
¡Dese el Gusto a Consejos Festivas!
Nuestra manera favorita para celebrar la temporada no es sólo con cabello fabuloso pero ¡uñas con el tema de amor también! ¿Qué mejor excusa para poner rojo, rosa y corazones en todas partes?
Para un giro simple en su mani – pinta una mano roja y la otra mano rosa, este estilo en dos tonos es perfecto para la entusiasta del arte de uñas que acaba de empezar.
Si quieres subir la apuesta en el juego de arte uñas - Intente hacer una separación de uña horizontal o verticalmente. Utilizando una combinación de rosas claras y oscuras, roja y rosa o ¡hasta naranja y rojo! ¡Nos encanta mezclar los tonos cálidos para este festivo hermoso!
¡Nuestro favorito diseño de uña para el Día de San Valentín tiene que ser el Corazón Francés! Esto funciona mejor en formas más largas, preferiblemente almendras, y con una capa desnuda o claro por debajo. Con una punta en forma de corazón perfectamente colocado tienes un estilo digno de robrar.
Como unas maneras de mostrarle cuánto AMAMOS tenerle como una parte de nuestra comunidad, decidimos darles a algunos regalitos que seguramente amarán. Y porque este festivo es todo sobre compartiendo el a.m.o.r., ¡también le damos un segundo kit para su BFF! ¡Miré el concurso y las reglas abajo! XO Estilo