Purple, a color that gives off the air of royalty, reminds us of plush velvet and springtime blooms. On the beauty spectrum, purple is one of the most useful shades for colorists, and not just in the Fantasy color realm. If you look at a color wheel, you will notice that purple is on the exact opposite side of orange. Therefore based on color theory, purple will cancel out orange whether in hair or makeup.
Orange or "brassiness" as we like to call it, is an unwanted tone that is usually achieved when lightening ones hair with bleach or dye. Although orange is a beautiful color in and of itself, it is not coveted when it comes to the hair color lightening process.
When darker hair colors chose to go lighter, the first color it pulls is red/orange because darker (brunette) hair is made up of mostly these molecules. To combat it, adding the presence of purple when lifting, dyeing or even shampooing lessens the brassy shade allowing for cool or neutral tones throughout the hair.
Scruples has created a new Purple Intensifier as part of their TRUE INTEGRITY Creative Blends kit, which includes five fashion-forward colors: Orchid, Lavender, Plum, Blush and Denim. These highly pigmented formulas enhance the violet tones and cancel out yellow and orange tones within you color. This intensifier can be added to any TRUE INTEGRITY shade and will add vibrancy, correct color and create custom color blends.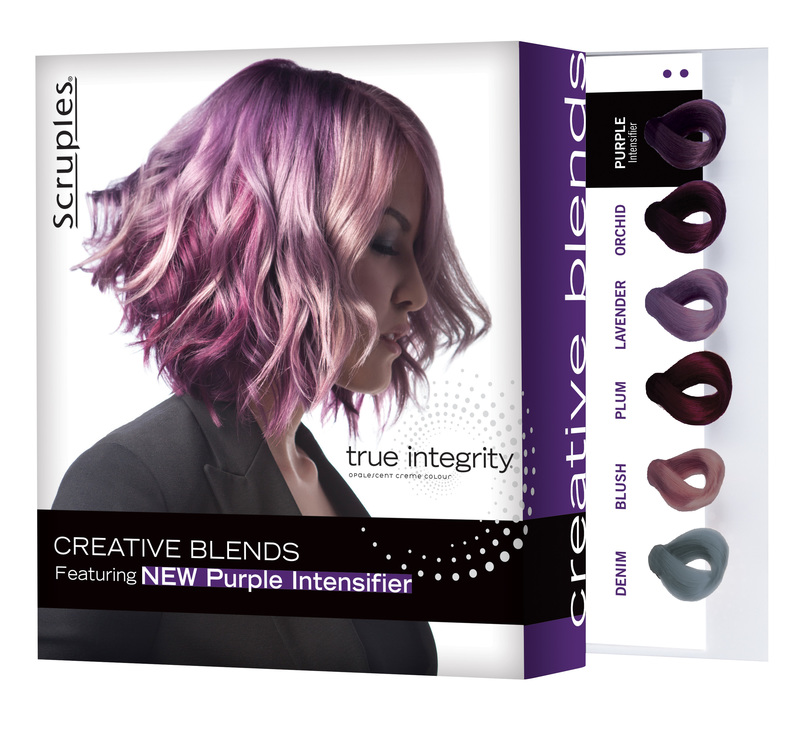 For the ultimate control in your color formulas, be sure to check out this new intensifier from Scruples, stellar shades and perfect hues await you!