The past few seasons, we've seen catwalks and street style serving up accessorized looks everywhere. As clients look for ways to add a little spice to their style, accessories are the perfect answer. One of the hottest trends for summer, this movement isn't slowing down anytime soon and will become one of the top ways to dress up your style for fall.
To get a little inside information about the trend, we chatted with Salon Owner of the award-winning Urban Chic Salon, Amy Gaudie.
"Hair and fashion have always aligned themselves," says Amy. "There's always appeared a multi-layer between both, which allows us to blur the borders and push the boundaries. For me, that means bringing out the craft kit to embellish not only an outfit but also the entire style trend."
The great thing about this trend is that there are so many different options to pick from, for any hair style, type, or texture. From adding an iconic scrunchie (a la Gossip Girl) or a few well-placed barrettes for a shimmering effect - this comeback trend is as fun as it is useful, especially if you find your hair hard to style.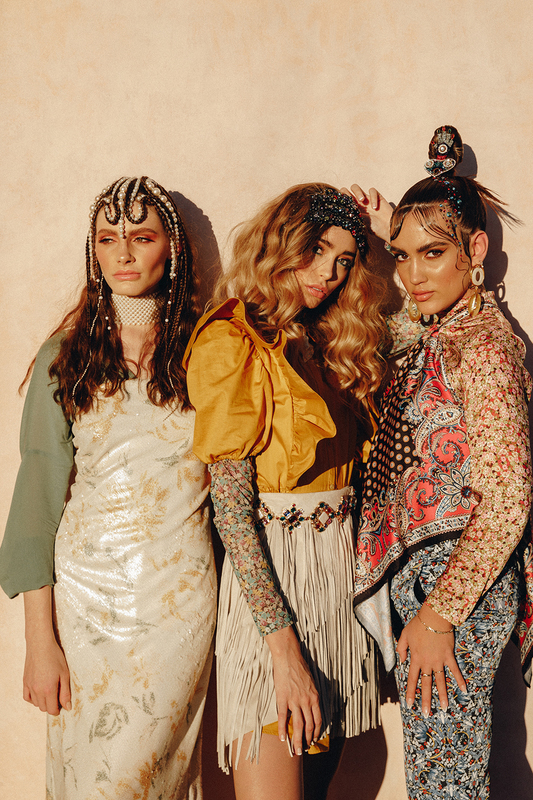 But just how do you choose the right hair accessory for your hair type and style? Read on as Amy shares her expert tips on how to embrace your favourite accessory trends, pairing whimsy with sophistication for an overall individual feel.
The Top Accessories:

Plastic Clips
"These are great for daytime looks; something casual to clip the hair away on a side part, or even to add a splash of colour or personality to a simple style."
Scrunchies
Taking it back old school! This is Amy's favourite way to dress up a simple ponytail and a fun option for a messy bun, scrunchies can even be colour co-ordinated to your outfit and worn around the wrist like a bracelet until you need it!
Hairband/Elastic Band
Not everyone can wear these, however, she has found that a great solid fabric that wraps around the whole head can work really well and suit any hair length!
Hair Scarf
This is the most versatile hair accessory a girl can own! There are SO many tutorials available on YouTube or Pinterest these days, demonstrating how you wrap, twist and even braid a scarf into your hair. Makes this accessory perfect for the more skilled at-home stylist.
Blind Clips
These are slightly fancier and perfect to bring a little sparkle and glam to your style! Pair this with numerous clips of different shapes and textures combined for a "more is more" style situation!
ADORNMENT
Within Amy's latest collection, "Adornment", you'll see a fusion of hair and fashion creating an eclectic display of colours, patterns and textures unearthing a unique czar to be adored by others. She uses layering as one of th key elements of her latest collection, "I combined texture, colour and the finishing of each models' hair to tie everything together. A very individual and eclectic style, with the goal of simplicity and personality at the forefront." Accessories combined with the key elements present in the latest styles for SS20/21 – take a peek at the gorgeous collection and the three distinct looks that combine fashion and hair for the upcoming season!
Look 1: ECLECTIC
#Key SS20/21 trend focus – Puff sleeves & colour palette
"This look pushed the style boundaries by combining complementary colour palettes, layered textures and statement accessories. With Saffron Yellow a key colour trend for SS20/21, the statement puffed sleeve dress was the hero piece of this outfit. Creating a balanced contrast between the puffed sleeves and statement ruffle detail, the dress was layered over a small floral print top and under a fun, textured fringed skirt." States Amy.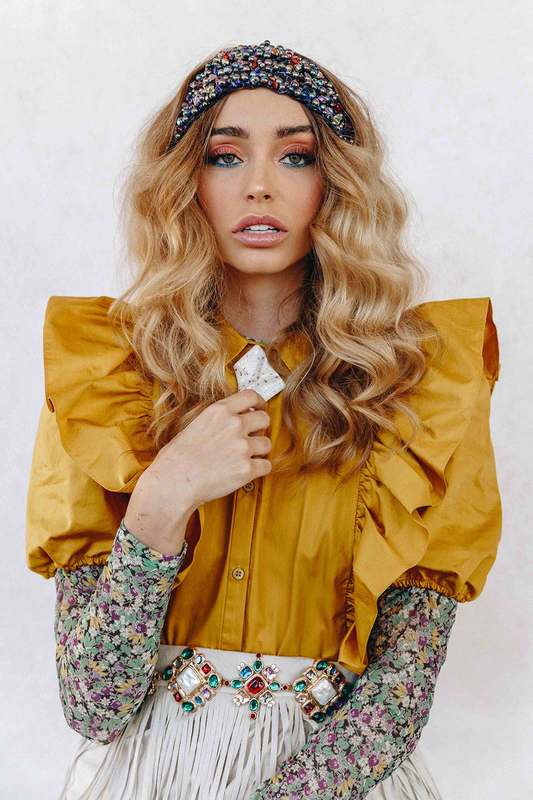 Look 2: PRINT CLASH
#Key SS20/21 trend focus – Complementary colour palettes and clashing florals
Says Amy, "Spring and florals – ground-breaking! This look was a fresh take on the bold print clash floral trend, heavily inspired by Moroccan elements and contrasts. I created a fashion forward focus by layering different angles and garments. Combining both on-trend colour palettes and a variation of floral prints, the garments created a bold yet soft balance to the futuristic and strong upstyle."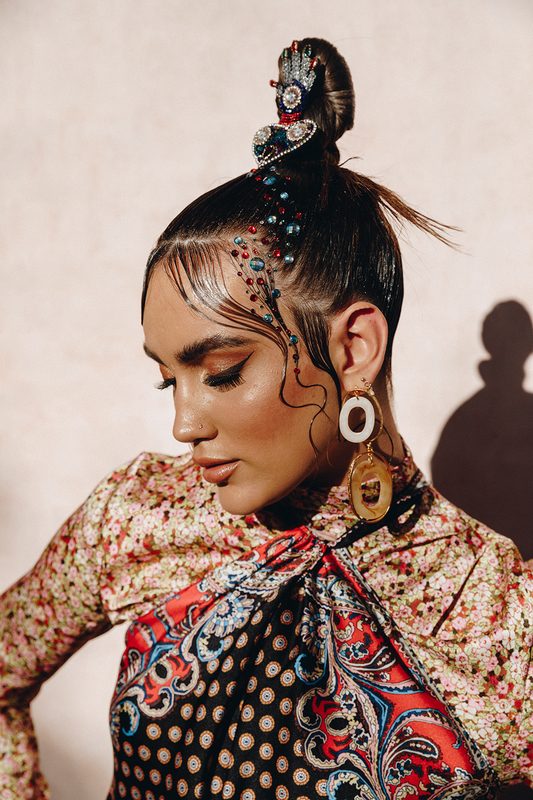 Look 3: PEARLESCENT
#Key SS20/21 trend focus – Pearls and soft neutral colour palette
"A trend that has carried over a few seasons is pearl detailing and accessories and we were thrilled to embrace and elevate it within our collection," says Amy. "With SS20/21 inviting a new neutral, soft grass is going to be seen widely throughout womenswear this season. This look was a soft balance of a neutral colour palette and feminine textures. Contrasting a soft silk button shirt with the simplicity and feminine style of a sequined slip dress allowed the balance from such a statement hairstyle."
It's clear that the hair accessory renaissance is here to stay for now, and with so many to choose from it's up to you – and your hair type - how you'll make your statement this SS20/21 season!